President M. Roy Wilson updated students and faculty on the halted Henry Ford Health Systems negotiations on Oct. 16 during his state of the university address.
The address was moderated by dean of the Irvin D. Reid Honors College, John Corvino, at the Bernath Auditorium in the David Adamany Undergraduate Library. 
Wilson said a medical school — like Wayne State's School of Medicine — cannot survive without a hospital providing support.
"No medical center or medical school can function without the clinical enterprise — whether that's the faculty practice plan or the hospital system subsidizing research and education," Wilson said. "A purely community-based medical school that does no research might be able to but every other medical school in the country relies on the subsidization of research and education from the clinical enterprise." 
Wilson said WSU is not receiving the degree of support from Tenet Healthcare Corporation, the company that owns Detroit Medical Center and WSU's prime medical school partner. 
"Tenet is a for-profit corporation in which their main concern is shareholder profit, so we have to do something or change fundamentally what kind of medical school we have," Wilson said.  
Due to several Board of Governors members shooting down a letter of intent for a partnership between the School of Medicine and HFHS, Wilson said WSU had to put some things on hold in terms of a full partnership with HFHS and the medical school. 
Board members Dana Thompson, Sandra Hughes O'Brien and Michael Busuito opposed the LOI.
"Ultimately it's all about trust, and we have to take baby steps at this point and continue to do things we can do to bring back that trust," Wilson said. "At some point, the board will change again. It's an elected board and there are changes all the time. In the meanwhile, we will continue to educate the board on the importance of having a trusted clinical partner and continue to work on getting things accomplished." 
In March 2019, Henry Ford suspended negotiations with Wayne State's medical school after the BOG argued over HFHS and WSU's LOI. 
In February 2019, Jack Sobel, dean of the medical school, and David Hefner, vice president of health affairs, announced their departures from WSU. Their positions would be merged into a single one after a replacement was found for both of them, said The South End. 
WSU is in the process of finding a replacement for the positions. Currently, the committee is in the second stage of interviews, which will lead to a select few who'll be interviewed by the provost and president, Wilson said. 
Wilson said people have asked if tension and discord from the BOG have kept applicants from applying to the job. He said there are numerous applicants.
"There are people out there who want a challenge and who think there are great opportunities here and in Detroit," he said. "Who, like many Detroiters, just want to roll up their sleeves and get in there and get it done, and those are the type of people we're getting."
The search for WSU's new dean of the School of Medicine will be finished by the end of the calendar year, Wilson said. 
Wilson addressed the state of the BOG and how the university can move forward. 
"There have been some challenges on the board without getting into the specifics of the lawsuit, I think that it's (lawsuit) pretty much a done deal," Wilson said. "We're moving forward with decisions that have been made and my attitude is that as long as we can continue to move the university forward then we just continue to do what we do and try to keep the board politics at a minimum or at least private." 
Half of the BOG sued the other half over decisions made at a June 21 BOG meeting — where only three members were present.
O'Brien, Thompson, Busuito and Anil Kumar sued board members Marilyn Kelly, Kim Trent, Mark Gaffney, Bryan Barnhill and Wilson. The lawsuit called to overturn decisions of a 3.2% tuition increase and the leasing of a $14 million building to WSU Pediatrics, according to The South End. 
The lawsuit stated the meeting violated the Open Meetings Act. On Aug. 1, a judge ruled against those who sued and said the meeting did not violate the Open Meetings Act because university boards are not subject to it, said the Detroit Free Press.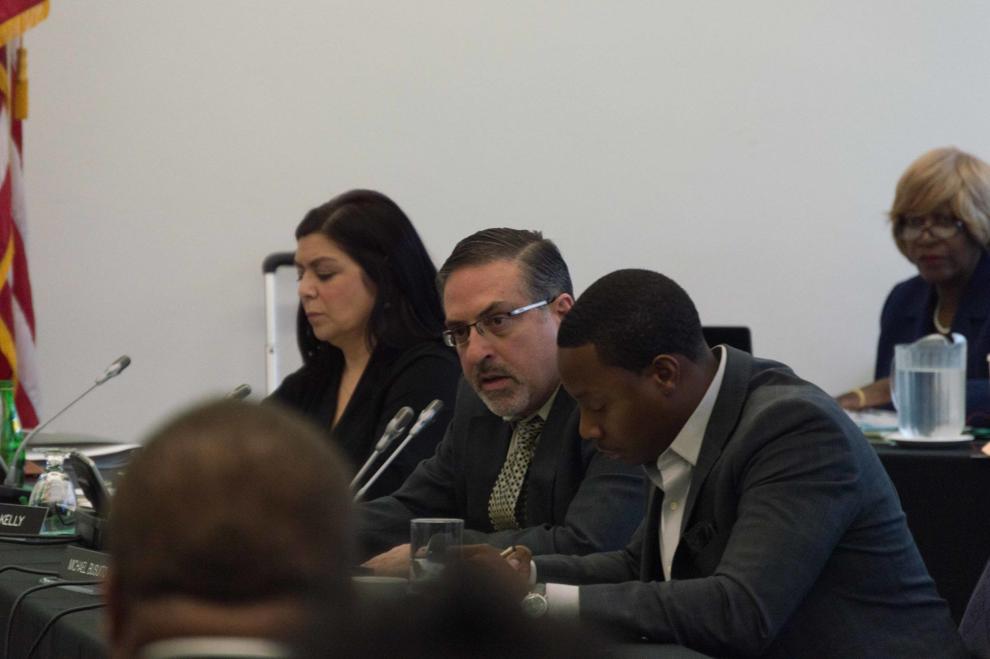 Junior Shirley Elfishawy said the event was realistic and authentic. 
"It's really nice our students get a chance to interact with our president and it brings an honest and realistic view on what students are going through and campus life too," she said. "Having that direct connection with the administration isn't the most common thing with other universities, so it's nice that we provide it."
2019 graduate and WSU employee Courtney Mansor said events like these are what bring transparency to the university. 
"There has been a lot of concern about the president and the board of governors so having that addressed right away was good," she said. "I feel like having transparency is really really important so hearing and having our questions be answered, heard or at least emailed is really important."
Slone Terranella is the editor-in-chief at The South End. She can be reached at editorinchieftse@gmail.com
Cover photo by Jonathan Deschaine. Jonathan is the multimedia editor at The South End. He can be reached at jonathan.deschaine@gmail.com