Wayne State's Department of Chemistry celebrated Mole Day by unofficially setting the record for the largest periodic table made.
WSU collaborated with student chemistry clubs from University of Michigan-Dearborn, University of Michigan-Flint, University of Detroit Mercy and Lawrence Tech.
Two other celebrations in the world of chemistry also played a role in the decision to create a periodic table of this scale: National Chemistry Week and the International Year of the Periodic Table.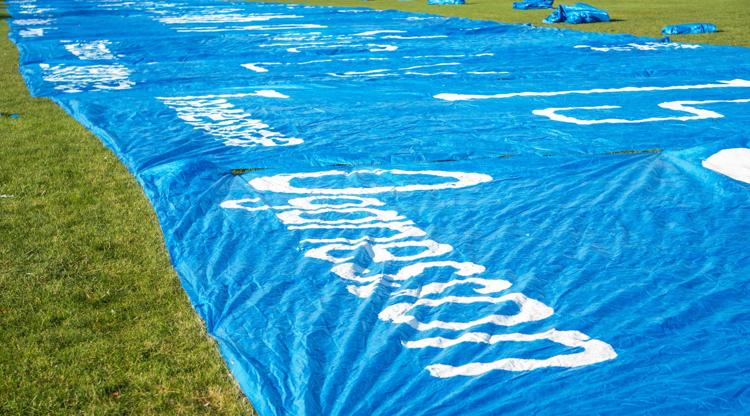 "We hope this gets people talking about chemistry, talking about the periodic table, and recognizing that the periodic table are the elements that make up your phone, they're what's in your gym shoes, they're what make up you," Sue White, WSU laboratory manager and chemistry club co-adviser, said. "Everything really from our perspective is chemistry and we just want to celebrate it with everyone."
The periodic table was discovered 150 years ago and it may look different since the last chemistry class many people have taken, White said. 
"For a lot of people who took maybe a chemistry course in high school and not since then, they may not know that we are now up to 118 elements," she said.
This project finds itself as a trailblazer for the world record with Guinness World Records not having a category for largest periodic table, Monique Wilhelm said, a University of Michigan-Flint laboratory manager.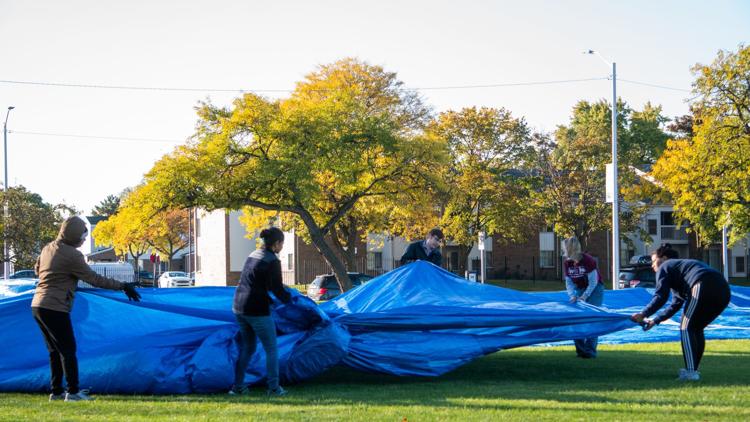 Guinness World Records values themselves as the global authority on documenting world records, according to their website.  
They have yet to make an official ruling for WSU's periodic table.
The periodic table assembled at WSU dwarfs a different world record attempt at Grand Valley State University by the Western Michigan Chemical Society. 
The WSU periodic table measured 190,000 square feet — or the size of three football fields — while the GVSU table measured in at about 19,200 square feet. 
The table was constructed of 30 by 40-foot painted blue tarps, White said. People involved in the project spent over 24 hours in total painting the tarps in one of WSU's parking structures. 
The idea of the world's largest periodic table was brought up at a regional chemistry meeting this past summer by Wilhelm, she said.
"We were talking about what we wanted to do big this year," Wilhelm said. "I brought up the world's biggest periodic table as a joke and they ran with it."
Participation from all the universities involved is what made the record possible, White said.
"I think as crazy as this idea was, everyone seemed to have fun with it and we've all collaborated to get it done because there's no way to do this by yourselves," she said.
It's been fun to see the payoff of this large project, John Karns said, a WSU junior biochemistry and chemical biology major.
"It's really nice to see all of the other groups come together and you really get to learn a lot of experiences and network yourself with a lot of different groups," he said. 
According to the National Weather Service, wind speeds reached almost 20 miles per hour while they were setting up ripping stakes holding down tarps out of the ground.
"We've had a couple tarps try to run away on us. It's a lot of work," Wilhelm said.
Mole Day also fell on National Sustainability Day this year which is annually celebrated the last Wednesday in October. This is something that White and other organizers took into account, she said.
"We are aware that this was the easiest way for us to do it, was to use a lot of tarps that were pre-made," White said. "We (had) a plan in effect from the very beginning to make sure that we take care of where this plastic is going."
All of the tarps will be donated to organizations that help with disaster relief efforts. 
"When chemists get together big things happen," Wilhelm said. 
Jack Filbrandt is the news editor of The South End. He can be reached at newseditortse@gmail.com
Cover photo by Quinn Banks.