Members of Wayne State Students for Justice in Palestine joined community members to protest for Palestinian human rights at the March for Jerusalem in Dearborn Sunday.
Recent violence was sparked by forced expulsions of Palestinians from their homes in the Sheikh Jarrah neighborhood of occupied East Jerusalem and attacks on worshippers in Al-Aqsa Mosque during Ramadan, Middle East Eye reported. 
As of Monday, at least 200 Palestinians have been killed by Israeli airstrikes on the Gaza strip, including 35 women and 59 children, according to Middle East Eye. 10 Israelis have been killed by rockets fired into Israel, including two children.
The march began outside the Ford Community & Performing Arts Center, with speeches from community organizers and public figures. Dearborn Mayor John O'Reilly, Chief of Police Ronald Haddad, Rep. Debbie Dingell and Rep. Rashida Tlaib were also in attendance.
WSU SJP President Rasheed Mossallam said the march was organized due to ongoing anti-Palestinian actions. WSU SJP and the Arab American News were sponsors, according to the event flyer.
"We're having these rallies to spread awareness. We need to get everybody out here, we need to protest what's going on in Sheikh Jarrah, the displacement of Palestinians," Mossallam said. "And, sure we're doing it for Sheikh Jarrah, but however, this has been going on since 1948." 
Addressing the crowd, New Generation for Palestine President Amer Zahr said the march was an important symbol for Arab Americans.
"This is what it looks like when the Arab American community comes out to show our strength and our power here in Michigan," Zahr said.
The Nakba, or catastrophe, of May 15, 1948, symbolizes the over 750,000 Palestinians violently expelled from historic Palestine as the state of Israel was established, according to Al Jazeera. For many Palestinians, the Nakba continues today.
Sherin Shkoukani, former WSU SJP President, said the Nakba represents Israeli oppression of Palestinians. 
"Yesterday May 15 marked 73 years of Palestinian disposession and attempt to erase Palestine from this world. Palestinians are experiencing a genocide, an ethnic cleansing by Israel," she said. 
Tlaib, the sole Palestinian American in Congress, said it's crucial to humanize Palestinians. 
"We need to continue to put a face to the Palestinian people," Tlaib said. "What they try to do, no matter who they are, is to strip away the humanity. As if we're not mothers, as if we don't bleed, as if we don't hurt."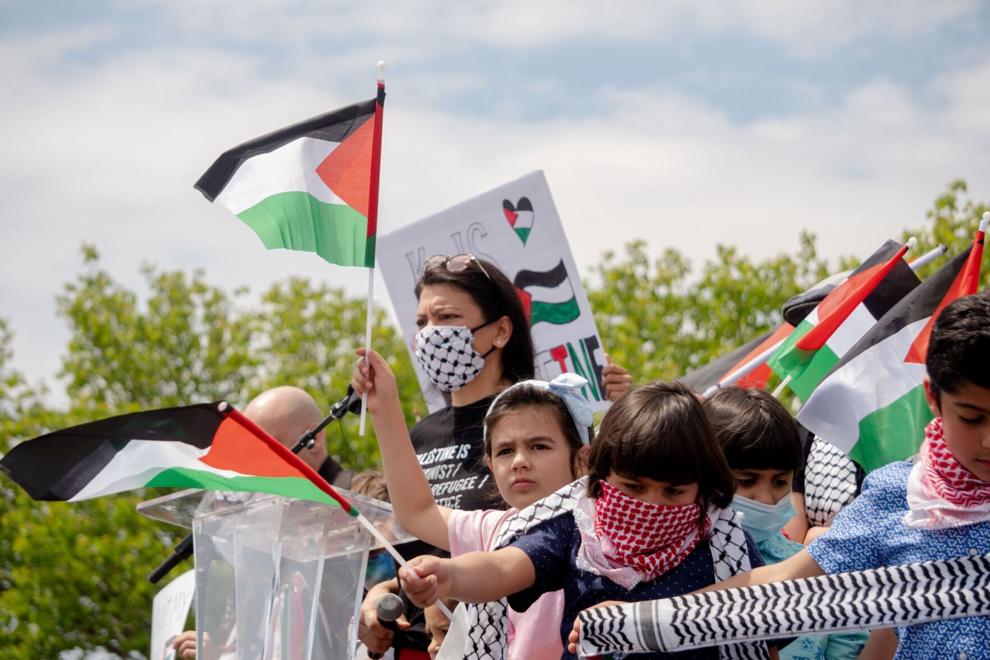 University of Michigan-Dearborn Professor Hani Bawardi said the movement for Palestinian rights has global impact.
"You are the fertile ground on which Palestine grew from a seed into a symbol for oppressed people everywhere around the world," Bawardi said. 
Protestors then marched down Michigan Avenue from the Ford Community & Performing Arts Center to the Arab American National Museum and back. 
Attendees waved Palestinian flags; wore Palestinian keffiyehs, a black and white patterned scarf, and Palestinian thobes, an embroidered dress; carried signs and played drums. Bosnian, Jordanian, Yemeni, Lebanese, Albanian, Pakistani and Iraqi flags were also flown in solidarity. 
WSU SJP Vice President Ayah Shkoukani said supporting Palestinians is not complicated.
"What's going on in Palestine, it's not a conflict and it's not a two-sided issue, it's a one sided issue and it's just standing with basic human rights," she said.
Chants were in English and Arabic and included "free, free Palestine," "with soul, with blood, we will redeem you oh Aqsa," "end the occupation now." 
Zahr called out Sen. Gary Peters, Sen. Debbie Stabenow, and Rep. Brenda Lawrence for recent statements supporting Israel, to boos from the crowd.
Arab American Civil Rights League Board Chairman Nasser Beydoun said politicians who voice self-defense support for Israel are really supporting anti-Palestinian violence.
"The Palestinians have every right because it is their land, their birthright and we support the Palestinians and we will remember every politician that says Israel has the right to defend itself but not the Palestinians, who truly have a right to defend themselves," Beydoun said.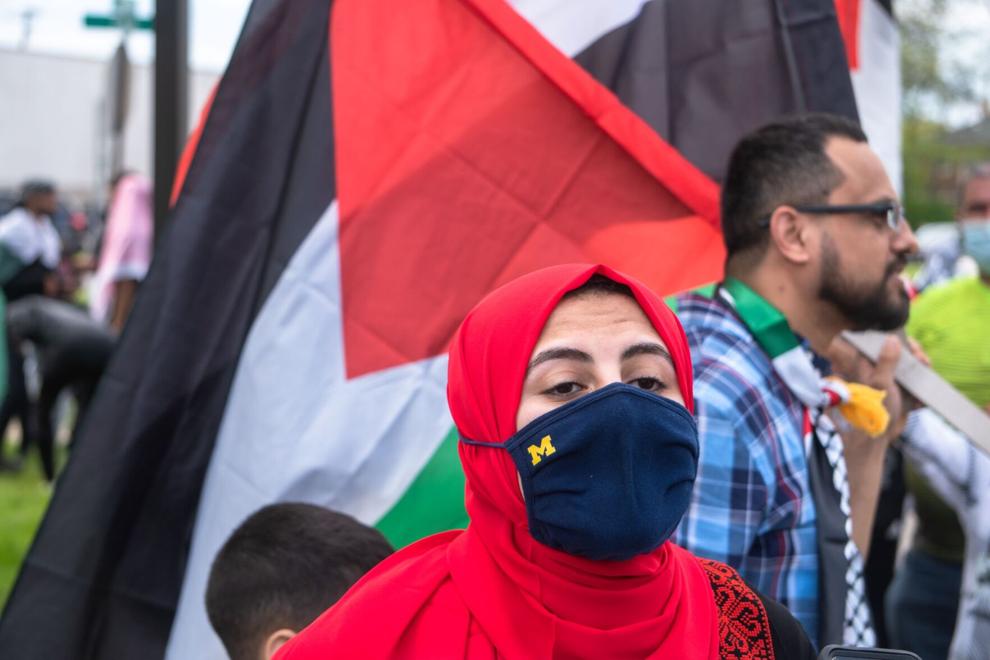 Claims that Israel is defending itself aren't justified by the facts, University of Michigan rising sophomore and Palestinian American Mariam Odeh said.
"Israel is an occupying power. Under international law, Israel does not have any right to self-defense," Odeh said. "Palestinians are the occupied people. They have the right to self-defense."
President Joe Biden is planning to visit Dearborn on Tuesday to tour a Ford Motor Company site, according to the Detroit Free Press. Zahr said news on potential demonstrations will come soon.
"Our message to him (Biden) is 'hey listen, we Arabs, we're a very welcoming people, we are... but you are not welcome in Dearborn on Tuesday,'" Zahr said.
Mossallam said the U.S. must end its aid to Israel.
"My message to the Biden administration is stop funding Israel, stop funding the war crimes, stop funding the occupation, stop funding the apartheid," Mossallam said. "$3.8 billion is being sent to Israel every single year and that money is being used for bombing Gaza, killing innocent children, killing innocent people, oppressing Palestinians everywhere."
Attendee Fatima Saad said Biden should visit Dearborn to hear the community's demands.
"I think it's more than appropriate. I think this is the time where he needs to come but he needs to be ready to have an uncomfortable conversation and actually acknowledge what's going on," Saad said.
Palestinians deserve the right of return, Mossallam said.
"A future would be all Palestinians going back to their homes. Living together in peace, harmony, under one rule, under one country, Palestine," Mossallam said.
Odeh said she would like to see a future where Palestinians of different religions can return. 
"Before 1948, before the Israeli occupation and the Nakba, which is still ongoing, Palestinian Jews, Christians and Muslims were all living in the area on Palestinian land very peacefully and all of them were practicing their religions, no hatred, no issues," Odeh said. "Once Palestine is liberated and they have the right to self-determination, I hope to see that it goes back to that."
---
Jenna Prestininzi is the editor-in-chief of The South End. She can be reached at editorinchieftse@gmail.com. 
Photos by Quinn Banks, The South End's multimedia editor. He can be reached at multimediaeditortse@gmail.com.