Wayne State men's basketball suffered a 71-64 defeat to Grand Valley State University, ranked 18th in the National Association of Basketball Coaches Poll, at the Matthaei Physical Education Center on Jan. 11.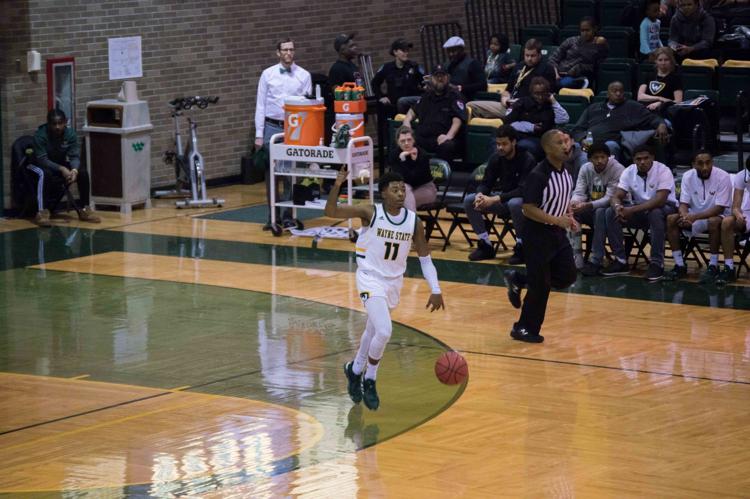 The visitors jumped out to an early six-point lead, before WSU countered with a 7-0 run, paced by points from senior guard Brailen Neely and sophomore guard LJ Dewolf, to take an 8-7 lead. 
Halfway through the first period, the Lakers used a 7-0 spurt of their own to take an 18-11 lead. 
GVSU increased their lead to 25-15 before three triples by Neely, who scored 13 points in the opening half, cut the visitors' lead to 30-24 heading into the intermission.
In the second half, Grand Valley held a double-digit lead for most of the period, leading 63-53 with four minutes left in the game.
WSU made its last push to tie the game, using a 9-2 run over a three-minute stretch to cut the Lakers lead to 65-62, with less than a minute remaining in regulation.
A GVSU basket with 26 seconds left increased their advantage to 67-62, and after a lay-up by Neely pulled WSU within three, the visitors used four free throws to clinch the victory.
WSU and GVSU contests are usually among the most physical games that the team plays each season. With the team's rotation reduced recently due to injuries, head coach David Greer said that trend didn't favor WSU in this matchup.
"It wasn't to our advantage to get into a physical contest due to our lack of personnel (and) consequently, they shot 23 free throws and we shot nine," Greer said.  We (were) just loose with the ball at times, and allowed them to get some second opportunities, so rebounding was the difference and certainly turnovers."
As the team looks to survive a stretch where they're playing without senior guard Karim Murray and freshman center Cadin Augustine due to injury, Greer said the team needs a little more production from the rest of the team.
"We just need some people to step up. When you're shorthanded and when you're struggling a little bit, you just need some people to make some plays," Greer said. "Hopefully we can get some guys making some plays. If they do, we'll win some (and) if they don't, we won't."
Two key stats from the game were offensive rebounds and second-chance points. GVSU posted 14 offensive rebounds, which were converted into 18 second-chance points, while WSU scored seven second-chance points. 
For the game, WSU shot 43.9% (25-57) from the field and went 38.9% (7-18) from the three-point line.
Neely scored 32 points, adding eight assists and seven rebounds to pace WSU's offensive attack.
The loss was WSU's fourth consecutive defeat, and dropped their record to 4-7, and 1-6 in league play.
Women's team suffers loss against Grand Valley
Wayne State women's basketball suffered a 67-41 defeat to GVSU, ranked 3rd in the Women's Basketball Coaches Association Poll, at the Matthaei on Jan. 11.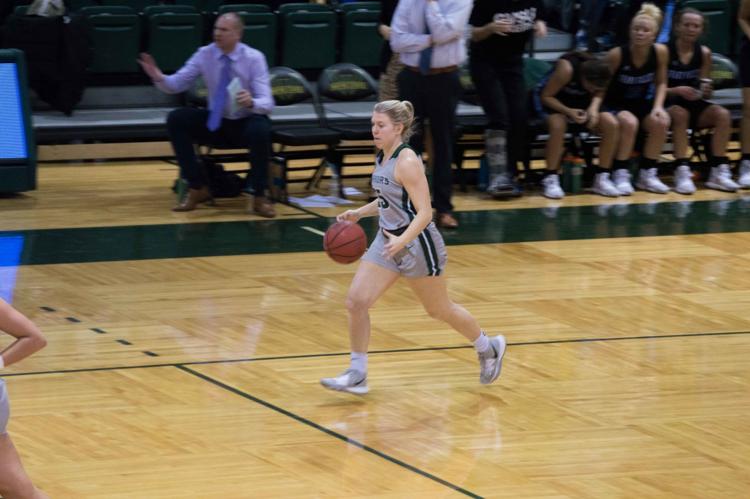 After both teams posted points in the opening minute of the game, the Lakers used an 8-0 run to take a 10-2 lead halfway through the period. 
After junior forward Tori Perez scored five consecutive points to cut the Warriors' deficit to 14-10, GVSU scored the final five points of the stanza to take a 19-10 lead after one quarter.
While WSU gradually began to score points halfway through the stanza, paced by three-pointers by senior guard Alex Matus, the Lakers lead stayed above seven points for most of the second period, and GVSU took a 35-26 lead into halftime.
GVSU used a two-minute scoring drought by the Warriors to extend their lead to 41-28 early in the third period. Despite holding the Lakers to a lower shooting percentage from the field in the stanza, WSU scored just ten points in the period and trailed 48-36 into the final quarter. 
In the final period, WSU shot seven percent (1-13) from the field, and was outscored 19-5, as GVSU shot 45% (5-11) in the stanza to clinch the victory.
After the game, head coach Carrie Lohr said a focus for the team going forward team will be getting better at hitting open shots.
"I thought we had some good shots and that part is disappointing because I know that we have good shooters," Lohr said. "I think sometimes mentally they don't see the ball go through the net and they either rush their shot or they hesitate, and when they hesitate, now they're being guarded, and that's a more difficult shot to finish."
After committing 21 turnovers in their win versus Davenport, WSU turned the ball over 23 times against the Lakers. Lohr said she was not pleased to see the team give the Lakers so many extra possessions.
"I'm disappointed in that because that was a point of emphasis and that is something that we have talked about, and those turnovers often can lead to runout scoring for your opponent," Lohr said.
For the game, WSU shot 29.6% (16-54) from the field, and shot 29.4% (5-17) from the three-point line.
Senior guard Sadia Johnson and forward Tori Perez each scored 10 points to pace WSU on offense. The loss dropped WSU's record to 8-7 on the season and 2-5 in conference play. 
In preparation for the team's upcoming road trip, Lohr said she hopes the team can sharpen its focus on offense. 
"I think we just have to be mentally tougher with the basketball (and) I think we have to come out with confidence, really execute our offense and when it doesn't go our way, we have to dig deep and defend the best we can," Lohr said.
Both teams return to the Matthaei to face Saginaw Valley State University Jan. 23.
---
 Matt Williams is the sports editor for The South End. He can be reached at mattmwilliams86@gmail.com.
Photos by Jonathan Deschaine. Jonathan is the multimedia editor for The South End. He can be reached at jonathan.deschaine@wayne.edu.