While her class rank now says junior, Wayne State women's diver Amanda Hurchalla ended her sophomore year by winning the female Student Athlete of the Year award. 
Head coach Sean Peters said because of the list of candidates for the award, he was surprised to see Hurchalla receive the honor.
"Like Amanda, I think we were both pleasantly surprised and stunned because of the quality of the candidates for such an award," Peters said. "Amanda's very good and there's a reason why she was not only a finalist for this award, but selected for it, so I was happy that she ended up receiving the award."
Hurchalla said she didn't think she would win the award since the honor has gone to juniors and seniors in recent years. She said at first she couldn't believe the news when she found out she won.
The finalists were critiqued on academic distinction, community and university service, athletic accomplishments, individual involvement and recommendations from coaches.
Hurchalla became the first sophomore since diver Erika Barczak in 2006 to win the honor and is just the second sophomore in the 18-year history of the award to accomplish the feat.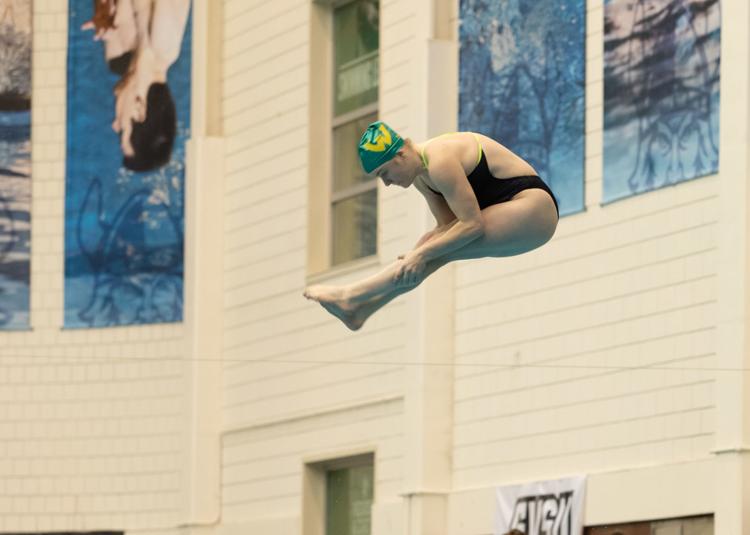 Hurchalla said that she was unaware of the rarity of her accomplishment until last week. 
"Someone sent me an email to me a week ago and I was like, 'Whoa, that's actually insane,'" Hurchalla said. "I thought that juniors and seniors usually won the award and honestly (didn't) think sophomores won it, so I didn't realize that I was up there with the best of the best."
Hurchalla added that it was important to receive the honor for her accomplishments outside of the pool along with what she accomplished in competition last season, as she was a two-time First-Team All-American and posted two top-five finishes in the three-meter and one-meter diving events at the NCAA Championships.
"Diving takes up a big part of my life, but school does too (since) we're student-athletes and we're students first," Hurchalla said. "It was nice to know that my grades were paying off in some way and me volunteering places was paying off."
Peters said Hurchalla's growth with the team has been due to her ability to work well with her teammates. "She's come into this program (and) worked really well with her teammates," Peters said. "It's been fun to watch."
With Hurchalla's win, the swim and dive program has seen at least one team win the honor 12 times in the history of the award. Peters said it's always meaningful to see a member of the team to accomplish the feat. 
"It's always humbling," Peters said. "We've been blessed with a lot of great athletes that have held themselves to extremely high standards."
Hurchalla said the team's upbeat nature in fall practice has her excited for the upcoming season. "I think that the team dynamic this year is really nice, so that makes me really proud to be on the team," Hurchalla said. "I feel like having that atmosphere will push me farther and make me do better throughout the season."
Matt Williams is the sports editor for The South End. He can reached at mattmwilliams86@gmail.com
Cover photo by Jennifer Michalski.