Student Senate held a July 18 meeting where Dean of Students, David Strauss, revealed the creation of Warrior Wardrobe.
The Warrior Wardrobe will be a clothing pantry free of cost for students. The wardrobe will tentatively be ready by this fall, said Dean Strauss. Formal and casual attire will be available for students in two different locations. The Wayne State Welcome Center will host the casual wardrobe, and the Career Service Center in the Faculty and Administration Building will hold the formal wear wardrobe. 
Rainesha Williams-Fox, coordinator of the Student Life Wellness Program, said the amount of clothes students can take at no cost will depend on the number of donations received
Student Senate President, Stuart Baum, said the Senate and other faculty members are trying to get another Warrior Wardrobe solely for caps and gowns, which can be costly for students, Baum said. 
This type of program emulates the W Food Pantry, which is located on 703 West Kirby, where students facing food insecurity can grab free meals. 
<Read here about the W Food Pantry and its year of impact>
New wellness program kicks off 
Alongside Dean Strauss and Williams-Fox, Counseling and Psychological Services Director, Dr. Jeffrey Kuentzel, unveiled the Warrior Life and Wellness program — which all three faculty members are a part of. 
"Warrior Life and Wellness is a collaborative effort of on and off campus resources focused on building a healthy community for all Warriors by classifying programs and events into eight dimensions of wellness," according to a presentation given to the Senate.
The program will focus on eight areas of discipline: spiritual, intellectual, emotional, physical, social, occupational, financial, environmental and physical.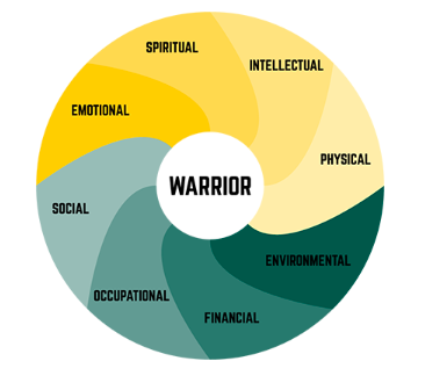 Through different awareness weeks, campus events and on-campus activities, this program aims at addressing and improving student's overall mental and physical health. 
"The hope with these wellness activities is that they serve in a preventive way to reduce the number of students that end up needing to have services," Dr. Kuentzel said. "We think of it as upstream from those problems and engage in various activities that are already available around campus, you may prevent yourself from going downhill." 
According to the presentation, this program was created for three main reasons. 
The first reason being CAP's inundated waitlist, which has led CAPS to shorten their session limit for each student from 16 free sessions to 12 to combat the waiting list, Kuentzel said. 
"We do our best to keep up with the demand (of students needing CAPS), but it goes up every single year," Kuentzel said. "So if there's anything we can do to lower the number of people seeking CAP services, save a few slots for people with more severe problems then that's what we can do."  
<Read more about CAPS waiting list here>
The second reason creating this program is Provost Keith Whitfield's concern about addressing student wellness due to its effect on student success. The third reason is the Dean of Students' interest in meeting student needs, said Strauss. 
For this upcoming year, many events will take place due to this new program, Williams-Fox said. The Warrior Wardrobe — which is a collaborative effort by the Office of Student Financial Aid and Career Services — is part of Warrior Life and Wellness effort. 
A wellness program for WSU employees will be created, and WSU will start a programming calendar for awareness weeks and months, Williams-Fox said.
New WSU awareness weeks and months 
Suicide Prevention Week from Sept. 8-14 with Sept. 10 being Suicide Prevention Day 

Mental Health Awareness Week from Oct. 6-12 with Oct. 10 being World Mental Health Day

National Collegiate Alcohol Awareness Week from Oct. 20-26

Hunger and Homelessness Awareness Week from Nov. 16-24 

National Handwashing week from Dec. 3-9

Sexual Assault Awarness Month throughout April 
The next Student Senate meeting is 6 p.m. on Aug. 1. The location is to be determined. 
Editor's note: Strauss is a member of The South End's publication board
Slone Terranella is the editor-in-chief of The South End. She can be reached at EditorinChiefTSE@gmail.com