Wayne State kicked off Black History Month by inviting a historian to speak about the Detroit 1967 Race Riot and rebellion on Feb. 5 at Shapero Hall. 
Founder of the Black Scroll Network History and Tours, Jamon Jordan, said the history of systemic white supremacist oppression in Detroit and the subsequent acts of black resistance is what led up to the events of July 1967. 
In July 1967, the Michigan Army National Guard and members of the United States Army 82 and 101 Airborne Divisions were deployed to the streets of Detroit to suppress ongoing clashes between residents and police. But, tensions between Detroit's black population and the police did not occur in a vacuum, Jordan said.
He said he doesn't refer to the events from 1967 as a riot.
"When we hear the word riot, we think of people committing violence or destroying property for no good reason. When we hear the term rebellion, we think something must have caused it. We think that people must be responding to something that happened to them," Jordan said. "It requires more introspection and much more investigation into why it occurred. When black people get upset about the conditions that they're under and have an uprising, it is always referred to as a riot."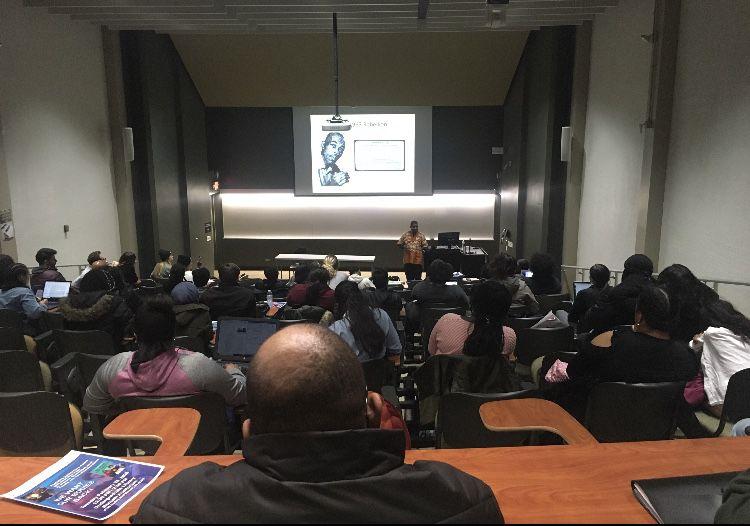 The 1967 uprising was the inevitable byproduct of a long, often neglected history of discrimination, oppression and brutality against black residents by Detroit authorities, Jordan said.
"Some people have long debates on whether it was a riot or a rebellion or if it was a civil disturbance and all that kind of stuff — I'm not going to do that," Jordan said. "Because sometimes when we think of these words, we don't think of the dictionary definition, we think of the connotation — what we feel when we hear those words."
Ollie Johnson, chair of the Department of African American Studies, called Detroit one of the "meccas," of African-American history, and said students should take advantage of the fact they live here to learn more.
"Every year, as we often say, Black History Month isn't just one month for us, it's every single day," Johnson said. "Some students are born and raised here but don't realize or recognize the significant role Detroit has in black history."
Jordan gave book recommendations for students if they want to learn more about the 1967 rebellion. He emphasized the importance of seeking out and talking to people who experienced it themselves while there is still an opportunity to.
"The events of 1967 are not so far away," Jordan said. "It's not like slavery or the kidnap and capture of people from the African continent. There are people alive right now, who can tell you the things that happened to them and their families in 1967."
---
Sean Taormina is The South End's breaking news and WSUPD beat reporter. He can be reached at sean.taormina@wayne.edu. Photos by Taormina.