Construction on Wayne State's campus resumed in late July after a seven-week hiatus due to COVID-19 concerns, pushing the completion date for all projects back by two months. 
At WSU, there are about 95 different on-going construction projects within a $300 million budget, said Robert Davenport, associate vice president of Facilities Planning and Management.
A few projects in various stages of construction include a Towers Cafe expansion, the Hilberry Gateway Performance Complex and a new basketball arena.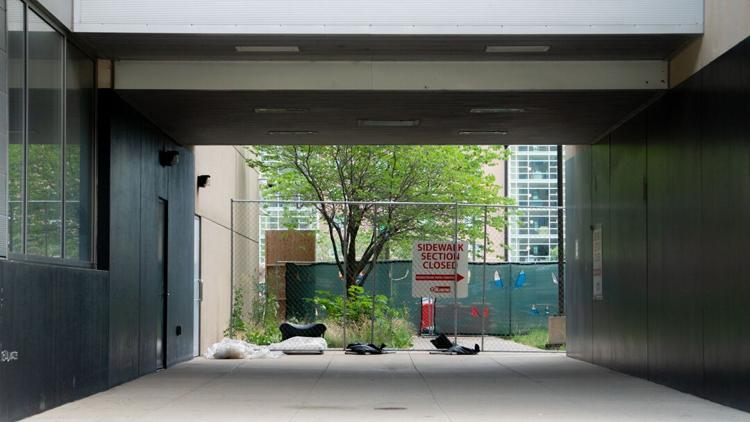 "Michigan was one of the few (states) that actually closed down construction as well. A number of states left construction going as an essential activity but we did not, so all our projects got put on hold for seven weeks," said Frances Ahern, senior director of design and construction services. 
The Chatsworth Tower Apartments renovation was completed on time, but the building is not open this semester, Davenport said. Set to be completed this month, the new STEM Innovation Learning Center will also not open this semester.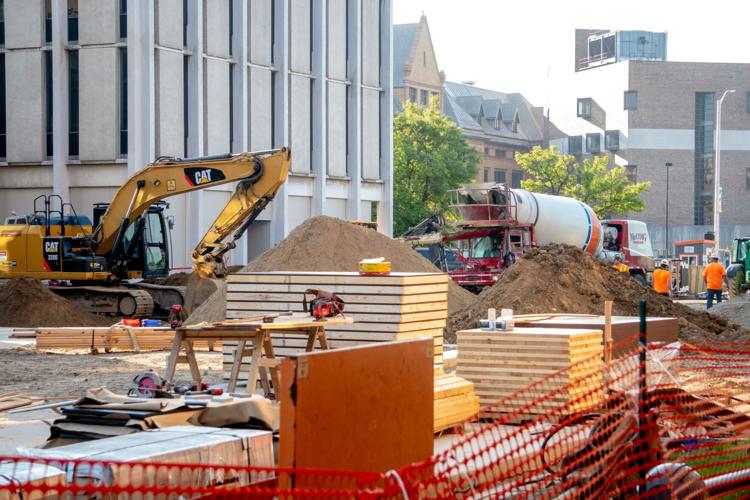 WSU set protocols to protect construction workers on-site from COVID-19, which can be found in the FP&M Campus Restart Playbook.
The playbook further states that meetings and paperwork are handled online to reduce the risk of exposure. On-site employees must submit the campus daily health screener before being allowed on location and barriers are placed around high-traffic sites. 
Many of these projects are part of the campus masterplan, known as the Wayne Framework, that will shape the campus through construction and renovation, making it more welcoming and inclusive for members of the community, according to WSU's website. 
The completion of the entire masterplan could take up to 10 years, Davenport said. 
According to WSU, the campus master plan is adaptable and provides the university with the flexibility to make necessary adjustments and modifications over the next decade.
"The whole point of the master plan is to right-size the campus and consolidate buildings that aren't used in their full capacity," Davenport said. 
The masterplan offers new opportunities for WSU and its students, including athletes. 
The new basketball arena will not only house WSU basketball teams, but also the Detroit Piston's NBA G League team.  
"That makes our arena very unique in that not only are our collegiate players going to be a part of it, but also there'll be a professional piece embedded, as well, with the players," said Carrie Lohr, WSU women's basketball head coach. 
As the NBA's official minor league, professional athletes in the G League train to enter the NBA, according to the league's website. It also gives fans a professional basketball atmosphere and experience. 
This partnership between the Pistons and WSU is expected to bring more people to the facilities, said Jeff Weiss, WSU sports information director. 
"Just by them having a team here in Detroit… it helps them out immensely as far as coaching. They can practice with the Pistons, you know, one part of the day is practice with the G League," Weiss said. "It's really going to be a win-win for all three basketball teams, Wayne State's men's and women's teams and the Pistons G League."
The possibility of pushing back the project's completion date again due to the COVID-19 pandemic is uncertain, Ahern said. 
"There's not really any great way to anticipate if there's gonna be another outbreak and construction is going to be delayed again," she said. "But in the case of like the arena, we do have a really hard deadline in September of 2021 that we need to meet in order for the teams to start practicing in the new building in the games to play. So that's why we're looking at the overtime as it relates to the master plan."
---
Alanna Williams is a correspondent for The South End. She can be reached at featuresreportertse@gmail.com. 
Cover photo by Quinn Banks, multimedia editor at The South End. He can be reached at multimediaeditortse@gmail.com.