Student Senate passed a resolution Thursday that makes the Psychology Clinic free for students.
The pilot program will begin fall 2019. This resolution provides the Psychology Clinic $5,500 in funding to offset service costs for students. The $5,500 is expected to cover the fees for 50 to 55 students per semester.
"This came about because we wanted to support the Counseling and Psychological Services like we did in the past," said Student Senate President Stuart Baum. "We were actually told that donating more funding to CAPS would not be the best way to help mental health resources on campus. Instead, we were told to focus more on the Psychology Clinic and the waitlist."
Vice President Dalia Ibrahim expressed worry that more than 55 students would end up enrolling in the Psychology Clinic, which would defeat the whole purpose of the resolution. However, Baum said this shouldn't be a problem, because the Psychology Clinic is for specific cases and most students do not start there.
Along with this, Baum said this resolution combats the waitlist issue that plagues all three of WSU's mental health resources – CAPS, the College of Education Counseling and Testing Center and the Psychology Clinic.
According to the resolution, "The cost for accessing services at the Psychology Clinic presents a significant barrier to students that prevents them from utilizing the services they provide, and thus relieving the shared waitlist."
Board of Governors meets with Student Senate
Board of Governors members Kim Trent, Michael Busuito, Sandra Hughes O'Brien and Brian Barnhill were all present for the Senate meeting. The Senate discussed initiatives, issues and concerns to the BOG members.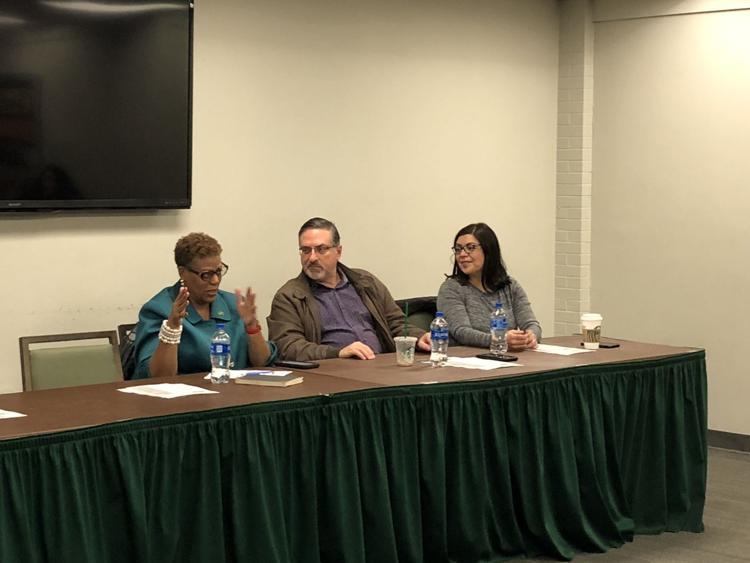 One initiative discussed was the use of open educational resources such as open-source textbooks. Open educational resources are geared toward helping students who struggle financially by providing access to free online textbooks and educational resources.
 "I can remember when I was a student at MSU and I would go into the bookstore and only be offered $40 for my law textbooks," said BOG member Sandra Hughes O'Brien. "It was a horrible experience, and this is such a great topic and idea."
Senate members also discussed issues with financial aid that impact the enrollment of students and potentially causes many to withdraw from the semester.
"People have contacted me about issues with their financial aid being taken away due to the disorganization among the administration," said Baum.
Hughes O'Brien agreed with Baum and said she personally knew of financial aid nightmares where parents and students would call her in order for her to fix the issue.  
"I was able to help a few students, but I can't make phone calls for every student who has an issue with financial aid," said Hughes O'Brien. "It's not always the student's fault when their financial aid messes up."
Other issues discussed at the meeting:
Honors credit requirements are being reduced from 36-credit hours to 24-credit hours
Dean of Students David Strauss said he received complaints about the shuttle system; the BOG members present said they would look over the issue at their next body meeting
Student Senate is working to implement a fall break for WSU, but this is in a rudimentary stage of planning
WSU will create a dining committee to evaluate the condition of dining in residential halls and in retail spaces