The LaRouche Organization set up a controversial display on the Wayne State campus Wednesday afternoon, the second such incident this month.
The display was on Anthony Wayne Drive, near Yousif B. Ghafari Hall, according to The South End. The organization previously set up a display in the same location on Sept. 15, TSE reported.
Associate Vice President of University Communications Matt Lockwood said WSU isn't currently planning to take action against the organization due to the legality of the situation. 
"They're in a public space where they're not impeding people or causing a disturbance," Lockwood said. "But if this continues to be an issue, it may be something we explore. But, at the moment, I haven't heard any conversations about that."
A group of students gathered around the display and engaged in discussions and arguments with members of the LaRouche Organization, according to TSE. Some students confronted the organization with concerns that its display was antisemitic.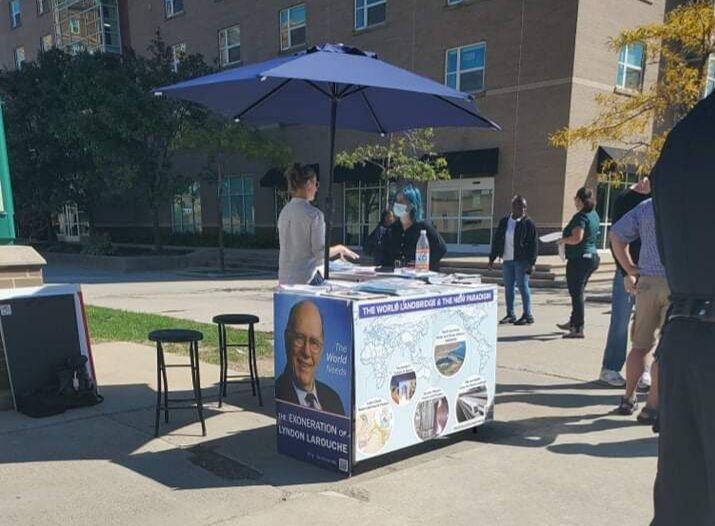 Sophomore chemistry and neuroscience student Ella Appleyard said she strongly opposes the display. 
"It doesn't follow Wayne State's own motto of diversity and inclusion and public and local communities," Appleyard said.
WSU Police arrived at the scene around 1:40 p.m. and three officers were on site speaking with students and LaRouche Organization members, according to TSE.
Holt said WSUPD did not engage with the LaRouche Organization beyond stating the legal parameters related to their display's location.
"There was really no reason to speak with them," Holt said. "The officer did advise them where public property and campus property is. They are well aware of this from the last time that they were here."
Dean of Students David Strauss said DOSO staff observed the display from nearby, sitting on the steps outside the former WSU Einstein Bros. Bagels location Wednesday. They also spoke with concerned students about the situation. 
Strauss said the organization has the right to present its display under the First Amendment.
"I think what they are presenting, the LaRouche folks, is free speech," Strauss said. "Folks might not like it and may feel offended by it, but it's free speech. They are entitled to their free speech."
Appleyard said she wanted WSU to take action to prevent such hateful displays.
"It's disheartening because as much as the dean of students and the president send out emails in support of Black Lives Matter and everything, and as much as they say that they support all our local communities or minorities, they absolutely do nothing to actually step up to their words."
WSU Police Chief Anthony Holt said WSUPD did not have the right to remove the display due to its location.
"The sidewalk is Detroit city property, not Wayne State property," Holt said. "There's nothing any officer can do. They're not breaking the law."
Strauss encouraged WSU students to avoid confrontations with the organization, he said.
"Coalition, a street squad, or whatever, let's get together and rise above it," Strauss said. "Don't succumb to their rhetoric, don't argue with their rhetoric, because you're not going to change their mind, or anyone like that."
Holt said he thinks that the LaRouche Organization may return to campus again. At the time of publication, Holt said he could not provide TSE with a comprehensive timeline of the incident.
The LaRouche Organization declined to comment.
---
Irving Mejia-Hilario is the managing editor for The South End. He can be reached at managingeditortse@gmail.com. 
Jenna Prestininzi is the editor-in-chief of The South End. She can be reached at editorinchieftse@gmail.com.
Photos by Jenna Prestininzi.