The Wayne State University women's basketball team split its series against Saginaw Valley State University at the James E. O'Neill Jr. Arena. WSU lost the first game 78-63 on Feb. 19 and won 79-70 in overtime on Feb. 20.
WSU got off to a good start on Friday, with two three-pointers from sophomore guard Rebecca Fugate to start the game. WSU's offense rapidly sputtered as SVSU proceeded to go on a 10-2 run with 5:33 left in the first quarter.
One of the most apparent parts of both games was SVSU's tenacious defense. From the time the game tipped off, it looked like SVSU set its intentions on playing as tight as possible. Head Coach Carrie Lohr said she thought WSU struggled against a tougher defense from SVSU.
"I think they were very physical and very aggressive in both games. This was different in the sense that we haven't seen that kind of physicality and strength. I think it really bothered us," Lohr said.
After struggling to score for the remainder of the first quarter, WSU headed into the second quarter only down 19-14. However, the second quarter was a nightmare for WSU.
In the second quarter, WSU was stifled in nearly every direction. Its normally reliable scorers went cold, resulting in one of the lowest scoring quarters for WSU this season. By the time the quarter ended, the game had slipped, as WSU trailed 42-25 at halftime.
The second half presented much of the same for WSU. A lack of a consistent offense, inability to get rebounds and costly turnovers gave way for SVSU to draw out its lead even further. At multiple points during the game, SVSU managed to bring the lead to 20 points.
WSU eventually fell 78-63, ending a three-game winning streak. Junior forward Sam Cherney and Fugate, WSU's top scorers for the game, shot a combined 7-20 and 2-8 from the three-point range. Lohr said she felt as if they just couldn't find their rhythm during the game.
"We didn't play very well and Saginaw Valley was just ready to play. We can't really factor in records at this point, and I just felt like for whatever reason, it was a grind for us. We were unable to stop a lot of their offensive and defensive schemes," Lohr said.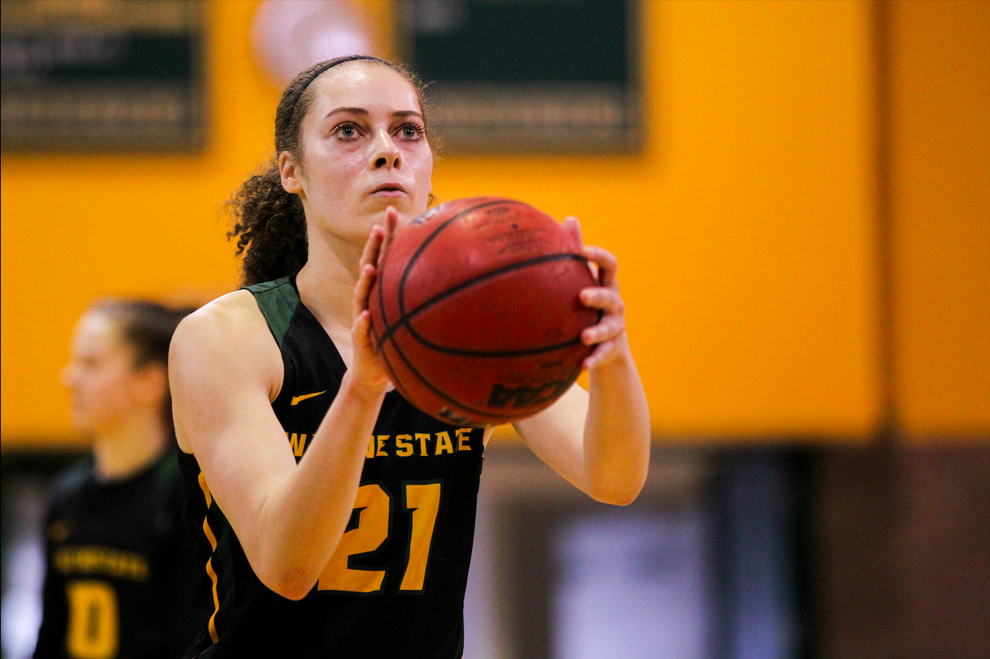 On Saturday, WSU entered the game with the same lineup as on Friday. The game even began with a similar sequence, two three-pointers that put WSU ahead 6-0 again. This time around though, WSU held onto a 22-20 lead at the end of the first quarter.
To start the second quarter, WSU used SVSU's tight defense to its advantage, forcing a few free throws and running perfect screens to set up shots. After a pair of free throws from junior guard Kate Sherwood went down, WSU had a 29-20 lead.
At halftime, WSU still maintained a 43-38 lead. But in the third quarter, WSU didn't look anything like the team that had mounted this lead.
It wasn't until there were 7:00 remaining in the third quarter that WSU finally scored. Unfortunately, that very same basket from freshman guard Jolee Houle was half of WSU's points that quarter. In the lowest-scoring quarter this season, WSU only scored four points in the third quarter as SVSU regained a 49-47 lead.
In the fourth quarter, WSU's offense returned. After going down 61-57 with 3:56 left in regulation, Sherwood carried the team to some key baskets down the stretch. With 1:34 left in the game, after a tough layup from Cherney, WSU and SVSU were tied at 64-64. 
WSU had a chance to win the game with three seconds left, but Cherney missed an open layup. Lohr said WSU was in a desirable position, but Cherney was expecting something else.
"It was exactly the shot we wanted. I think Sam just thought she was going to get fouled and she overshot the ball. She was wide open in the low-block and she missed. I think she had taken so much contact this series that she shot it, expecting to face some contact again," Lohr said.
Once again, WSU was in an overtime battle. As the period began, a familiar sight sprung up, two three-pointers to start the period. After the three-pointers, WSU never relinquished their lead in overtime and they won the game 79-70.
Though the stats may not jump out at first, Lohr said she gives a lot of credit to senior forward Tori Perez for leading WSU in this series, and in recent games.
"In our last five games, I think Tori has stepped up. She's developing some confidence and hitting shots from behind the arc. She is really helping us defensively and I don't think people see when she's in help defense. She's playing the best basketball that she's ever played in her four-year career," Lohr said.
This win marks WSU's third overtime victory this season, the most in WSU history. Lohr said WSU felt energized by their overtime performances this season.
"By the time we got to the locker room to greet the team, they were not only excited about the win but that it was their third overtime win. I think it's about gaining confidence, and hopefully, these overtime wins will give us some of that in the postseason," Lohr said.
WSU still has a lot to play for as this season winds down. Currently, WSU sits at sixth place in the Great Lakes Intercollegiate Athletic Conference, but if they win next weekend's two games, WSU could potentially place themselves in the fourth seed. Two losses could lead to WSU falling down to the ninth seed in the conference at season's end.
WSU will have a chance to finish the season strong as they travel to Jim Wink Arena on Feb. 26 and Feb. 27 to face off against their rival, Ferris State University.
---
Irving Mejia-Hilario is sports editor for The South End. He can be reached at ismejia48@wayne.edu.
Cover art created by Dori Gross, graphic designer for The South End. She can be reached at gh6421@wayne.edu.