U.S. Sen. Bernie Sanders held a rally at the TCF Center in Detroit March 6 as part of his four-day tour of Michigan before the primary election on Tuesday.
The two-hour long rally drew a crowd of thousands, with energy and excitement palpable in the room. The event featured several guest speakers, including Congresswoman Rashida Tlaib and Detroit City Council President Pro Tempore Mary Sheffield. 
Tlaib said she was motivated to join his campaign because she believes Sanders is the only candidate who will stand with Americans.
"I couldn't think of anybody but Bernie who won't sell my sons out," Tlaib said. "This is a once in a lifetime moment to elect someone that won't sell us out."
During his remarks, Sanders discussed his platform, which includes a $15 minimum wage, Medicare for all, the Green New Deal, education reform, criminal justice reform and reproductive rights. Sanders said his campaign is about more than himself, emphasizing the power of ordinary people to transform this country.
"Real change in America never comes from top down, always bottom up," Sanders said.
Sanders visited Dearborn Saturday at Salina Intermediate School.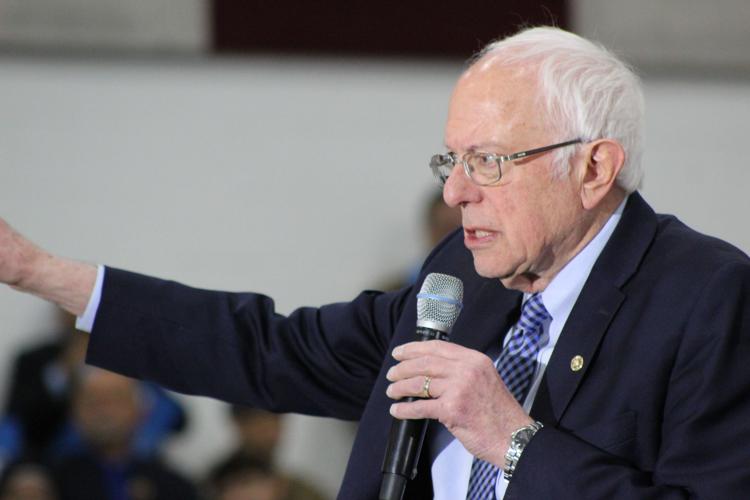 This message of transformative change from the bottom up is a significant message of the Sanders campaign, as noted in their slogan #NotMeUs. Echoing these sentiments, Tlaib said it's the American people, not those in power, who can really make a difference.
"Change comes from our collective will, not the generosity of the powerful," Tlaib said.
Sanders compared his record to former Vice President Joe Biden's record, citing Biden's past support for the Iraq War, the 1994 Violent Crime Control and Law Enforcement Act, the Defense of Marriage Act, the Hyde Amendment and opposition to Roe v. Wade, trade deals such as NAFTA and the 2008 Wall Street "bailout."
Sanders said Biden's record and acceptance of campaign contributions from wealthy donors, including Super PACs, would make it harder for Biden to effectively take on President Donald Trump in the 2020 election.
Wayne State student Amani Elewa said Sanders' refusal to accept any campaign contributions from wealthy donors inspires her to vote for him.
"I think that the fact that he isn't using corporate money makes me want to vote for him more. It makes it seem as if we were running with him," Elewa said. "When I think of him it doesn't seem like he's speaking on a pedestal. He wants to fight with us, not for us."
Flint-based United Auto Worker member Sean Crawford said supporters should look to themselves in order to achieve change.
"We are the revolution we've been looking for. We are the people we have been waiting for. Because together we can make this movement happen," Crawford said.
Sheffield said she encourages supporters to take action toward changing America by voting.
"Let's march into the voting booth this Tuesday to burn down the walls of oppression, to burn down the walls of inequality and inequity," Sheffield said. "Let's burn down the walls to the systems that create and exacerbate abject poverty, and let's burn down the walls of establishment politics that fail to deliver for the working and middle class people."
Sanders is holding several rallies across Michigan until the state's primary election on March 10.
He's scheduled to appear in Grand Rapids and Ann Arbor Sunday and Flint on Monday. 
Jenna Prestininzi is a correspondent for The South End. She can be reached at jennap@wayne.edu
Cover photo by Jenna