Wayne State's swim and dive teams competed in its final home meet of the season versus rival Grand Valley State University at the Matthaei Natatorium on Jan. 25. 
GVSU scraped past WSU's men's team 157-142, while the women's team suffered a 171.5-127.5 defeat.
All four squads entered the meet ranked in the College Swimming and Diving Coaches of America Association/TYR Division II Top 25 Poll. WSU's men's team was ranked eighth, while the women's team was slotted 16th.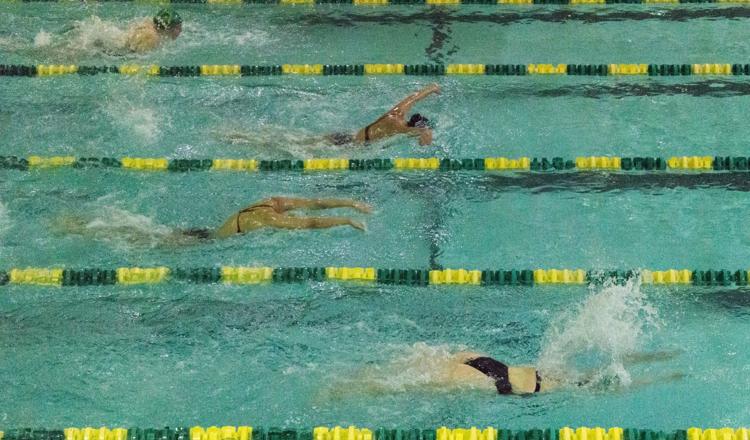 Prior to the meet, the teams recognized its nine seniors; Ahmed Ahmed, Leonardo de Oliveira, Ryan Katulski and Joao Ribeiro for the men, along with Aliza Durack, Elizabeth Maraskine, Kate Svisco, Mia Teifer and Ashlen Michalski on the women's team.
Both teams opened the meet with wins in the 400-yard medley as the women's quartet of Michalski, juniors Jia Yi Koh, Haley Groteler and sophomore Julia Brunner posted a time of 3:59.34. 
The men's side, comprised of Ahmed, Ribeiro, Katulski and junior Franz Mueller, notched a time of 3:23.42. 
In the 200-yard freestyle, Ahmed stormed back from starting fourth in the event to post a victory with a time of 1:43.74. He said conserving his energy early played a big part in the win.
"During the high-volume and intensity stuff, I don't have much power or energy, so I have to divide it and I executed well," Ahmed said.
Ribeiro notched two victories in the 200-yard breast with a time of 2:04.90 and the 200-yard IM with a time of 1:53.50.
WSU swept the podium in the 50-yard free as Katulski won the race with a time of 20.91, with junior Jack Rogers (21.44) taking second place and sophomore Stewart Nowinski (21.76) finishing third.
Michalski secured a win in the 200-yard back with a time of 2:09.95 and tied for first-place in the 100-yard, posting a time of 59.01.
Teifer posted wins in the 3-meter dive and 1-meter dive with scores of 275.40(which met NCAA Championship qualifications) and 261.08, with junior Amanda Hurchalla finishing third.
Despite the loss, head coach Sean Peters said he was happy with the team's effort.
"I'm really happy about our performances, the girls certainly improved from where they were last year and there's a lot to be proud of," Peters said. "And the guys, they fought and swam so well."
Peters said he knew the team was tired and praised their tenacity throughout the meet. 
"They never gave up (and) they always kept pushing themselves," Peters said. "If you can find a way to swim even when you're tired, that's magic."
Both teams return to action in the GLIAC Championship February 19-22 in Saginaw.
---
Irving Mejia-Hilario is a contributing writer for The South End. He can be reached at ismejia48@wayne.edu
Photos by Jonathan Deschaine. Jonathan is the multimedia editor for The South End. He can be reached at jonathan.deschaine@wayne.edu.