The Great Lakes Intercollegiate Athletic Conference Council of Presidents and Chancellors announced their approval of a winter and spring sports calendar on Nov. 11. 
With fall sports now taking place in the spring, the schedule will be short and conference only, according to the announcement. Each season will also feature a conference-only tournament. 
GLIAC previously suspended sports until January 2021. Teams will be allowed to schedule non-conference competition before January 2021, said Jeff Weiss, Wayne State University sports information director. 
"There will be no conference competition until January," Weiss said. "If you want something in December, you can schedule it (non-conference), but testing and things will make it subject to change."
Men's and women's basketball released their winter schedules over a YouTube live stream on Nov. 12, with their season beginning on Jan. 7, 2021. Other winter sports like swimming and diving and indoor track and field will be permitted to compete under NCAA guidelines in the winter, but no official start date has been announced yet.
Volleyball, which normally plays in the fall, will begin their season on Feb. 19, 2021. 
The women's tennis teams will move to the spring as well and compete with the men's tennis. Baseball, softball and men's and women's golf will also remain in the spring. 
Football teams will be allowed to schedule up to five spring competitions, but they will not count toward an official season. The fall 2020 cross country season was canceled and there is currently no update on when cross country will return.
The GLIAC COVID-19 Task Force will monitor the COVID-19 pandemic in deciding whether to allow fan attendance, said Marcus Thatcher, GLIAC assistant commissioner.
"Our COVID-19 Task Force is still waiting to make that decision. We have some time to monitor what's going on, and we will make a decision on spectators/fans at a later date," Thatcher said. 
GLIAC used guidance from the NCAA and other conferences in making this decision, Thatcher said. One of their concerns is games being delayed, so makeup dates are built into the schedule.
"We have examined what other conferences have done, but the NCAA recommendations played a big part into how we moved forward as a league," Thatcher said. 
The basketball schedules feature departures from typical seasons, Weiss said. The schedule will be 18 games —with nine home and nine away for the men's and women's teams. The games play back to back and the home school decides the day games will happen. 
WSU Director of Athletics, Rob Fournier, showed a sense of optimistic caution in a statement.
"It is good to see we are getting to that point where we can 're-engage' our student-athletes and coaches in intercollegiate competition. But these are measured, incremental steps that will take work, oversight and heightened coordination," Fournier said.
Alexis Miller, a junior guard for the WSU women's basketball team, said she looks forward to the opportunity to return to competition.
"I was very excited to hear that we would be able to start our season in the winter. We all put so much work in individually this summer and continued to show that effort when we were able to get back on the court as a team last month. Our team is ready to get officially started," Miller said.
Grace George, a junior forward for the women's basketball team, said she is satisfied with WSU's response to the pandemic, praising their efforts to ensure students' safety.
"I feel confident that we are taking the necessary steps to remain safe. Wayne State has done a fantastic job of making sure we have all of the proper resources and support during these times," George said.
Despite the possibility of no fans attending competitions, Miller said her team remains motivated for the upcoming season.
"All of our team is so encouraging and they bring so much energy. I think it will definitely be different but without a doubt, we will have the loudest bench," Miller said.
The decision marks a positive turn for student-athletes, George said.
"Seeing this schedule unfold is definitely motivating. To see a hard deadline with the promise of competition is exciting moving forward. I think we all are just ready to make some waves this season," George said.
The men's and women's soccer schedules will be released on Nov. 16 and volleyball's schedule release will be announced at a later time, according to the GLIAC statement.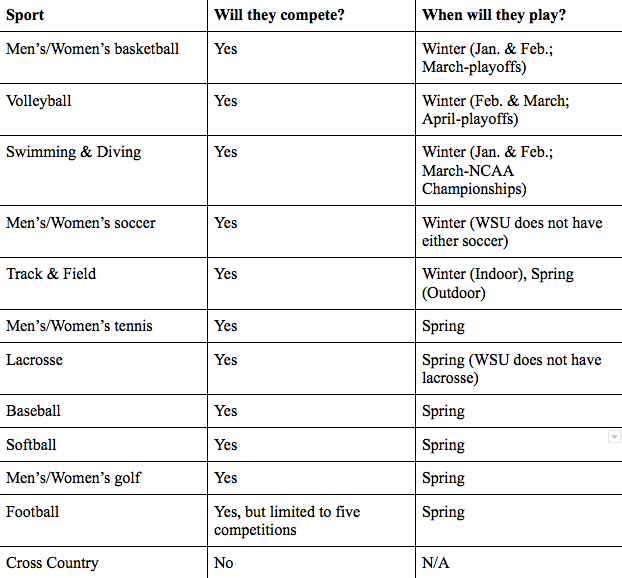 ---
Irving Mejia-Hilario is sports editor for The South End. He can be reached at ismejia48@wayne.edu.
Cover photo of a home basketball game in February 2020 provided by WSU Athletics.