The Wayne State University men's basketball team split its final regular-season series at the Matthaei Center against Ferris State University. WSU lost the first game 84-71 on Feb. 26 but won the second matchup 70-68 on Feb. 27.
Heading into Friday's game, WSU was 1-9 against FSU since 2014. Though WSU clinched a part of the Great Lakes Intercollegiate Athletic Conference regular-season championship last weekend, Head Coach David Greer said WSU would continue to keep its foot on the pedal in the final series.
"Our motivation is winning, simple as that. Doesn't matter that we won some games before this, our only goal this weekend was to keep winning," Greer said.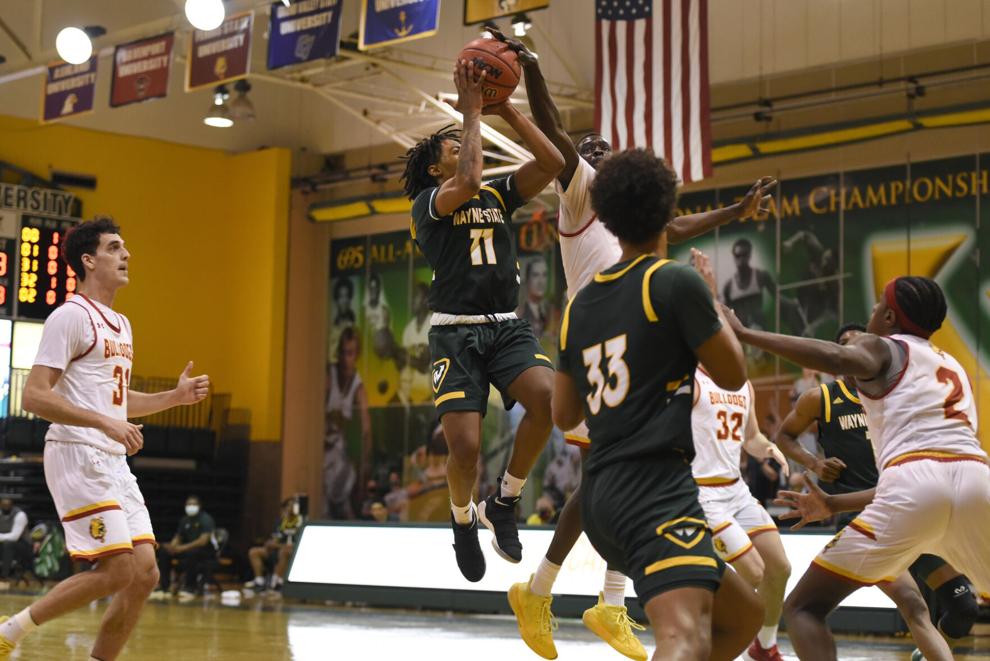 On Friday, WSU looked like it would face another tough game in the early going. In the opening ten minutes of the game, neither team could separate themselves by more than five points. 
With 9:57 remaining in the first half, sophomore forward Avery Lewis committed his second foul of the game, prompting Greer to place him on the bench early. A consistent theme of WSU this season has been how quickly Lewis has had to leave games early due to foul problems.
The fouling issues were not lost on Greer as he said he was underwhelmed by Lewis's performance.
"I didn't think Avery was particularly very good on Friday. We've been having problems all year with him fouling out early and it was no different. We need him in the game to warm up and make some shots. So if he's not out there, then we're just playing from behind," Greer said.
For the most part, both teams played an old-school brand of basketball, focusing on plays inside the paint. As the game went along, with 7:45 left in the first half, senior guard Brailen Neely turned the ball over for the first time in the game.
WSU then proceeded to turn the ball over five times over the course of five minutes, giving way for FSU to take a 38-30 lead with 2:24 left in the half. In the first half, junior guard Darian Owens-White played a key role in the turnover issues, turning the ball over three times on his own.
WSU later reduced the lead back to only a four point deficit off a layup from sophomore forward Nate Talbot. At halftime FSU led the game 40-36.
FSU gained firm control of the game once both teams returned to the court in the second half. After WSU missed three of its first four shots and turned the ball over in the opening two minutes, FSU grew its lead to 48-38.
Greer put sophomore forward Kylin Grant in place of freshman guard Ray Williams Jr., which helped reclaim momentum for WSU. After a three-pointer from Grant with 12:32 left in the second half, FSU's lead was down to 54-49.
WSU's attempted comeback was short lived, as FSU slowly regained its 10 point lead through efficient scoring and tight defense. Free throws, a category which WSU has found success in this season, also played a role in the game as WSU only shot 65% from the line.
Ultimately, WSU's efforts weren't enough, losing a home game for the first time this season. Greer said more effort is needed to close out the season strong.
"We weren't very good on Friday and I think we knew that. We had to go back and watch some film and see what went wrong, but we knew we were better than that," Greer said.
On Saturday, both teams got off to a tough start, missing initial shots and committing fouls early. At the 11:24 mark in the first half, WSU finally started to make a real dent on the scoreboard after a successful layup from Lewis marked a 9-2 run. With that, WSU held a 17-9 lead.
Later in the half, WSU's offense began to hit on all cylinders. Successful three-pointers from Owens-White and Grant led WSU to hold a 34-24 lead with 5:04 left in the half. Going into halftime, WSU maintained a 40-30 lead.
However, in the second half, FSU's defense tightened down, forcing two early turnovers in the opening three minutes for WSU. With 14:05 left in the game, FSU fought its way back, trailing 46-45.
Without using any timeouts, WSU regained its stronghold on the game after mounting a 15-6 run. With 6:43 left in the game, WSU led 61-51.
With 3:21 remaining in the game, FSU attempted one last comeback attempt. Slowly trimming down WSU's lead, FSU shot mid-range jumpers and focused on plays inside the paint.
This paid dividends, as WSU's massive lead was once again cut down to only 68-65 with 1:22 left in the game. 
After a turnover from Neely resulted in some poor defense from Owens-White on the defensive end, FSU hit a three-pointer and WSU's lead was gone. Both teams were tied at 68-68 with nine seconds left. Once again, WSU didn't go to its final timeout, instead opting to leave it in the hands of the players.
Owens-White, the same player who missed last season due to an injury, knocked down the game winning jumper as he fell to the floor with two seconds left. After Williams stole FSU's inbound pass, the final buzzer sounded and WSU won 70-68.
WSU has some impressive performances on Saturday, such as Neely scoring 18 points, 12 assists and 6 rebounds, and Lewis's game-high 24 points.
With this win, WSU outright claimed its first regular-season title since the 1998-1999 season. This victory also is the first time Greer has won a GLIAC regular season title in his 20 years as head coach.
Greer said the moment meant a lot and validated the work WSU has gone through in this unusual season.
"It's good for the guys. Being that it was in the middle of a pandemic and you're not sure you're really going to play. I'm happy for them, staying the course. This wasn't easy, but they showed a lot of mental toughness this year," Greer said.
Additionally, Greer said he was proud of Owens-White for weathering through a tough game and season.
"I'm sure it meant a lot to him, to hit that final shot. I didn't think he played very good today, but he stayed focused and hit that big shot, and that's one that he's not afraid of taking for us," Greer said.
WSU will now look ahead to the 2021 GLIAC Men's Basketball Tournament. Currently, the seeding for teams is unknown, but WSU is expected to return on March 4 at noon for its first round matchup at the John Friend Court in Hammond, Indiana.
---
 Irving Mejia-Hilario is sports editor for The South End. He can be reached at ismejia48@wayne.edu.
Photos provided by WSU Athletics.