Campus community members gathered on Gullen Mall to celebrate Wayne State's first-ever SpringFest on Wednesday.
The outdoor event was organized by the Dean of Students Office to provide students an opportunity to learn about student organizations and campus learning communities. The event was originally scheduled for April 13, but was postponed due to weather concerns.
Dean of Students David Strauss said SpringFest will continue the spirit of FestiFall, an annual outdoor event held to mark the beginning of WSU's academic year by promoting student organizations and campus learning communities.
"FestiFall is such a great traditional event where everyone has so much fun," he said. "What we want to do is start a new tradition of having a send-off fest like we have FestiFall being a welcome fest. We want students to get a jump start on things over the summer rather than waiting until the fall."
SpringFest highlighted over 160 student organizations focused on a variety of different missions.
The Spine Crackers is a new book club at WSU that reads books from all genres, club member Iyman Hamad said.
"We really thought the school was lacking a proper book club so we wanted to give people the chance to connect with other people who love to read," Hamad said. "When you're in college, you kind of lose your ability to do the hobbies you love because you're focusing on school and work. We wanted to give people the chance to connect."
WSU Students for Justice in Palestine had a table with a display of information about the ongoing Israeli occupation of Palestine and Palestinian culture. SJP works consistently to inform people about current issues in Palestine, said board member Safa Shkoukani.
"Our organization brings awareness to Palestine, and we all work together to fight for people to know what's going on over there," Shkoukani said.
WSU's only A Capella group, Melodytroit, promoted its spring concert at SpringFest, said group member Agata Schermerhorn.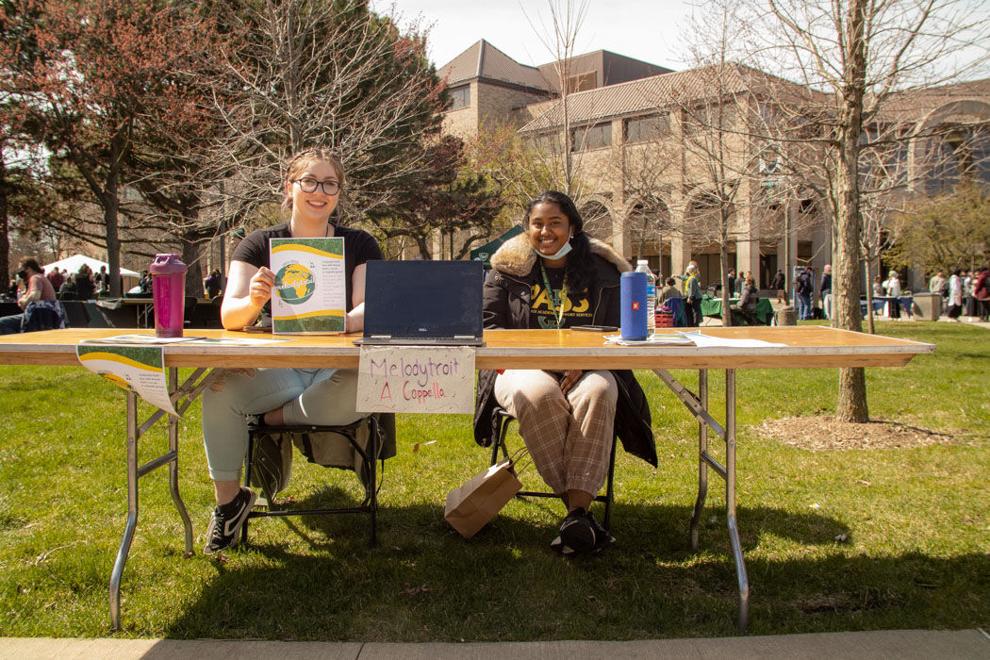 "We come together and rehearse twice a week," Schermerhorn said. "We are not only out here recruiting for the fall, but our spring concert is this Friday, April 22. It's free admission in General Lectures."
Schermerhorn said SpringFest allowed student organizations to make connections with each other, which could lead to future partnerships.
"It's cool to see all the other student organizations and see what's going on throughout campus," she said. "I personally don't have time for other organizations but it's cool to reach out to other groups to do a collaboration with them."
Moving forward, SpringFest will be an annual event, Strauss said.
"Our plan for the future is to have FestiFall at the beginning of the year, WinterFest in the middle, and SpringFest at the end," he said.
Hamad said SpringFest was an important opportunity to connect with the campus community. 
"I like to be able to communicate with people. I feel like I don't see much of Wayne because I'm a commuter and only come to campus when I need to," Hamad said. "I don't usually do this kind of thing but being able to communicate with new people and see old people I haven't seen in a long time is great."
---
Marina Johnson is a contributing writer for The South End. She can be reached at marina.johnson@wayne.edu.
Photos by Quinn Banks, The South End's multimedia editor. He can be reached at multimediaeditortse@gmail.com.