Saturday, March 20 marked the first day of spring and this year's Nowruz, the Iranian new year. The holiday symbolizes reflection, new beginnings and being hopeful for the future.
The spelling and pronunciation of Nowruz varies by country and region, according to the United Nations. The word itself means new day. In Iran, celebrations can last up to 13 days.
Countries such as Iran, Afghanistan, Albania, India, Kazakhstan, Turkey and Turkmenistan celebrate Nowruz, according to CNN. More than 300 million people worldwide celebrate, from the Balkans to the Black Sea Basin to Central Asia to the Middle East, United States and elsewhere.
Wayne State students are still upholding their traditions despite the COVID-19 pandemic, with decorations, traditional foods, immediate-family gatherings, gifts and more.
"The main decoration or symbolic representation of Norooz in every household is a spread called 'Haft Seen,'" said Hoda Fotovat-Ahmadi, a pharmacy student at WSU, in an email to The South End on Monday. "This has seven specific items on it that start with the letter 'S' in Farsi. Each of these items represents a concept."
The seven S's are Seeb, meaning apple and symbolizing beauty; Sabze, meaning sprouting or grass and symbolizing growth and rebirth; Sombol, meaning hyacinth flower and symbolizing spring; Serke which is vinegar, symbolizing patience; Sekkeh, which is coins for wealth and prosperity; Seer, which is garlic for health and medicine; and Somagh, meaning sumac, which is an Iranian spice that symbolizes sunrise and a new day due to its red color, Fotovat-Ahmadi said.
Other items on the table include a mirror to symbolize self-reflection, candles for enlightenment, painted eggs for fertility, goldfish for progress, traditional Iranian sweets and pastries to symbolize the sweetness of life and the Qur'an, the holy book of Islam, Fotovat-Ahmadi said. Non-Muslims usually put "Divan of Hafez" instead, a book of the famous Persian poet Hafez. The books symbolize wisdom.
A week before the holiday, it is tradition to deep clean your home in preparation of Nowruz and spring. Spring cleaning is known as "Khoone Tekooni," Fotovat-Ahmadi said. 
Those celebrating wear nice clothes and sit around the Haft seen tables on Nowruz, exchanging gifts, hugs, money, sweets and more, she said. A traditional dish eaten on Nowruz is "Sabzi Polo Maahi," which is herbed rice with fish.
Ghazaleh Akbarian, a senior psychology student, said she was on her way back from Texas on Saturday, where she was visiting a friend who recently gave birth. 
"I was driving back down here when Nowruz happened," Akbarian said. "So my mom FaceTimed me and she just passed the phone around and showed me the table and I was able to like talk to my family members."
Normally, extended family members gather in large groups to celebrate together, but that was not possible this year.
"Usually, we go to one of my aunt's houses and we all gather there, we just hang out, eat all this food and spend time together and whatnot," Akbarian said. "But since COVID is a thing, it was mostly everyone in their own houses and everyone set up their own little Haft Seen tables and stuff."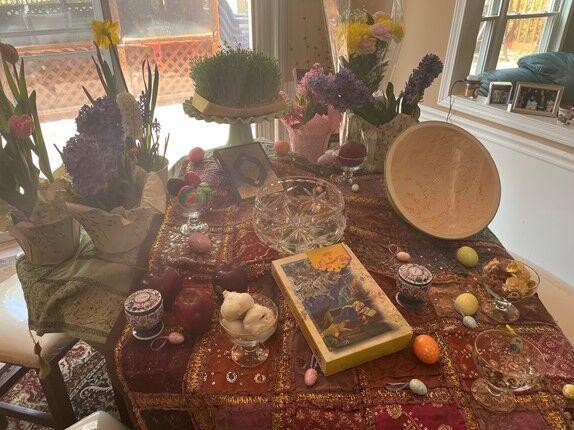 The family group chat was a lot more active this year, Akbarian said. Celebrations have adapted due to public health guidelines, but they were not completely eliminated.
"I came home and I was able to see the table," Akbarian said. "I spent time with my parents and we all talked and then my dad gave me and my siblings money as a gift."
Another activity compromised due to COVID-19 restrictions is "Chahar Shambe Suri," which means fire jumping, Fotovat-Ahmadi said. Friends and families get together outside, set up mini bonfires and leap over them. 
"This represents giving our weaknesses from the past year to the fire, and taking the strengths of the fire with us into the new year," she said. "Usually, we would get together with friends and family in a park and do that, but we were not able to this year." 
Although WSU did not have any events to celebrate Nowruz, Leonard Savala, director of the Office of Multicultural Student Engagement, said his office's mission is to create a safe campus environment where all student identities are valued, promoted and celebrated. 
While OMSE has not hosted any events surrounding Nowruz in the past, that does not mean the office is not willing to do so in the future, Savala said.
"I can't honestly say it hasn't been celebrated because I haven't had students come to OMSE and ask for help setting up a celebration," Savala said. "Most of our celebrations are usually motivated by student leaders in those communities."
Students are encouraged to reach out to OMSE if they are interested in celebrating Nowruz or any other holidays with the university, Savala said.
"We want to build a community where everyone feels celebrated," he said. 
---
Amelia Benavides-Colón is a contributing writer for The South End. She can be reached at hd4634@wayne.edu.
Nour Rahal is news editor at The South End. She can be reached at newseditortse@gmail.com.
Cover photo of Nowruz Haft Seen provided by Hoda Fotovat-Ahmadi.