Wayne State is continuing the pass/no pass grading option for the fall 2020 and winter 2021 terms to help students succeed online, Interim Provost Laurie Lauzon Clabo said in an email to students on Thursday.
The option is only for undergraduate classes and students are advised to coordinate with an academic advisor if this is something they may be interested in. 
The process will be identical to what was offered in winter 2020, Clabo said. Students may choose to adopt a pass or no credit letter grade, which will not affect their GPA.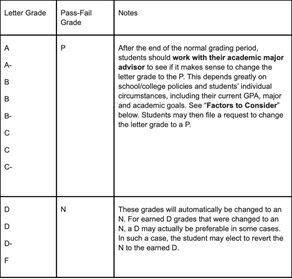 "The decision to change your grade depends on many things, including your school/college policies, your current GPA and major and your academic goals," the email said. "Until the time you graduate, you can make this change at any time. You can also change your grade back to the original grade."
P grades for these semesters will not count toward the university maximum allowed. 
"P grades elected during this semester will be accepted for general education credit, but they might not count for some schools, colleges, programs or majors. Therefore, you should work with your academic advisor to make sure the P grade will satisfy your school, college or program requirements," according to the email.
Two weeks ago, senior environmental science major Madeline Piontek said she started a petition on Change.org, urging the WSU administration to implement a pass/no pass option for students.
"I started it because while my own professors are making it more flexible with the pandemic or making labs pass or fail, some aren't and I don't think it's fair to the students or professors," Piontek said. "Sometimes it's not even up to the professor if the department has a strict grading scale and policy. The university should set a standard and I think it should be an option to have a class as pass/fail or at least make any failing grade a no credit."
The petition currently has 2,879 signatures and has circulated on Twitter and Reddit.
"I don't feel that I will be greatly affected without a credit/no credit policy. My concern is for others who are less privileged than I have been, who have suffered far worse circumstances," Carl Victory said, a sophomore theatre major. 
Victory said he believes WSU must prioritize caring for students during this pandemic. 
"I support credit/no credit because, for many, this pandemic has required a complete re-direction of their energy and resources away from their education," he said.
Junior mechanical engineering major, Shahriar Alam, also signed the petition in support of other students, he said. 
"I signed the petition not really for myself, personally," Alam said. "Thankfully, I've adapted well to online classes and am doing well —but it is still tough and hard to get used to, which I know a lot of students struggling with." 
Students who are contemplating the option of adopting a P or N letter grade are advised by Clabo to speak with an advisor, but are also assured that any decision regarding a P or N option is not final.
For more information regarding the P or N letter grade option visit WSU's website.
---
Arben Gacaferi is a correspondent for The South End. He can be reached at newsreportertse@gmail.com.