Wayne State's men's club soccer went undefeated in its regular season before losing in its Nov. 14 final to University of Michigan's Maize Futbol Club.
The team did not play its 2020 season during the COVID-19 pandemic.
Matthew Kraydich, goalkeeper and one of three team captains, said he has been a part of the club for five years and this team was special.
"It's the best. I mean this is the first year that we've made the finals as a program," Kraydich said. "And we've gone undefeated in the regular season in the past, but this was by far, like the best (season) defense(-wise) and offense-wise pretty much all around."
Team captain Jessie Tomazic said the team's dedication largely impacted this season's outcome.
"Prior to this year, a lot of our practices had single digit numbers, which could be problematic," Tomazic said. "But this year, the guys really showed out, and we always had people to work at practice. People were showing up, even if they were coming straight from work. Even if they were 20 minutes late, they still showed up."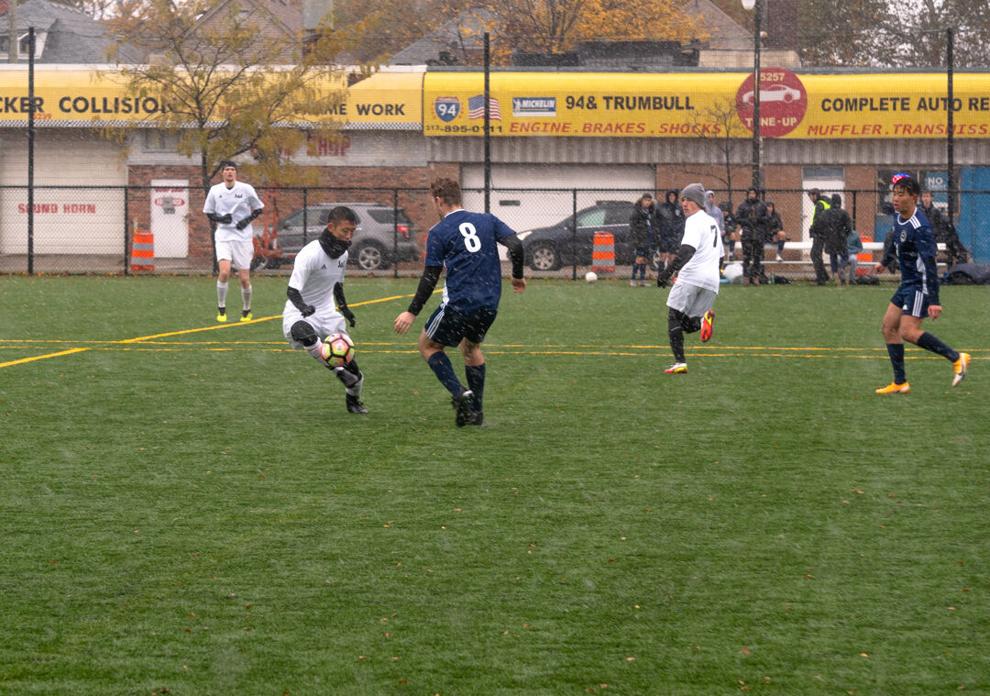 Kraydich said he was hesitant about expectations for this season.
"We really thought that we were going to have to rebuild the program pretty much from the ground up and just this whole brand new group of players… they've just been so good commitment-wise, talent-wise and it's just been crazy," he said.
This season was center back Marco Althoen's first on the team and his expectations were high, he said.
"Once we got started I kind of got acclimated," he said. "Obviously right away our expectation was to win the championship."
A new season brought new injuries and Althoen said the effects were felt across the team. He sprained his ankle during the regular season.
"I'd say honestly everyone on our team experienced some sort of injury, whether mild or severe... including myself," Althoen said. 
Tomazic said he suffered a "separation between my sternum and my collarbone" during one of the games, which put him out for the rest of the season. 
Captain Zach Pardes said he should have been out for the season after he fractured his jaw. But he played with the injury because he didn't want to miss out on his final season with the team.
"I wasn't supposed to play in the playoffs, but it was my last year," Pardes said. "I was going to do it anyways."
Tomazic said having the season off last year likely contributed to the number of injuries players experienced throughout this season. 
"Not that anyone was ill-prepared, but just coming back after such a long time, I think the people are just more prone to injuries after that, unfortunately," he said.
Althoen said the injuries required him to shoulder more responsibility.
"Even though I'm not a captain, I definitely did have to step up in a leadership role," he said. "But that's something I've also been used to, so it was nothing new in that sense."
A full roster gave the team the flexibility needed to deal with injuries as they occurred, Kraydich said. 
Kraydich said the team had eight returning players, but had to recruit the majority of this season's members. 
"The good news with all these new players is that we have a foundation established for at least three more years to come of a really, really strong team defensively, in the midfield and going forward," Pardes said. "And so, you know, the success of this season is only going to build for the next three years."
Pardes said the team tested out different formations before settling into a 4-3-3, which allowed for a more offensively aggressive playing style.
"The reason we play that is because we had so many quick, talented, smart players going forward that we really felt competent enough to throw that at teams, rather than play more conservatively…" Pardes said. "And it worked out, really, really well for us in pretty much every circumstance."
WSU men's club soccer ended its regular season with a 6-1-0 record. The tie was with Maize Futbol Club, who WSU ultimately lost to in the final.
---
Kate Vaughn is the breaking news correspondent for The South End. She can be reached at newsreportertse@gmail.com.
Cover photo by Quinn Banks, The South End's multimedia editor. He can be reached at multimediaeditortse@gmail.com.