The journey for Wayne State men's tennis is anticipated to repeat as conference champions began last weekend against Walsh University.
Last season, WSU won the Great Lakes Intercollegiate Athletic Conference regular-season title for the first time since 1981.
In the 2019 GLIAC Tournament, WSU completed its sweep of conference titles by defeating Ferris State University in the championship round.
WSU advanced to the NCAA Division II Tournament, defeating Grand Valley State University in the opening round, before being eliminated by Drury University.
Head coach Bryan Morrow said he hopes this year's team can equal what last year's squad did. 
"Last year we had an amazing year and as a team, we came together and played so completely as a team," Morrow said. "The hope is that this year's team can play like last year's team, and we can compete like that."
WSU was ranked fourth in the Intercollegiate Tennis Association Division II Regional Preseason Rankings. 
Senior co-captain Pierre Renaudie said the team is happy for the recognition but has their sights set on bigger goals.
"We're just trying to put as much work as we can both at practice, and then hopefully it will pay off in matches and the rankings will go from there," Renaudie said.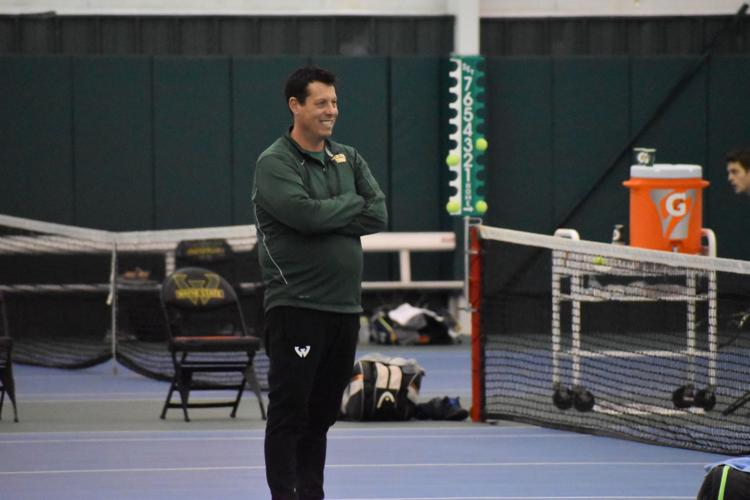 This year's team has a different look to it as there are six underclassmen on the squad. Morrow said he's looking forward to seeing the new players adjust to collegiate tennis.
"It's gonna be really fun to see how they adapt to college tennis and adapt to the pressure of playing these matches," Morrow said.
WSU's non-conference schedule is highlighted by matches against NCAA Division I schools Toledo University and Western Michigan. Morrow said it's fun to compete against the Division I schools.
"I'm very excited to play the schools like Toledo and Saint Francis, we've always had very good competitive matches with them, and I'm expecting to have competitive matches this year," Morrow said. 
"When we go to Florida we also play some nationally ranked teams that are usually ranked in the top 10 or 15, and those are really good tests to see where your team is at that time."
Renaudie said being named co-captain with junior Niklas Karcz is something he's hoped to accomplish during his stint on the team.
"I'm very proud to be able to share that captainship with Niklas, who is one of the guys on the team that I'm closest with, and I think we're forming a great pair both bringing different stuff to the table," Renaudie said.
Morrow said the team's goal for the season is to compete at a high level and advance to the NCAA Tournament.
"I believe that we are talented, we are young and these freshmen and sophomores have to develop and grow up in a hurry and if they do, I think we'll be pretty good," Morrow said.
WSU will play its first home match Feb. 12 against Tiffin University.
---
Matt Williams is sports editor of The South End. He can be reached at mattmwilliams86@gmail.com.
Cover and teaser photo by Lauren Bryne. 
Photo of coach Morrow by Cam Weidenthaler.