It's hard to miss the recently installed pastel yellow, red, and light and dark green colored panels on Wayne State's newest building.
WSU began constructing the Anthony Wayne Drive Apartments in April 2017 and finished phase one of construction prior to fall move-in. Now that the building's exterior is near complete, students like freshman Julia Brunner are wondering the story behind its color scheme.
The marketing and Spanish student said the exterior of the building is the non-uniform color combination.
"Some colors don't seem to go very well together," she said. "There could have been better planning with what colors to put together."
She said it doesn't feel like the building represents WSU. She feels the design could have better represented the university and its student body.
"It doesn't really go well with the campus," Brunner said. "They could've made a mural or put a banner that says WSU or something."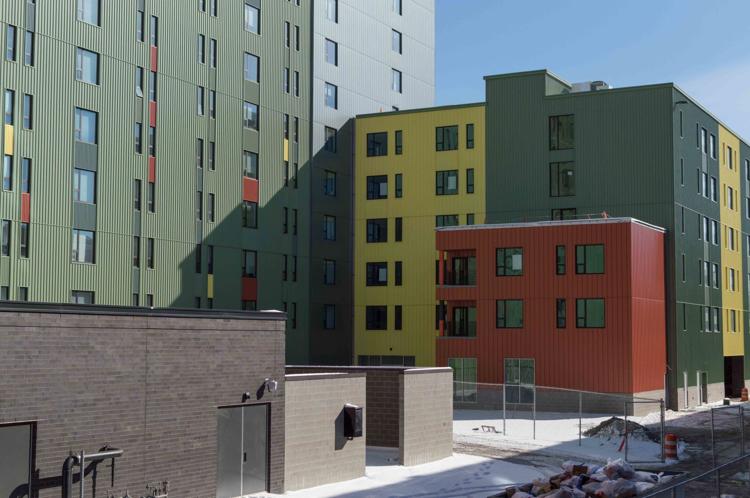 Liz Angelo, sophomore global supply management student, said the building is unappealing and unnecessarily dons a variety of colors.
"I think it's really ugly, but I do like the brick. They should've just stuck with using brick for the entire building," she said.
Kelly Douglas — marketing and media strategist for Corvias, the company that handles WSU's constriction projects — said WSU chose the colors on the outside of the building.
"Corvias presented a variety of colors schemes and designs that were in line with the overall architecture and style of the campus," she said. "The WSU team then selected what you see represented on the building."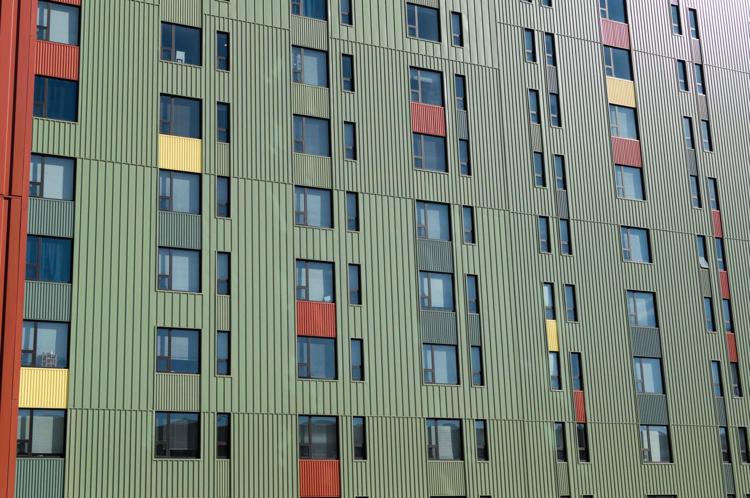 Michael Decoster, vice president of Hamilton Anderson Architects — the company that created the concept for the Anthony Wayne Drive Apartments — said they used various colors for different reasons.
"With a building of this scale, the colors help break it up into sections so (the building) is more understandable," he said.
He said the yellow on the facade is used to bridge the different sized parts of the building. The different colored brick combined with the terracotta panels helps create a grid pattern, and the green panels were used because Decoster said he felt green relates to WSU.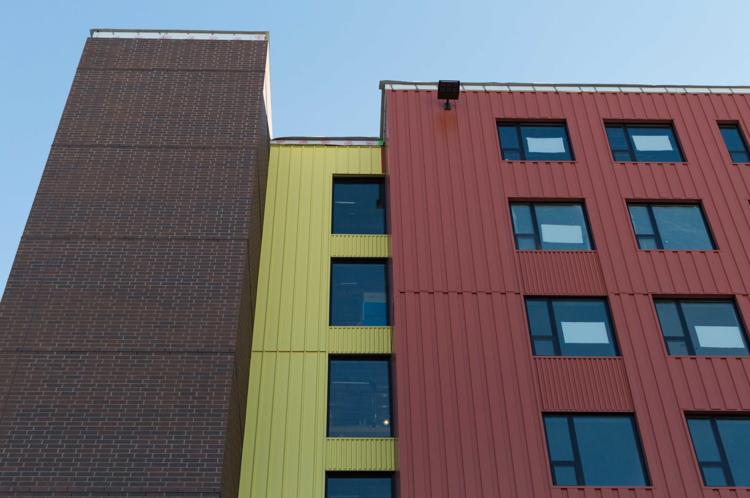 Freshman engineering student Reid Schoenherr said he likes the building but there could be improvements to its aesthetic. He added that if the apartment's architecture matched other building styles on campus, then the apartments would have looked better.
"I think they thought it looked modern, which it does," he said. "But it looks like someone tried making it with Microsoft Paint because of the random, weird colors."
The current and previous construction of Anthony Wayne Drive Apartments is part of a $1.4 billion partnership between WSU and Corvias Campus Living. Corvias, a Rhode Island-based contracting company, works with higher education and U.S. military to develop and manage housing facilities, according to its website.
WSU and Corvias have a 40-year contract, which states Corvias is responsible for property and asset management. WSU maintains ownership of its land and all facilities used for on-campus housing, according to WSU's facilities planning and management website.
---
Susana Hernandez is The South End's WSU Board of Governors and campus housing beat reporter. She can be reached at susana.hernandez@wayne.edu.
Cover photo by Jonathan Deschaine