Wayne State football suffered a 62-37 defeat to Slippery Rock University — ranked 10th in the Division II national poll  — in the team's season opener at Tom Adams Field on Sept. 5.
After WSU punted on their opening possession, SRU scored on their opening drive to take a 7-0 lead.
On WSU's next turn on offense, the Warriors turned the ball over, which led to another touchdown for the visitors to extend their lead to 14-0. 
SRU added one more touchdown late in the opening stanza to give the visitors a 21-0 lead after one quarter.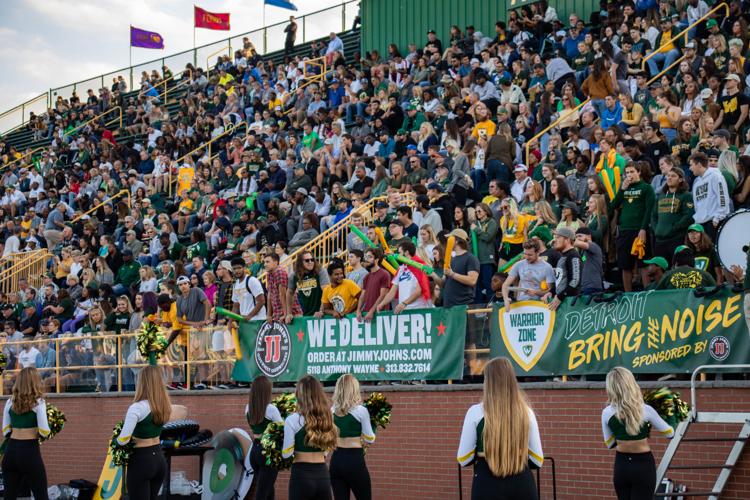 SRU added two more touchdowns in the second period to take a 35-0 lead before a three-yard touchdown run by senior running back James Hill finally put WSU on the board with 5:47 left before halftime. 
After SRU scored on their sixth consecutive possession of the opening half, Hill scored his second touchdown of the game to cut the deficit to 42-14. SRU added one more touchdown late in the quarter to take a 49-14 lead into halftime.
The visitors opened the second half by scoring a touchdown on their eighth consecutive possession to pull ahead 56-14. WSU would score the game's next 16 points as Hill scored his third rushing touchdown of the game, followed by a safety recorded by the defense, and senior quarterback Dakota Kupp threw a 12-yard touchdown pass to sophomore running back Donte McClure as WSU cut Slippery Rock's lead to 56-30. 
The visitors would add a touchdown late in the period to take a 62-30 lead into the final quarter.
WSU found the end zone early in the final period as Kupp found sophomore tight end Nick Poterack for a 49-yard touchdown, but the visitors were able to maintain their lead throughout the final quarter to seal the victory. 
After the game Head Coach Paul Winters said the coaching staff would look at game tape before making a decision on the starting quarterback for next week's game, adding that both Kupp and junior Jake AmRhein will be critical for the team moving forward.
"We've gotta get both of them playing better because we're gonna need both of them the rest of the year," Winters said. 
For the game Kupp completed 13 of 17 passes for 149 yards and two touchdowns with no interceptions, while Hill rushed for 138 yards, and the touchdown scored by McClure and Poterack were the first of their career.
The 62 points allowed were the most that WSU has allowed at home since 1999, and the most allowed in a season opener since 2004.
WSU will play its next two games on the road before returning home versus Saginaw Valley State on Sept. 28.
---
 Matt Williams is the sports editor of TSE. He can be reached at mattmwilliams86@gmail.com
Photos taken by Guneet Ghotra. She can be reached at guneet.ghotra98@gmail.com.