Wayne State women's basketball posted a 74-64 victory over Saginaw Valley State University at the Matthaei Physical Education Center on Jan.23.
Both teams traded baskets for most of the opening stanza, as there were four lead changes and three ties before the Cardinals ended the quarter by outscoring the Warriors 6-2 to lead 18-14 after the opening period.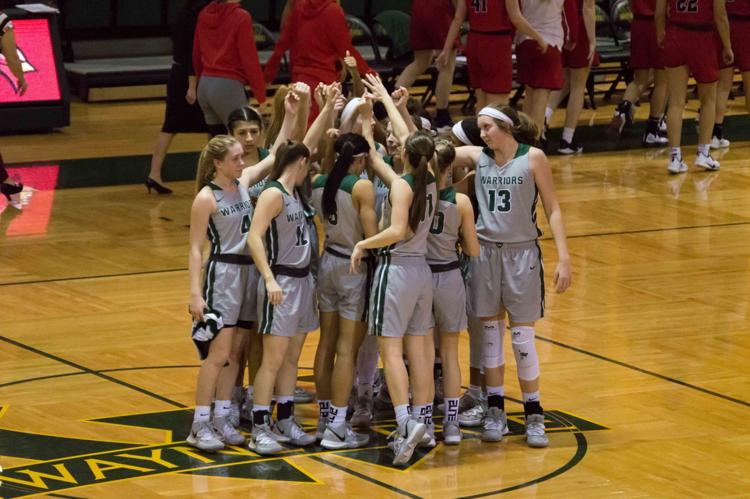 The defenses began to impact the game in the second period. Both teams struggled to find a rhythm on offense, punctuated by a stretch where both teams went scoreless for nearly three minutes as the Warriors held on to a 21-20 lead.
Baskets by freshman guard Rebecca Fugate and sophomore forward Kate Sherwood, who combined to score 14 of WSU's 20 points in the quarter, ignited WSU's end to the half where they outscored SVSU 8-2 to take a 34-28 lead into the intermission. 
WSU went scoreless for nearly three minutes in the third period and saw the Cardinals cut their deficit to 40-33, before a three-pointer by Fugate pushed WSU's lead back to double-digits. 
Fugate and senior guard Alex Matus each scored six points in the quarter as WSU took a 54-40 lead into the final period.
Despite being outscored 24-20 in the final period, WSU's lead never dipped below 12 points as Sherwood and sophomore forward Grace George combined to score 10 points in the quarter to seal the victory. 
With the Cardinals' game plan seemingly focused on WSU's top scorers; George and senior guards Nastassja Chambers and Sadia Johnson, head coach Carrie Lohr said she was pleased with how the team's bench players performed.
"Our bench scoring was very impressive tonight and when you have your three leading scorers in single digits at the end of the game, and you still win, that is really a great team win (and) something to be proud of," Lohr said. 
The trio of Johnson, Chambers and George combined to score 18 points, while WSU's bench outscored their counterparts 42-8.
Fugate, who scored a career-high 17 points, made four three-pointers and added four assists, said it was exciting to make impactful shots.
"It just felt really good to knock 'em down because I have practiced quite a bit on my shot," Fugate said. "It just feels pretty good just making a shot and having your teammates look for you, they set some amazing screens, and it's nice that they were looking for me."
For the game WSU shot 45% (25-56) from the field and outscored the Cardinals 40-22 in the second and third quarters.
Sherwood also posted a career-high, scoring 13 points and posting six rebounds, while sophomore forward Sam Cherney notched a double-double, adding 10 points and 11 rebounds to lead WSU on offense. 
The win improved WSU's record to 10-8 on the season and 4-6 in league play. WSU returns to the Matthaei to face Northwood University Jan.25. 
---
Matt Williams is the sports editor for The South End. He can be reached at mattmwilliams86@gmail.com.
Photos by Jonathan Deschaine. Jonathan is the multimedia editor for The South End. He can be reached at jonathan.deschaine@wayne.edu.