Columbus Day is a federally recognized holiday but to many, it represents the brutal reality of colonialism's effect on indigenous peoples.
The Native American Student Association held its fifth annual Peace and Dignity Ceremony at Gullen Mall on Oct. 8, celebrating the survival of Native American communities in North, Central and South America.
Columbus Day, which is on Oct. 8 every year, has been replaced with Indigenous Peoples Day in several U.S. cities. Detroit City Council passed a resolution last fall to recognize the new holiday.
"Wayne State sits on the land of the Ojibwe, Odawa, Potawatomi and Wyandotte," said David Pitawanakwat, a senior sociology student who gave the ceremony's opening speech. "I wish for everyone to recognize the land we walk on. I think we should have a territorial acknowledgment read before every class actually."
"'Whose land are we on?' I constantly ask myself this on a daily basis," said Director of Multicultural Student Engagement Leonard Savala. "The learning that really happens in higher education happens at these events where we can come together and learn from each other." 
The ceremony featured a traditional drum dance from the Kalpulli Texpacti, an Indigenous dance group from Mexico. They performed drum dances that reflected appreciation to Earth and nature.
"Everything at this ceremony plays a role with our own self-growth and identity," said keynote speaker Wayne Wilson, who belongs to the Navajo Nation. "The spirit, air, water and fire are our relatives, it's who we are. These are our teachings and this knowledge has no degree."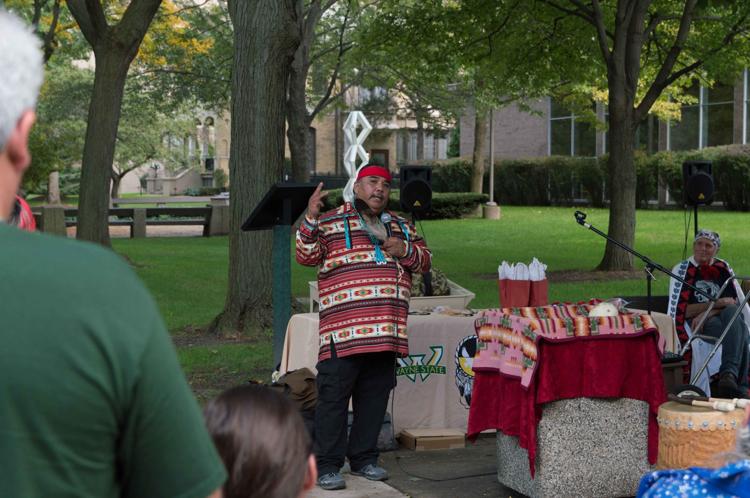 Dr. Sandra Gonzales, coordinator of a Native learning community and associate professor bilingual/bicultural education, said the Peace and Dignity Ceremony provides insight to Native culture.
"This day is important because it helps other Native students know that we are here and present on campus," Gonzales said. "It also gives the general population a chance to see authentic Native culture."
Gonzalez said NASO worked hard this year to gain increased representation and empowerment.
"We have been bringing more elders on campus and gave them a space where they can smudge indoors," she said.
Prayer ties were tied around the maple tree in Gullen Mall to represent peace and dignity. Gonzalez asks the WSU community to help keep the prayer ties on the tree for next year.
"These prayer ties are supposed to last until next year's ceremony. Winter is coming and they start to get loose on the tree," she said. "If you see a prayer tie that fell, please help us make sure those prayer ties stay up there and tie them back up."
Junior urban studies student Darwood Verstraete said he attended the event to support the Native community at WSU.
"I absolutely hate Christopher Columbus with all my heart, so this is a perfect and healthy way to release my hatred while supporting the Native community," Verstraete said.
The ceremony ended with attendees spreading cedar and tobacco around the maple tree, representing an offering to the tree for whatever an individual prays or wishes for.
The Ceremonial Grandmother of the group, Celia Perez-Booth, said this day helps outsiders understand what Indigenous beliefs are.
"There is always room for everybody in the circle," she said. "The circle is a place where everybody is equal and the same. Today helps us find clarity and helps outsiders understand who we are as human beings and what we believe in."
---
Slone Terranella is news editor of The South End. She can be reached at gh7510@wayne.edu. Cover photo by Jonathan Deschaine.