Attorney General Dana Nessel delivered a keynote speech at the day-long FOIA Festival on Oct. 12 at Wayne State, stating her dissatisfaction with current FOIA laws in Michigan.
The Society of Professional Journalists Detroit chapter organized the festival to inform citizens, students and journalists about Michigan's Freedom of Information Act; a federal law that grants the public the right to request information held by government agencies.
Michigan currently has a failing grade of F from the Center for Public Integrity, regarding access to information and government transparency. 
"I am deeply ashamed and deeply embarrassed that Michigan is the only state in the nation in which state law actually exempts the governor, lieutenant governor and the legislature from the requirements of the state's Freedom of Information Act," Nessel said.
It should be noted that Louisiana also exempts the legislature, the governor and lieutenant governor's office from FOIA, according to an article by Kathleen Grey from the Detroit Free Press. 
Nessel also called for Michigan State University to release 6,000 documents that her office requested, so they could complete their investigation on MSU's handling of Larry Nassar's abuse. 
At the festival, attendees were able to visit sessions addressing how to use FOIA, what reforms are currently in the works and how journalists have used it in newsrooms to break stories. 
Sen. Jeremy Moss said he is working on reforming FOIA laws in Michigan and hopes to have bipartisan support for the bills.
He said he plans on introducing reform to the Open Meetings Act that will include university boards. 
"As of right now university boards are allowed to have informal meetings and those informal meetings are not subjected to the Open Meetings Act, and we're working on reforms to the Open Meetings Act right now," he said.
Moss said Sen. Edward McBroom has introduced a constitutional amendment to "Dive into the governance of university boards and define what a formal meeting is and what an informal meeting is," he said.
"These are elected boards that we vote on, and the university takes our money and makes decisions that impact us as either constituent of the state or students of the university, and I think every decision they make must be held to the same scrutiny as when I was on the city council," Moss said.
Nessel said she is limited in what she can do with FOIA reform.
"All I can do is go around the state and scream and yell about it," she said.
Since taking office, she said her office has fulfilled 362 out of 423 FOIA requests without charging a fee.
Student press struggles with FOIA fees and requests
Miriam Marini and Omar Abdel-Baqui, former editor-in-chief and managing editor of The South End, joined a panel at the festival to discuss the challenges they faced as a paper when using FOIA during the previous school year.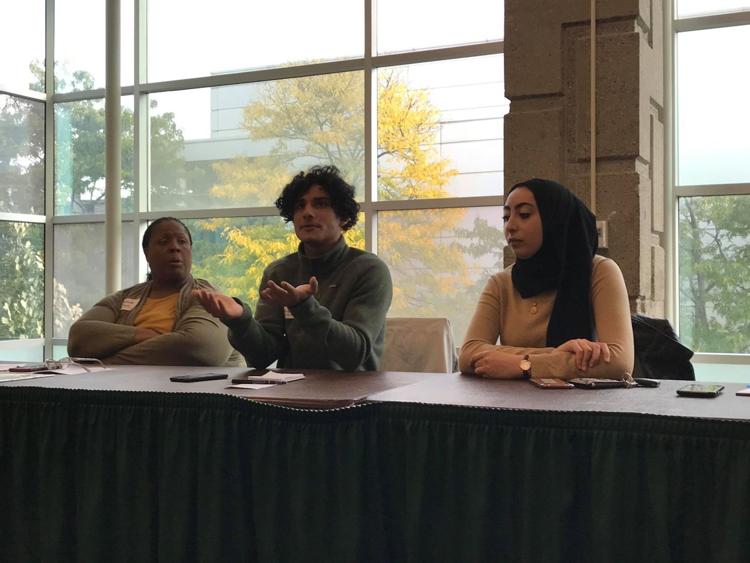 "We (filed a FOIA) in November and got it in April," Abdel-Baqui said.
They filed against Wayne State's School of Medicine regarding a cheating scandal, and they struggled to get answers, Abdel-Baqui said.
One of the challenges faced was the $1,760 FOIA fee to obtain WSU emails and information requested by the staff. Abdel-Baqui said the newspaper's budget doesn't have much set aside for matters like filing FOIAs.
"We are an editorially-independent newspaper, but we receive funding from the school," he said.
Because this request involved WSU officials and administration, Abdel-Baqui said, "If we're publishing this, can they cut our funding?" 
He said it was frustrating, and they felt helpless at times, especially when officials denied the scandal and would not provide information.
"When someone uses intimidation tactics, that's a red flag that they're hiding something," Abdel-Baqui said.
Nessel said it's important for government agencies to be transparent with the public. 
"Without these constructs in place, it will be the end of America as we know it," Nessel said.
---
 Malak Silmi is the news editor for The South End, she can be reached at msilmi27@gmail.com. Susana is the managing editor of The South End. She can be reached at susana.hernandez@wayne.edu.
Cover photo by Editor-in-Chief Slone Terranella.