Some names and identifying details have been changed to protect the privacy of individuals.
Palestinian-Americans and supporters gathered at Hart Plaza to protest President Donald Trump's "Deal of the Century" on Feb. 8. 
On Jan. 28, the Trump administration, alongside Israeli Prime Minister Benjamin Netanyahu, unveiled this proposal at a White House press conference to end the Israeli-Palestinian conflict. 
After the announcement, several organizations and national leaders released statements denouncing the plan. On Jan. 30, Wayne State's chapter for Students for Justice in Palestine released their statement on social media.
"President Trump and Netanyahu offered a proposal that can only be denied by the Palestinians," SJP's statement said.
Critics of the plan — and SJP — mentioned that no Palestinians were present at the press conference or when creating the proposal.
"They are not asking for peace, they are asking to dehumanize Palestinians even more. A peace plan can only be created with both parties present. This plan is structured to confine Palestinians in an open air prison," the organization stated.
WSU student and attendee, Yasmine, said her desire moving forward is for Palestinians to be able to control their own destiny, with solidarity from global powers.
"I wouldn't want other people to make a plan for us, I would want world leaders to stand in solidarity with us socially and financially," Yasmine said. "I would hope that world leaders would put their money where their mouth is politically, financially, socially. Even verbally, just kind of standing with Palestine gives us the support that we need."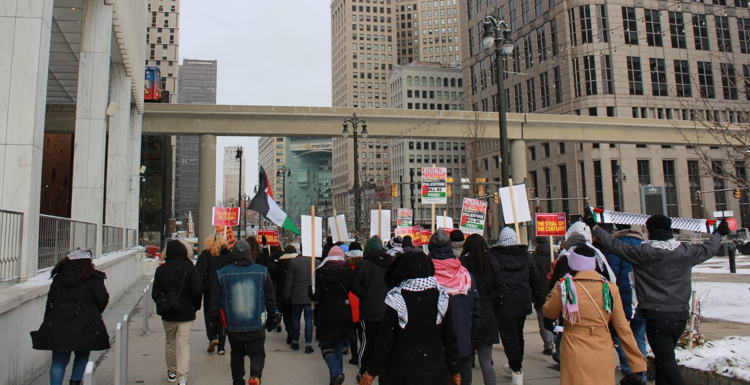 Yasmine drew a parallel with the Kashmiri population, who are also facing a lack of control and voice in their fight for a homeland.
"I would hope that leaders give us autonomy over what we want to do. Same thing with the situation in Kashmir right now, they just want autonomy," she said. "They don't want somebody else dictating what is happening to their home."
The protest was organized by the Michigan chapter of the Palestinian Youth Movement, a self-described grassroots transnational organization. Refuse Fascism, Jewish Voice for Peace, the Michigan Emergency Committee Against War & Injustice, and Anakbayan Detroit — a Filipino youth pro-democracy organization — were also present. 
Representatives from each group expressed their support and solidarity for the struggle of Palestinian human rights. Anakbayan Detroit drew similarities between the situation in Palestine and that in the Philippines.
Protest organizer and Palestinian Youth Movement member Jenna said having people come out to show their support for the Palestinian cause is a meaningful experience.
"I think it was very moving for me to see that there are people who are willing to put their bodies out there to say no to apartheid, no to occupation, no to the Zionist entity continuing their exploitation and settler colonialism and ethnic cleansing of the Palestinian people. So, I think it turned out very well," Jenna said.
WSU senior and protest attendee Abdulrahman Tolba said accusations of antisemitism against Palestinians and their supporters are inaccurate and ignore the complex history of Palestine.
"A lot of people will make it about a certain religion when that's not the case. There's Palestinian-Jews, Palestinian-Christians and Palestinian-Muslims," Tolba said. "There's a lot of different history and religion in Palestine. To say that just by supporting Palestine you're antisemitic is not factual."
---
Jenna Prestininzi is a contributing writer for The South End, she can be reached at jennap@wayne.edu. Cover photo and video by Prestininzi.
All other photos by Susana Hernandez.