Wayne State started the fall semester with the Warrior Safe is Warrior Strong Ambassadors program, which helps students understand COVID-19 guidelines on campus and provides resources to keep the community safe. 
Ambassadors' roles include distributing personal protective equipment on campus and helping create messaging, with the WSU Marketing and Communications team, to spread information on staying safe and healthy.  
The program operated from Sept. 1 through Sept. 9 as a way to inform students on COVID-19 and provide them with resources needed to continue to keep campus safe, Dean of Students David Strauss said. Plans are being put in place to continue the program next semester. 
About 90 student ambassadors helped distribute personal protective equipment, said Ryan Mitchell, coordinator of Student Organization Programs and Fraternity and Sorority Life.
"We wanted to make sure that anyone that didn't have personal protection equipment and needed to be on campus had access to those items," Mitchell said.
The program was promoted through email over the summer, providing students an opportunity to sign up and volunteer before the fall semester began, Mitchell said. The volunteers received three courses of training in July and August from the Campus Health Center on COVID-19 protocols and safety.
"In addition to distributing the PPE equipment, it's in general setting an example for people on campus," said Alyssa Hirsch, WSU student ambassador and senior history major.
Ambassadors have shifts where two to three people go to specific locations on campus to distribute personal protective equipment, Hirsch said. Distribution centers include the WSU Bookstore, Student Center and outside of Yousif B. Ghafari Hall.
Ambassadors supported community members outside of WSU in addition to supporting students, said Morgan Bird, WSU student ambassador and sophomore social work major.
"There were sometimes some homeless people that would come by and we would go ahead and give them masks as well because to us if they're obviously around campus they should have masks too, to protect themselves and the people around them," Bird said.
Hirsch often brings her five-month-old bird named Iggy to her shifts, she said, making people feel more welcome and happy to be on campus. 
"I would bring him out there with me in his little bubble backpack because that was another big part of the job. It was to put a smile on people's faces," Hirsch said.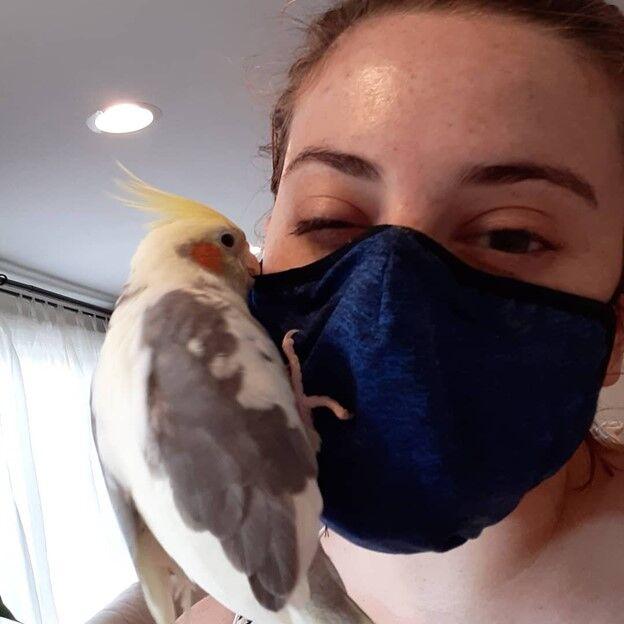 Ambassadors connected with each other on shifts and discussed how the pandemic has impacted their lives, said Aniqa Ather, WSU student ambassador and junior biological science major. 
"We kind of talked about how unexpected our lives are and it was kind of nice to know that other people are going through things," Ather said. "Talking to them and making that connection is a different feeling."  
In a time of social distancing and mostly-virtual events, the program provides students an opportunity to stay engaged with the WSU campus, Bird said.
"Being a WSU student ambassador is a great way for people that don't have on campus classes to still be involved and come on campus," Bird said. "It's a good way to have community service hours."
Face masks are available at the Student Center information desk for students, Strauss said.  
"I want to definitely continue to refresh students' opportunities to get face masks and other items," he said.
To apply to become a Warrior Safe is Warrior Strong student ambassador, contact Ryan Mitchell at ryanmitchell@wayne.edu.
---
Bethany Owens is a contributing writer for The South End. She can be reached at gx6114@wayne.edu. 
Cover photo provided by Ryan Mitchell.