Current and former Wayne State students played a significant role in 2018's groundbreaking midterm election.
WSU alumnae Rashida Tlaib, Jocelyn Benson and Dana Nessel all secured potions as U.S. representative, secretary of state and attorney general, respectively — and current students found ways to get in on the election action.
Tess Parr, senior urban studies student, worked on three major campaigns since early 2017. She was a member of Abdul El-Sayed's campaign for governor, Jeffrey Nolish's campaign for state representative of Michigan's 4th Congressional District and Garlin Gilchrist's campaign for city clerk in 2017.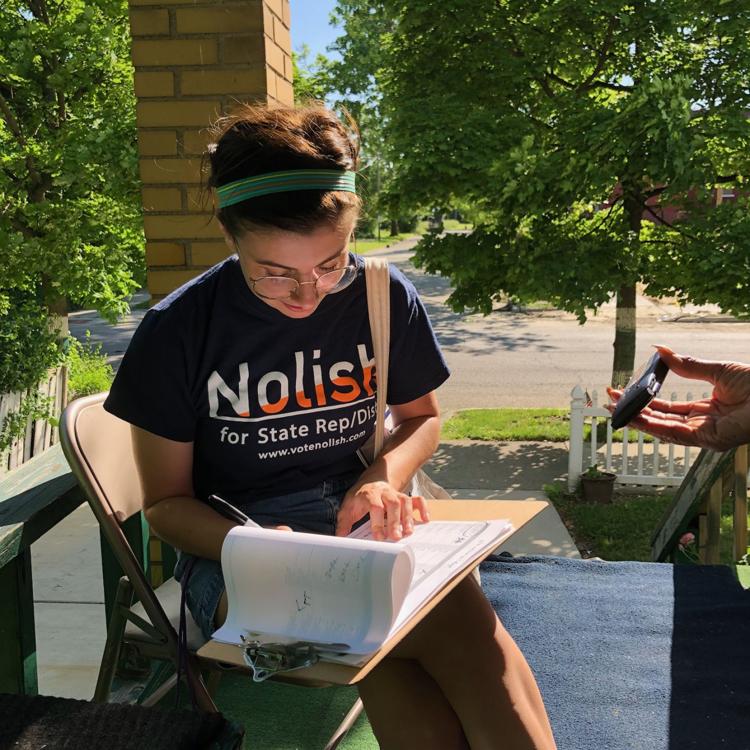 Parr said one campaigning opportunity led to another.
"I got involved with (El-Sayed's) campaign after attending his campaign launch event," said Parr. "This volunteer opportunity turned into interning casually, and then into coordinating the (WSU) campus interns from September 2017 to January 2018."
Through El-Sayed's campaign, Parr said she networked and met Gilchrist and Nolish and became involved with their campaigns.
"I was absolutely inspired by Garlin and remained in contact with him and some of the people who worked on his campaign," she said. "One of those people was Jeffrey Nolish, who shortly after I stopped working on Abdul's campaign, launched his campaign for state representative and invited me to get involved."
Senior political science and global studies student Jessica Thompson worked as communications manager for Abraham Aiyash's Michigan Senate campaign.
"I met Abraham at the (WSU Student) Democrat's internship fair on campus," Thompson said. "I spoke with him for a long time and quickly realized that he was the most engaging and passionate candidate I had spoken to all day."
Kristina Curtiss, a junior public affairs and urban studies student, said she worked for numerous campaigns during the 2018 cycle but was most involved with the Proposal 2 campaign by Voters Not Politicians.
"After taking PS 1010 with Dr. Deegan-Krause, I became fascinated with grassroots campaigns and their impact around the state," Curtiss said. "Luckily, (Voters Not Politicans) was starting around this time. I got on board early and stayed on until the end in numerous different jobs."
Curtiss said Proposal 2 became the ballot initiative with the most grassroots donations.
"This campaign taught me that every time you hear something negative about partisan politics, there's an army of people in this state who are willing to get on the ground and fix it," Curtiss said. "This is just the start of people reclaiming politics and reclaiming our time. For now, I'm so blessed that I got to see this movement start and I am only excited to see it grow."
Parr said it was deflating to witness the defeats of Nolish and El-Sayed. She added that she had many different responsibilities on all three campaigns she worked on and was therefore emotionally invested.
"For Abdul's campaign, I was responsible for getting in contact with anyone from WSU who showed interest in supporting the campaign and activating those people," Parr said. "I would schedule and staff events and hold the WSU intern team accountable for showing up to their shifts and meetings."
Her work on Nolish's campaign was different, she added.
"I drafted language for campaign literature, did design work, helped plan events and aided with campaign strategy for canvassing, mailing and attending events," Parr said. "I also was the Treasurer of the Committee to Elect Jeffrey Nolish."
Thompson said she didn't have enough time to join Gretchen Whitmer's campaign after Aiyash's loss by about 600 votes, causing her to sit the midterms out.
"I found this to be very difficult because this election cycle was so important in rebuking Trump's policies, and I wanted to be able to do my part in getting more Democrats elected," Thompson said.
Despite the challenges that come with campaigning, each student said they believed the campaigns they were a part of was worth the unique experience.
"After working on (campaigns) long enough, they get really frustrating because the same inefficiencies will appear in every single campaign," Parr said. "However, it's the best way I know how to express how much I care about my community, my city and my state."
Parr said her campaign experiences created valuable connections.
"Campaigning is my way of connecting with people — telling them that they deserve the best life imaginable, and I want that for them and I'm working for that better future," Parr said. "I've met incredible people, influential people and people in my community who I otherwise never would have met."
"To not be passionate about what you're working on, campaigning can be a lot of hard, tedious work," Thompson said. "But if you genuinely care about it, it could be the most fulfilling thing you've ever done."
---
Cover photo courtesy of Kristina Curtiss