Wayne State University sent out over 80 non-renewal notices to faculty on term appointments. These notices informed some WSU faculty members that their contracts will not be renewed for the upcoming fall 2021 semester, forcing them to look for alternative employment during the COVID-19 pandemic.
The non-renewal notices were created with the intention to give faculty members time to find alternate employment when their term appointment has ended, said Clay Walker, a senior lecturer in the Department of English and the chair of the Lecturers Steering Committee. President M. Roy Wilson agreed with this interpretation of the contract last year, Walker said. Lecturers received similar letters of non-renewal during the winter 2020 semester.
According to the collective bargaining agreement between WSU and AAUP-AFT Local 6075, the union representing all academic faculty and full time staff jointly affiliated with the American Association of University Professors and the American Federation of Teachers, non-renewal notices must be sent three months prior to the end of the contract term, Walker said. With May 14 being the end of the contract term and academic year, the deadline to receive notices was Feb. 14. 
Certain colleges abide by this interpretation while others have found a loophole in budgeting, Walker said. WSU, especially within the College of Fine, Performing and Communication Arts and the College of Engineering, has sent non-renewal notices to every faculty member up for renewal, even if they have every intention of re-hiring the faculty member for another term.
"Fortunately, in prior years, once we've been able to assess our situation and needs, the vast majority of lecturers have been rehired for the fall," WSU Director of Communications Matt Lockwood said. "While we can't guarantee that will happen this year, we hope that will be the case."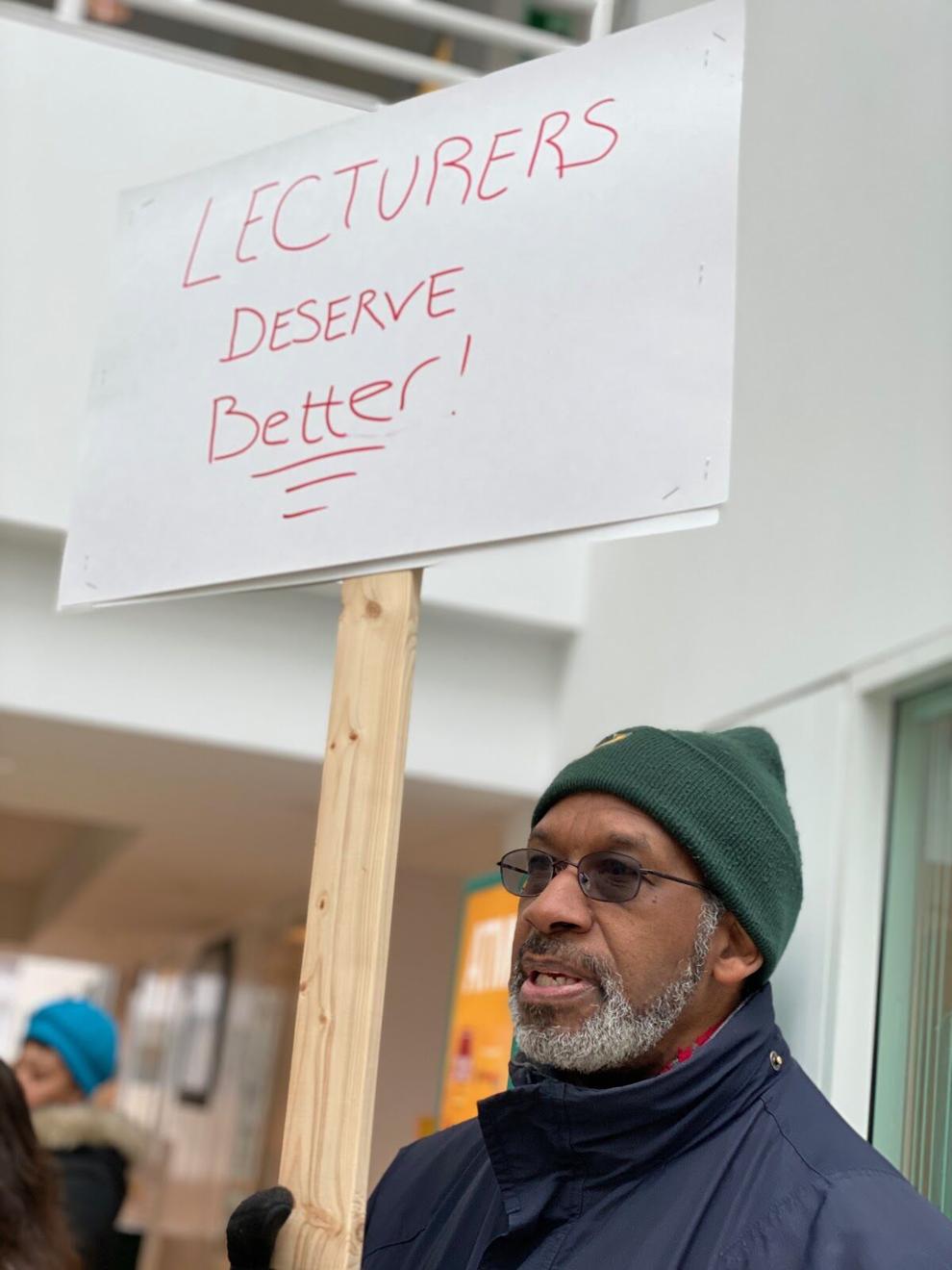 The Education College has never participated in this practice, only delivering notices to those who they had no intention of renewing, Walker said. 
"(Lecturers) are being put in a position where they're being told by their chair on one hand that 'We need you and we're asking for you to come back, there's no reason you shouldn't be renewed.' But on the other hand, they're getting a letter that says you're fired," Walker said. 
WSU Administration operates under constraints imposed by their contract with AAUP-AFT Local 6075, Lockwood said. 
The current collective bargaining agreement with AAUP-AFT Local 6075 states that non-renewal notices must be delivered to lecturers three months prior to the expiration of their current nine-month contract. This serves to provide lecturers enough time to make alternative plans should their contract not be renewed, Lockwood said.
"From the university's perspective, especially given the pandemic, it is impossible today to accurately predict the specific enrollment, budget or teaching requirements for fall 2021," Lockwood said. "The combination of the required advanced notice and uncertainty regarding the future has resulted in this difficult situation."
Contract negotiations between the AAUP-AFT 6075 and WSU began on Jan. 22, Lockwood said. While the entire contract will be addressed in these negotiations, both Walker and Lockwood said issues surrounding contract non-renewals will specifically be discussed. 
"We depend on lecturers to teach our students and to help us fulfill Wayne State's mission," Lockwood said. "These non-renewal notices understandably cause stress and we wish we didn't have to send them."
Kathy Elrick, a lecturer in the Department of English, said the practice of delivering non-renewal notices to all faculty up for renewal has taken a toll on her mental health. 
"I've been dealing with a stress-related illness for a while —that I'm still struggling to figure out— that saps my strength and energy," Elrick said. "This non-renewal letter has been adding to complicating my attempts at recovery."
This decision also has a negative effect on students, Elrick said. Students may not have consistent classes and advisors from semester to semester — "among other problematic situations that the lack of stability provides," Elrick said. 
"The practice is not just dehumanizing to lecturers, it feels like we're treated like chips at a poker table or parts to a machine, but it makes for an unsustainable model for students," Elrick said. 
Elrick made the decision to create a public service announcement for all her students, which she sent out to them via a Canvas announcement on Feb. 11.
Richard Pineau, a senior lecturer in the Department of Mathematics, made a similar decision by sending an email to his students on Feb. 13, followed by a discussion during class time on Feb. 20.  
"It was the hardest email I have ever written," Pineau said. "At the same time, I felt they had a responsibility to know what was happening since they are in fact paying tuition."
Pineau said he loves his job and is committed to WSU, even though receiving the non-renewal notice has caused him to feel unappreciated.
"Teaching is a passion and I am enjoying every minute of my job. I think the work all of us do is important and vital," Pineau said. "Receiving this notice is humiliating, embarrassing and has made me feel insignificant. Some of my peers have used the word disposable. I would say that summarizes it nicely as well."
After Pineau sent out the email, one of his students decided to take action. Latefah Musaid, a freshman public health major, created a petition in support of Pineau. Musaid's petition reached over 1,000 signatures in its first 18 hours and has continued to collect more signatures, she said. It is currently at over 1,500 signatures.
Musaid said she created the petition after reading Pineau's email because she didn't understand why WSU was taking this action.
"We were very sad and frustrated and confused because we were like, 'He's literally one of the best professors,'" Musaid said. "Why would they do that to him? Did he do something wrong? We were just confused, like out of all of the professors why are they picking him?" 
After Pineau explained the situation in more detail during class on Feb. 20, and also during his office hours on Feb. 17-19, Musaid said she began to understand more clearly. Her perception of WSU has changed now that she knows about this practice, she said. 
"Wayne State always preaches that they care about our mental health and I feel like I understand that they care about our mental health but they should care about the professors' mental health as well because they're also humans too," Musaid said. 
Community members are also being asked to participate in sending messages to Wilson, Interim Provost Laurie Lauzon Clabo and college deans to express their feelings about the non-renewal practice. AAUP-AFT Local 6075 said they created this opportunity in an effort to reach the WSU administration. 
Roxana Zuniga, a Spanish lecturer, made the opposite decision that Pineau and Elrick made —choosing not to tell her students about the non-renewal notice she received, to avoid adding to their stress, she said. The decision was also an effort to keep her professional and personal life separate. 
"This has not in any shape or form affected my teaching, per se, but it has affected me individually as an individual," Zuniga said. "I was actually grading my student's essays when the letter arrived... and you know, I get it, even now I'm getting a little bit teary, because I'm giving feedback to my students and I had to close my computer because I'm like, you know what, I don't want these emotions to affect my grading." 
While she has decided not to inform her students of the non-renewal notice, Zuniga said she wants WSU to know this practice is not acceptable.
"This is not how you should treat your past faculty, or any faculty, because they're really great faculty on all levels —tenured, part-time, lecturers, GTA. This is just not how you treat your employees," Zuniga said. "This is also not how you run a university, there are better ways, and you can definitely improve that."
---
Amelia Benavides-Colón is a contributing writer for The South End. She can be reached at hd4634@wayne.edu.
Cover photo of a person holding a sign in support of WSU lecturers at a rally on Feb. 26, 2020. The photo was taken by Jonathan Deschaine. He can be reached at jonathan.deschaine@gmail.com.