The Wayne State Board of Governors unanimously approved the establishment of an accelerated three-year M.D. program at a hybrid meeting on Friday.
The program was proposed by the School of Medicine, Dean Mark Schweitzer said. It would reduce the time needed to graduate by having students determine their medical specialties during their admissions process.
This opportunity for WSU to offer a cost-effective program also "provides more secure career benefits"  for students, Schweitzer said.
"It's beneficial to the state overall because if you're in a place with three years of medical school (and) three to five years of residency, you put down roots," Schweitzer said.
There are approximately 24 such programs in the country and this one would be the first in Michigan, Schweitzer said. In the program's first year, 10 students will participate.
Mark Kornbluh, provost and senior vice president for academic affairs, said WSU's chemistry and physics labs have found a new home in the STEM Innovation Learning Center. The building will be featured on tours for prospective students because of its innovative design.
"Every floor has areas for students to hang out, study (and) work with each other. Classrooms are all designed for active learning," Kornbluh said. "The first floor, we've given to engineering as a maker space and there are several thousand engineering students in the course of a week in there making things with a glass wall, so you can actually see what's going on."
Kornbluh said the new STEM building may improve students' learning outcomes.
"My experience at the University of Kentucky with opening a new science teaching building is that grade point averages went up almost a half a percent for classes in that building, so we'll be looking for that," he said.
WSU has not had a major problem with students following its indoor mask mandate, Kornbluh said. The mandate will be reevaluated in mid-October.
"The total number of complaints about students violating the mandate... fits on one hand, and we haven't had a single incident in a classroom all semester, so the students want to be here and they've been really supportive of this," he said. 
During the Student Affairs Committee meeting, Student Senate President Sailor Mayes gave an update on Senate's ongoing initiatives. Jenna Prestininzi, editor-in-chief of The South End, briefed the committee on TSE's current operation details.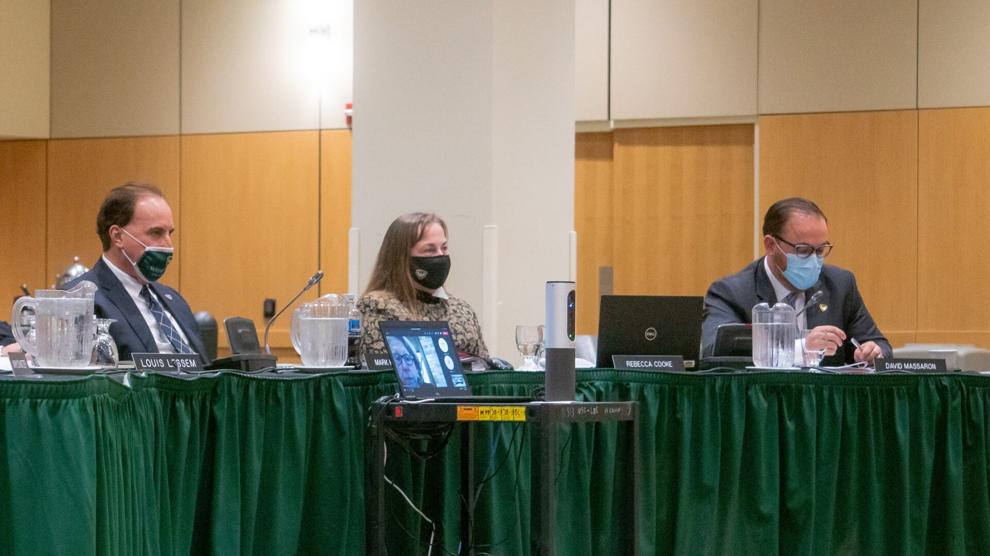 David Massaron, former State of Michigan budget director, was officially appointed as WSU senior vice president for finance and business operations. Rebecca Cooke, who served as interim vice president for Finance and Business Operations since January 2020, stepped down to retire.
WSU had a budget shortfall of $12.5 million dollars in fiscal year 2021, according to a presentation from Tamaka Butler, senior associate vice president of Finance and deputy chief financial officer.
Due to the budget shortfall, WSU is expected to receive $100 million in Higher Education Emergency Relief Funds (HEERF), Butler said.
"A little under half of it is for student direct whereas the rest is for institutional use," Butler said. "The new guidance allows for expenses related to costs of coronavirus. But it also allows for reimbursement or lost revenue for certain avenues."
Butler said she thinks a large portion of the funds will be used to offset revenue WSU lost due to the COVID-19 pandemic.
$50 million of the HEERF funds will be set aside for students with financial hardships, Butler said.
"Students have the right to decide if they want to apply that to their student balance or have it paid off directly to them," Butler said. "The university has no control over that. For the most part, a large percentage of those dollars will pay up directly to the students."
WSU appropriations, money that is set aside for a specific purpose, have decreased in recent years, Butler said.
"Here at Wayne State, we've seen a drop in appropriations from $223 million in 2005 to approximately $203 million in 2020," Butler said.
This means WSU could have less money to allocate for projects like new buildings and amenities, according to Investopedia.
WSU will have a $10.3 million budget shortfall for fiscal year 2022, Cooke said. Firings will not be used to bridge the budget gap.
"We are not planning to use layoffs to balance this budget," Cooke said. "Positional eliminations will occur through attrition. Most of them have already occurred, but we anticipate there will be additional attrition over the next year."
During the public comment period, WSU engineers Maureen Kemp and Richard Hosking said they are frustrated with WSU's approach to layoffs. Kemp said the result is individual engineers being responsible for the workload of several engineers.
"Every trade has job postings to fill positions, but not one posting is up for engineers, so we have surmised that the department must want fewer engineers. They just stopped filling vacancies even though we are essential personnel," Kemp said.
The BOG will soon be working on its annual assessment of President M. Roy Wilson, said Chair Marilyn Kelly.
The next Board of Governors meeting will be held on Dec. 3.
---
Irving Mejia-Hilario is the managing editor for The South End. He can be reached at managingeditortse@gmail.com.
Kate Vaughn is the breaking news correspondent for The South End. She can be reached at newsreportertse@gmail.com.
Photos by Quinn Banks, The South End's multimedia editor. He can be reached at multimediaeditortse@gmail.com.