Hispanic Heritage Month means a great deal to not only me, but to many Latinos/as/xs on Wayne State's campus and the various communities surrounding it.
Though this month of recognition and celebration brings great joy and pride to me now, it was not always this way. As a matter of fact, before I began my undergraduate classes at Wayne State University, this tradition meant quite little to me.
Growing up in a mostly Caucasian suburb of Detroit, very little of my education and practices outside of my home dealt with my Latino identity.
Combined with this reality was the fact that the cultural practices that took place in our home were focused of Mexican or Chicano culture. While this brought me pride and honor in my heritage, I had no idea how much of the larger Latino/a/x culture I was missing out on.
While I was yearning to consume everything Mexicano and Chicano, I was barely scratching the surface of the full beauty that Latino/a/x culture and identity had to offer.
Therefore, the role of spaces such as the university in bringing so many diversified groups of people together allows for the introduction and embrace of the rich tapestry of influences that Latino/a/x possesses on a wider scale.
While the actual name of the month is Hispanic Heritage Month, I will not be referring to the people who celebrate it as "Hispanic." Instead I will refer to them and Latino/a/x.
"Hispanic" is a term used to describe Spanish-speaking people and groups influenced by Iberian culture. This is not what the month celebrates.
Latino/a/x is a term that encompasses the people of Latin America such as Mexico, Central America, South America, and the Caribbean, as well as the descendants of these people, wherever they may find themselves currently living.
To simply refer to us as Hispanic is close-minded. We are more than Spanish-speaking people. Latin America is a mosaic of cultures and identities that mix together into this rich identity that we share and carry with us wherever we go. It is important that we know the full content of it.
My first introduction to the vastness of my culture came as a freshman at Wayne State University.
The students that would eventually become my friends and support system during my undergrad years were such a diverse and interesting group of people that shared many similarities, but also many fascinating differences.
My crew as we came to call ourselves were a mixture of Mexican, Puerto Rican, and Cuban backgrounds, which is common for our area.
Many of us could draw our families back to Southwest Detroit's Mexicantown neighborhood and the surrounding areas.
However, we were all eager to find our Latino/a/x identity through curriculum and community that had been built by various individuals at WSU.
In time, we were able to learn that the accepted Latino identity that we had known was just the tip of the iceberg. Of course, we knew that our heritage was a mixture of Aztec and Spanish blood, but we had no idea of the other cultural ingredients.
We knew nothing of African influence, Afro Latinidad, the Middle Eastern influence on our food or the East Asian indentured servants that labored next to our native ancestors.
We were chomping at the bit to learn of our native lands being inhabited and languages still being spoken by people presently in both Central American and South America. We were more than Aztec and Iberian Spaniard. The truth is, we are the sum of everything this world has to offer. What we needed was for something to allow us the opportunity to realize this.  
Hispanic Heritage Month, when done right, can introduce this concept to not only Latino/a/x individuals, but to all those who should feel more than welcome to celebrate our heritage with us.
Upon learning of all these influences in our culture, many of us can hold pride in our identity. There is no one definitive Latino/a/x identity, it is only when we realize this that we can truly appreciate our importance. I am an American born individual of Mexican descent with a very non-Mexican sounding name and an admittedly elementary understanding of the Spanish language. Yet the connection I feel to my Chicano, Mexican, and Latino/a/x identity is as strong as it has ever been.
I love nothing more than seeing the ofrendas at the DIA for Día de los Muertos. I love Cinco de Mayo parades and celebrations. But that does not mean that I am stuck in that identity. I can celebrate Día de Reyes with my Boricua friends. I can prepare for Lent with my Caribbean friends with Carnival.
During my time at Wayne State as a student, mentor, and eventually an instructional assistant, one of the best experiences I had was being a part of the small yet growing Latino/a/x population. While the recognition of the diversity of the local population evolved, so has representation by the institution.
The Center for Chicano-Boricua studies chose to acknowledge the full identity of their students and became the Center for Latino/a and Latin American Studies. This happened my freshman year and would set the tone for the next five years of my studies. I consumed all things Latino/a/x that I could get my hands on. Many of my peers did the same.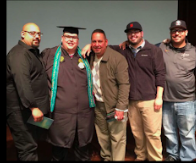 All of this culminated in 2018 ⏤ the year after I graduated ⏤ when several of the students I had the pleasure of mentoring created the Latinx Student Association.
They had enjoyed the opportunity to learn about and have pride in their culture and decided to share this with the university. This year they have planned a month-long celebration of culture and history with events on campus, inviting others to experience the richness of Latino/a/x heritage, and all that this entails. I am very proud of the students who created and continue to shape this student organization.
What I hope to communicate to anyone who has interest or is looking to learn more about their own story is that the role of higher education and university life can be irreplaceable.
In a perfect world, ethnic studies would be included in middle school and high schools, but that simply is not the case. One must be extremely motivated to find texts and stories of Latino/a/x history on our own.
But to have a curriculum designed to meet this need that many of us possess to find our true identity and the natural need to find a place in which we feel comfortable being ourselves and celebrating our practices and culture, really only becomes available at the undergraduate level of education.
The university is an institution where any group of people can find their group, whoever they may be. That was true for not only myself, but for my friends, mentees, and students; and we all benefitted from this. The pride one gets in knowing their story is immeasurable and allows us to share it with others and in turn, learn about the stories of others. This is how communities should be built.
Cover photo by Susana Hernandez