Editor's Note: This article has been updated to correct factual errors. The WSU official involved with a Naloxone proposal is Interim Associate Dean for Pharmacy Susan Davis, not Eugene Applebaum College of Pharmacy and Health Sciences Dean Brian Cummings.
A previous version of this article misspelled Student Senate EACPHS Representative Obioma Opara in a caption as Obiama Opara.
The South End regrets the errors.
Wayne State Student Senate unanimously passed a resolution to send an email in solidarity with operating engineers at its meeting Thursday.
Director of Government Affairs Harrison Cole presented the resolution. He said the engineers are understaffed, which affects the safety of the campus community.
"The operating engineers are responsible for upkeeping our buildings and that work entails checking water for contaminants including diseases and lead," he said. "The operating engineers (are) responsible for maintaining HVAC and air filtration systems in our buildings keeping us safe from COVID."
He said Operating Engineers Local 324 union is in the process of negotiating a new contract with WSU.
Senate is working with WSU to secure approval for using the WSU listserv to send out its proposed email. This would allow Senate's message to reach the campus community.
Obioma Opara, Eugene Applebaum College of Pharmacy and Health Sciences representative, proposed placing Naloxone boxes in campus housing and training residential assistants to administer them.
Naloxone boxes can prevent deaths from opioid overdoses, according to the Centers for Disease Control and Prevention.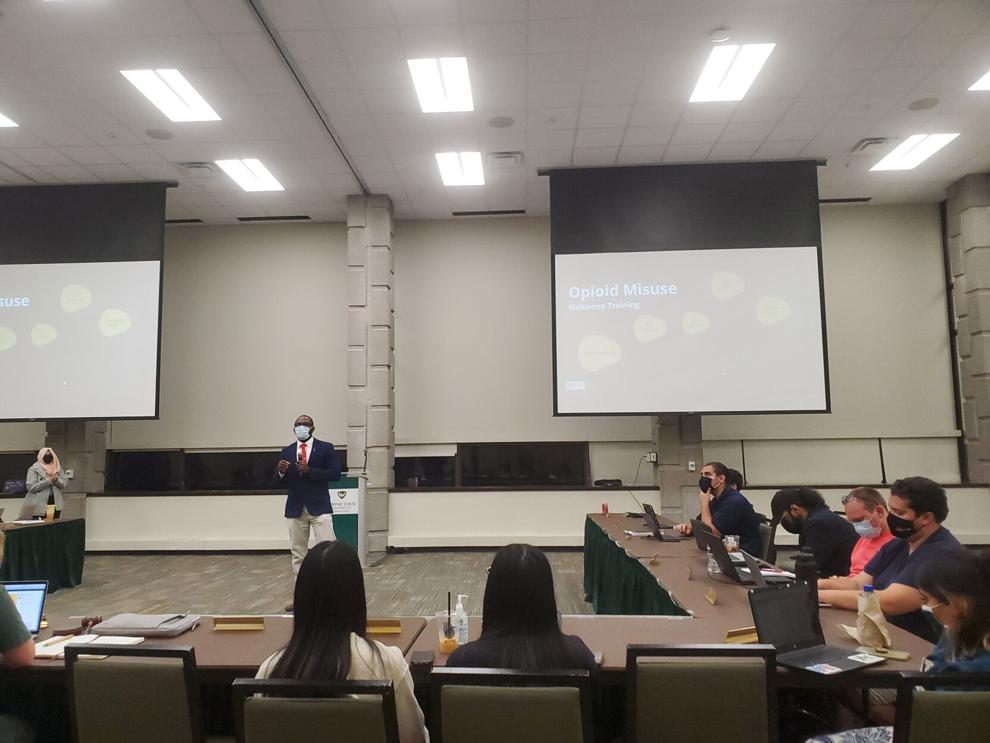 Several senators said they were supportive of the idea, though some raised concerns about RAs' authority to be involved in the proposal. Further discussion would be needed with WSU housing officials on the role of RAs in medical situations, Dean of Students David Strauss said.
Opara said he is also working with Susan Davis, EACPHS interim associate dean of Pharmacy, to train all WSU pharmacy students to use Naloxone boxes. 
Treasurer Fatima Hammoud and School of Social Work Representative Rajan Varmon proposed a resolution to make mental health into its own project group. It was previously a working group within the Public Health Project Group.
The resolution passed unanimously.
Hammoud and Varmon also announced an upcoming ADHD Town Hall. The event will be held in Student Center Ballroom C on Oct. 25 from 6-7:30 p.m.
"The speakers will consist of professional mental health providers as well as student and mental health organization leaders," Hammoud said. "The purpose is to spread positive ADHD awareness (and) allocate any appropriate resources, all of which would be an attempt to destigmatize the mental health condition in general."
Lukis Bagdon, College of Education representative, said there will be updates to WSU's online services. 
Degree Works will be inaccessible sometime this month while updates take place, Bagdon said. This is not expected to affect registration for the winter 2022 semester.
"It's likely to be a full weekend 一 down Friday, up on Sunday or Monday," they said. "None of the content will change, but the format will be different." 
Senate hosted guest speaker Max Ranger, a senior at Central Michigan University, who spoke about a virtual language exchange program. 
He said the 10-week program is a part of the Refugee Outreach Collective and no previous experience is required.
"It's an experience in which U.S.-based university students teach English to refugees based in Dzaleka refugee camp in Malawi," Ranger said. "At the same time, the refugee partners, they're teaching basic Swahili to U.S. university students, and it's all via WhatsApp."
Strauss said public spaces on campus, such as the Student Center and Undergraduate Library, have had lower levels of mask compliance. 
He said failure to comply with COVID-19 guidelines could disrupt WSU's current campus operations.
"If we let down our guard, be less cautious, be less safe… we could be jeopardizing our opportunity, our ability to be in-person," Strauss said.
Strauss said there have also been issues with student organizations complying with COVID-19 event attendance limits. Prior approval of the Campus Health Committee is required for more than 30 people at indoor events and 50 people at outdoor events, according to the Campus Events Committee.
"They know that the rule is 30 or more, has to go through the health committee, so they're putting on their list 29," he said.
Student Senate's next meeting will be held Oct. 21 in Student Center Hilberry AB.
---
Kate Vaughn is the breaking news correspondent for The South End. She can be reached at newsreportertse@gmail.com.
Photos by Jenna Prestininzi, Editor-in-Chief of The South End. She can be reached at editorinchieftse@gmail.com.