Wayne State women's basketball defeated Davenport University 83-72 at the Matthaei Center on Jan. 9.
Both defenses controlled the opening minutes of the game as Davenport held an 8-7 lead with three minutes left in the opening period.
WSU used a balanced attack, paced by sophomore forward Grace George and senior guard Sadia Johnson, to end the stanza on an 11-3 run to pull ahead 18-13 after one quarter.
Davenport opened the second period by scoring the first eight points to take a 21-18 lead. After WSU scored four straight points to tie the game at 24, both teams matched each other shot-for-shot for the rest of the half, with a three-pointer late in the first half giving the Panthers a 41-38 lead at intermission.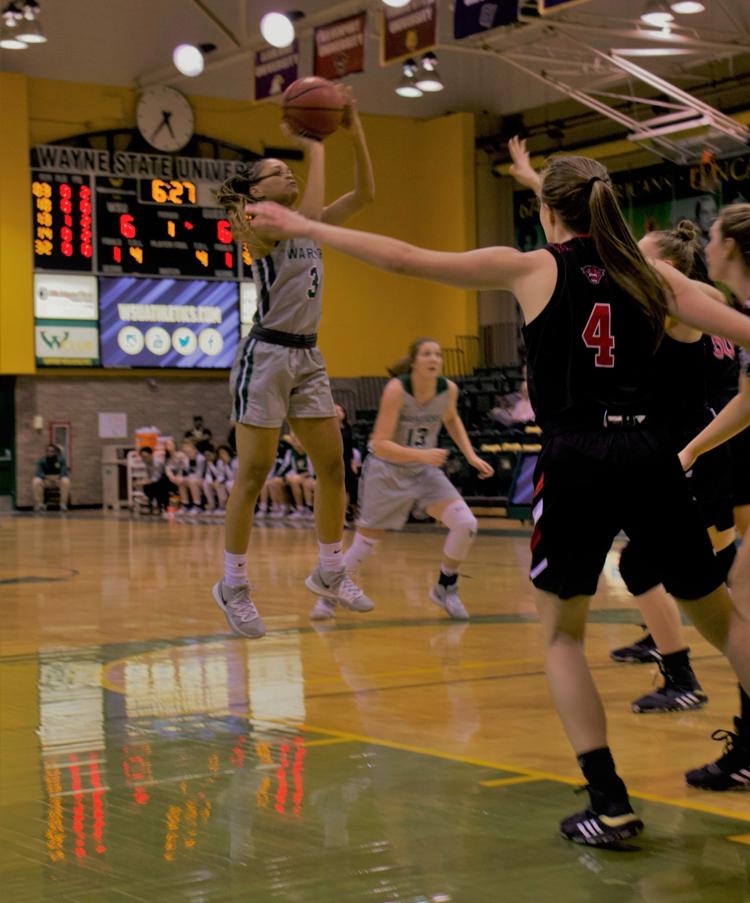 DU scored the first six points of the second half, extending their lead to 47-38 two minutes into the stanza. After Davenport extended their lead to 52-44, WSU used a 12-0 run to pull ahead 56-52. 
Freshman guard Rebecca Fugate, who scored seven points in the quarter, said seeing the team make shots after a couple of tough misses helped fuel the team's comeback.
"It was very important seeing them fall (and) it kinda gave us energy on defense too," Fugate said. "When we made shots, I think we started playing together a little more on defense and offense."
A made basket by George at the buzzer gave WSU a 61-56 lead heading into the final period. 
WSU withstood multiple Panther comeback attempts in the final quarter, and used an 11-2 run, paced by three triples from Fugate, and senior guards Alex Matus and Nastassja Chambers, to pull ahead 80-67 and seal the win for WSU.
After the game, head coach Carrie Lohr said Fugate's shots in the third quarter gave the team a lift during their comeback.
"There's no question that the team got really excited because it was Becca, because she's a freshman, because they know she's always in the gym," Lohr said.
"I think by her making those shots, that excited her teammates and (the) next thing you know, we're getting some stops."
Fugate added that it meant a lot to be able to translate what she does in practice into game action.
"I'm in the gym practicing those shots, so I'm not afraid to take them, but it was just nice to help the team, and it was nice to get us on a roll," Fugate said.
For the game, WSU shot 50.85% (32-63) for the game, and after missing all 10 three-point attempts in the opening half, WSU made seven triples in the second half.
Chambers and Johnson each scored 17 points to pace WSU, while Fugate added 15 points and five assists. 
The win improved WSU's record to 8-6 on the season and 2-4 in league play. 
WSU will return to the Matthaei to face Grand Valley State University, ranked 3rd in the Women's Basketball Coaches Association Division II Poll, Jan. 11 with tip-off scheduled for 5 p.m.
---
Matt Williams is the sports editor for The South End. He can be reached at mattmwilliams86@gmail.com
Photos by Gunnet Ghotra. Guneet is the graphic designer for The South ENd. She can be reached at fz8387@wayne.edu.