Wayne State community members rallied in front of Leon H. Atchison Hall on Wednesday in support of a student whose door, displaying Black Lives Matter stickers and a Pride flag, was vandalized. 
Zoriana Martinez, a first-year transfer student majoring in criminal justice and community service chair of the Black Student Union, had eggs thrown at her door on Feb. 16, she said. 
"(R)ight in the middle of Black History Month, somebody decided to vandalize my door," Martinez said. 
After reporting the incident to her community director and resident advisor, Martinez had more eggs thrown at her door on March 1, which led to her filing a report with the WSU Police Department. Martinez said she moved out of WSU housing due to safety concerns and resides near campus.
To support Martinez, she was offered an alternative living situation on campus which she declined, WSU Director of Communications Matt Lockwood said in an email to The South End on Wednesday. 
"We are very sorry that this happened, and the university staff is treating these incidents seriously. Contrary to views expressed in social media, the university has been actively involved from the beginning in addressing these incidents, and a police investigation is ongoing," Lockwood said.
BSU organized the protest, and several other student and community organizations participated in solidarity.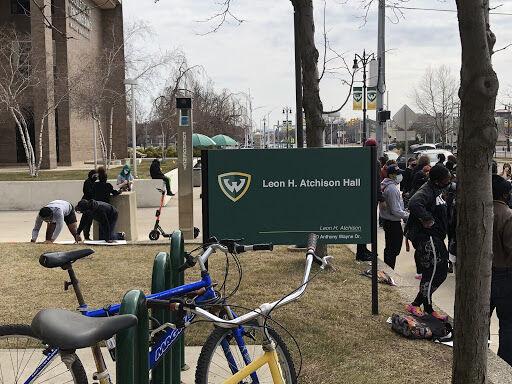 The protest began at Atchison Hall, continued down Anthony Wayne Drive to Warren Avenue and ended in front of the Charles H. Wright Museum of African American History. There were about 100 protesters marching in the street as WSUPD blocked off the roads. Cars honked as they passed and people on the sidewalk watched as the march continued in front of them.
BSU requested attendees wear masks and social distance, according to the event flyer. At one point, BSU president Jeremiah Wheeler made protesters spread out into the street to ensure there was at least six feet between each person.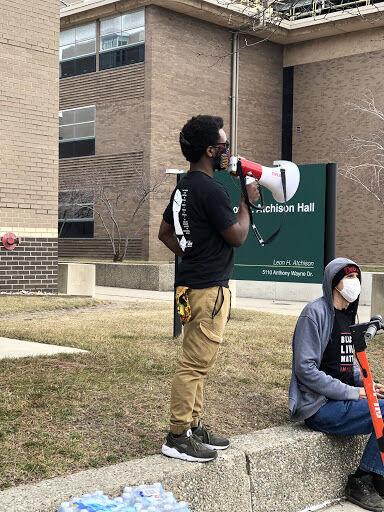 Wheeler and others led chants, with the crowd repeating "No justice, no peace," "Black Lives Matter," "What do we want? Justice. When do we want it? Now," "Silence is Violence" and "We stand for Black lives, we will not be vandalized."
WSU must take steps to prevent further incidents, Martinez said.
"The residence hall's resident advisor and community director worked together to send messages to residents stating that any acts of vandalism or threats to members of our community will not be tolerated, as Wayne State prides itself on its support of diversity," Lockwood said.
WSU is trying to keep situations similar to hers under wraps, Martinez said. 
"It's kind of indicative of Black women being silenced and Black students in general just being brushed to the side," Martinez said. "I think that it is an issue with predominantly white institutions all around the country. Oftentimes you hear somebody complain and you just brush it off." 
Hannah Light, a freshman majoring in public health, said WSU should take a more active role in addressing this issue.
"I don't think they did very much to even support [Martinez]," Light said. "It's very disappointing."
Dean of Students David Strauss, was also in attendance to support WSU students, he said. 
"I want to make sure that the students are able to have a safe and successful rally and I want to help in any way I can," Strauss said. "It's despicable. There's no place for that anywhere, but we are a campus of civility and respect and we are not going to tolerate anything less than civility and respect."
In addition to demanding justice for Martinez and policy changes to prevent future incidents, BSU is calling for funding for the Department of African American Studies and a physical space on campus for BSU. Wheeler said BSU having their own space is crucial to ensuring Black students' safety and "inevitably will help all student organizations."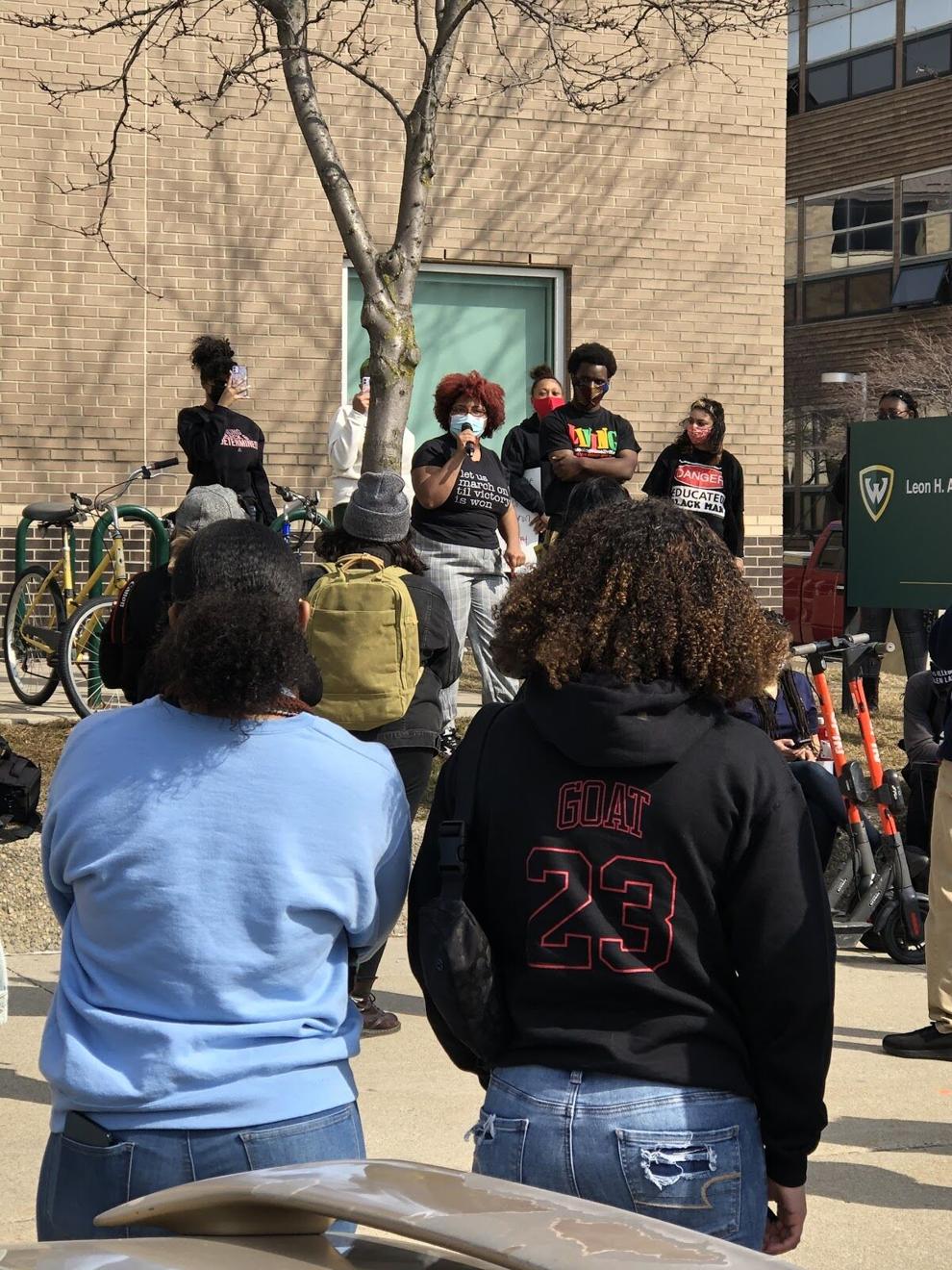 Detroit Will Breathe co-founder and WSU alumna Nakia Wallace spoke at the protest, expressing her concerns regarding the university's support for the African American Studies Department. These concerns include the department hiring their first faculty member in almost 15 years and having the lowest budget in the College of Liberal Arts and Sciences, Wallace said.
Funding for the African American Studies Department corresponds with its size and the number of students it serves, Lockwood said. Department funding is addressed every year among department chairs, deans and the Office of the Provost.
WSU sees great potential for the African American Studies Department to grow and reach more students, Lockwood said. 
"That led to the decision in 2019 to hire a lecturer to teach classes and support student success, and approval this January to search for and hire a new tenure track faculty member for the coming academic year," he said. 
Angelina Smith, a freshman majoring in public health, said WSU needs to find whoever committed the crime and hold them accountable, "otherwise more actions like this are going to keep growing on campus."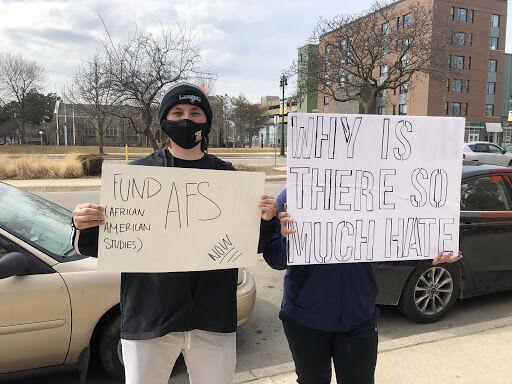 Appropriate action will be taken by the university if those responsible can be identified, Lockwood said. Anyone who feels threatened should contact their resident advisor.
"While the reason for the vandalism remains unknown, a member of our community experienced hurt and hate. Wayne State has zero tolerance for acts of hate toward anyone for any reason, including race, religion, ethnic background, sexual orientation, or other identities." 
Atchison Hall is named after WSU's longest serving Board of Governors member and an advocate for Black students, Wheeler said. 
"In that dorm, the only Black student on her floor, had to leave with no help from the university," Wheeler said. "So if the university can't protect us, if the systems in place to educate us can't protect us, then we've got to protect ourselves. The community has to wrap its arms around issues like this."
---
Bethany Owens is a contributing writer for The South End. She can be reached at gx6114@wayne.edu. 
Roxanne Finniss is a contributing writer for The South End. She can be reached at gv5280@wayne.edu.
Cover photo by Quinn Banks, multimedia editor for The South End. He can be reached at multimediaeditortse@gmail.com.