Former Board of Governors, community members and students gathered at New Center's Walker-Miller Energy Services on Nov. 12, calling for the divide to end against President M. Roy Wilson and several members of the BOG.
Former Wayne State lecturer for the Department of African American Studies Gerald Smith said the divide between the BOG has shadowed over the successes WSU has had over the years.
"Sadly, at a time when university leaders should be taking a victory lap, a faction of Wayne State's Board of Governors continues to threaten the institution's reputation with the public and bitter attacks against the university president and fellow board members," Smith said.
Smith said he and other community members weren't there to take sides. 
"We are simply here to ask the board to work together to resolve their differences in a way that does not continue to embarrass this important institution."
President of the WSU Black Student Union, Jeremiah Wheeler, said there are more important things the board needs to be focusing on.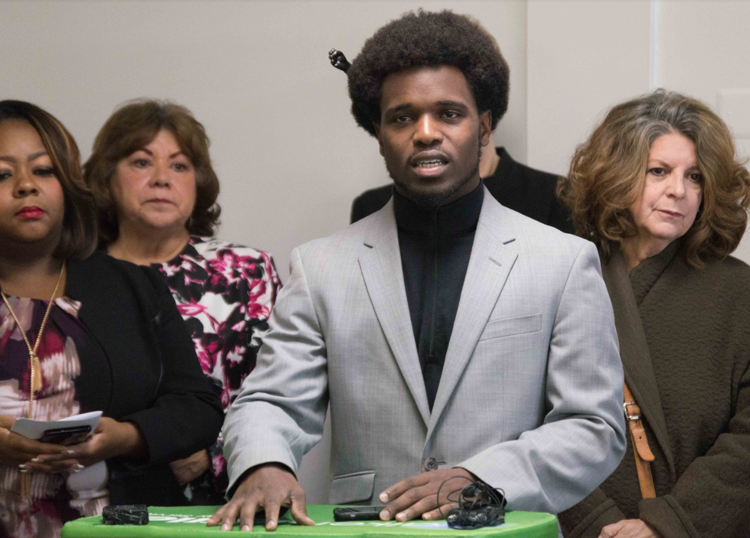 "We have other things that deserve attention. This is elementary politics that's happening," Wheeler said.
He further said it's important to talk about other things such as student depression or the inability of students being able to pay for their tuition.
Former BOG member Gary Pollard, who served on the board from 2008-2016, said he's disappointed in the current board members.
"Who would want to come to a university after such a disruption?" he said. "The temperament of the board is quite important.
"Dr. Wilson's accomplishments up to this point is exactly what he was recruited to come to Wayne State, which is a premier urban university in the U.S."
Pollard said he's never seen this strong of a divide between board members and never "dreamt of the day the board became so split and so divided."
Diane Dunaskiss, former BOG member, said the board members forgot they're meant to support the university, and they've forgotten the need to be focusing on the advancement of the university and not personal agenda. 
Dunaskiss said she doesn't know if Gov. Gretchen Whitmer will intervene in the situation. She said she's unable to predict the future. 
Director of Communications, Matt Lockwood, said Wilson may not be aware of this conference because he's out of town for an Association of American Medical Colleges conference in Phoenix. 
The next BOG meeting will be held on Dec. 6 in the McGregor Memorial Conference Center.
---
Susana is the managing editor of The South End. She can be reached at susana.hernandez@wayne.edu.
Photos by Jonathan Deschaine. Jonathan is the multimedia editor of TSE. He can be reached at jonathan.deschaine@gmail.com.