An organization described as a far-right, anti-Muslim hate group by the Southern Poverty Law Center said it distributed over 1,000 flyers across Wayne State's campus Tuesday, Nov. 5, in what it calls a "stealth campaign to reach students directly," according to a press release sent to The South End.
The flyers were distributed by The David Horowitz Freedom Center, a self-described "conservative think tank."
"The Center's mission is to defend free societies like America and Israel, which are under attack by totalitarians both religious and secular, domestic and foreign," the press release states.
The flyers specifically target U.S. Rep. Rashida Tlaib, herself a WSU alumna, equating her to Hitler because of her support for the Boycott, Divestment and Sanctions campaign for Palestinian human rights.
Along with the flyers, the DHFC also distributed a newspaper targeting universities who they claim have a history of "Jew-hatred and incite terrorism." The newspaper lists WSU as one of the top universities promoting anti-semitism and "Hamas agenda."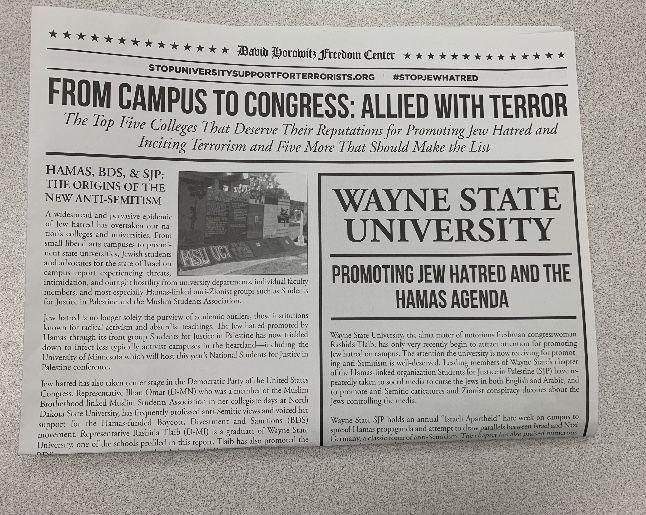 WSU spokesperson Ted Montgomery said the DHFC's claims that WSU promotes any hatred or any anti-semitism is "ridiculous and has no basis in fact. Nothing could be further from the truth." 
The paper names current and former WSU students with the organization Students for Justice in Palestine, using the information it acquired from the website Canary Mission — an organization, with unknown sponsors, that lists students and faculty members who participate in pro-Palestinian organizing on college campuses.
Among those named in DHFC's "report" is former SJP member and WSU alumna, Mayssa Masri, who spoke with The South End in 2018 for an article on the Canary Mission. In the article, Masri addressed her past tweets the website used to smear her.
"One of the things they used as so-called evidence of my anti-Semitism is a tweet where I shared a Huffington Post article that was saying how Muslims are represented (as) terrorists while Jews are not," Masri said. "I was trying to bring attention to Islamophobia and that was twisted into anti-Semitism. It was maybe seven years ago when I posted the tweet — I was in high school. I never thought it would come up years later."
 SJP released a statement on Nov. 6 addressing the flyers.
"We want to address this article by distinguishing the fact that being pro-Palestine and anti-Zionist is not equated with being anti-Semitic," the statement said. 
"Speaking out against the Israeli apartheid and occupation and being critical of Israel's corrupt, oppressive government does not mean we do not stand with our Jewish brothers and sisters. The label of being anti-Semitic is a tactic used to silence student activists from speaking against the occupation and oppression of Palestinians."
The David Horowitz Freedom Center was founded in 1988 by conservative writer David Horowitz. The group has stirred up controversy at universities across the country through its campaigns to flyer campuses and its targeting of student Muslim organizations like the Muslim Student Association and SJP. 
Horowitz's organizations are known for compiling McCarthyite lists of students, professors, and administrators, and accusing them of being "subversive" according to the SPLC.
Horowitz himself is an outspoken Trump supporter, who once called anti-Trump conservative columnist and former Bush administration official Bill Kristol a "renegade Jew" in an article he wrote for the conservative website Breitbart News — a publication the SPLC says is popular among white nationalists and the alt-right.
Horowitz has made a career out of spreading conspiracy theories and inciting anti-Muslim bigotry, according to the SPLC.
Dean of Students David Strauss said he has heard of DHFC, but to his knowledge, this is the first time they've been active on at WSU's campus.
"It's free speech. I've seen the flyers. Individuals are certainly welcome to utilize flyers as their method of free speech," Strauss said. "Diversity and inclusion is one of the fundamental tenants of our university mission. It is foundational to who we are. We support diversity, we support free speech, and we support safety. If anyone feels unsafe, contact the university immediately. There's always that balance between free speech and safety and we take it very seriously."
---
Sean Taormina is The South End's feature editor. He can be reached at sean.taormina@wayne.edu.