With the struggles of online learning and lack of social interaction, Wayne State is encouraging students to take advantage of university mental health services available to the community.
Wayne State Counseling and Psychological Services has continued to offer students virtual counseling services, groups, workshops, outreach services and events. They are offering telemental health services via Microsoft Teams to currently registered students.
Since the beginning of the COVID-19 pandemic, CAPS has seen a decrease in the number of clients seeking one-on-one counseling, but there are more students participating in group sessions. 
"The number of initial consultations that we partake in daily has decreased, but there has been some pick-up in our workshops that we have available throughout the week," said Dima Swaidan, a psychology intern at CAPS.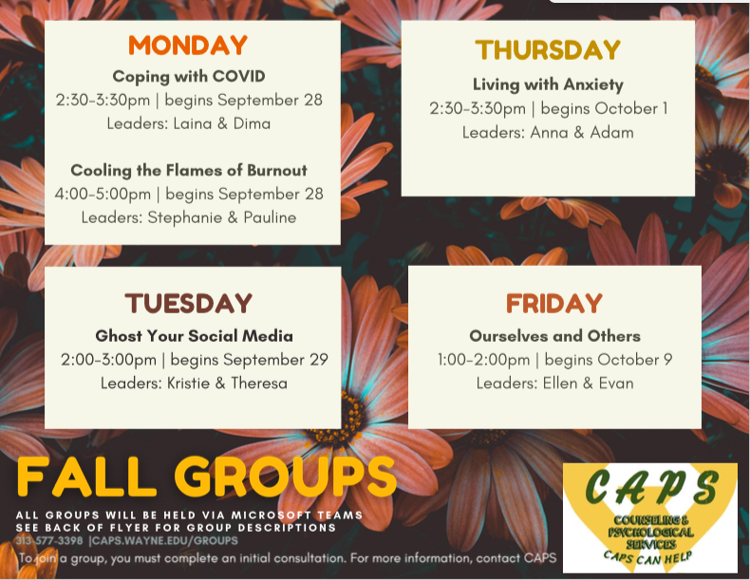 To receive an initial consultation, students can either call CAPS at 313-577-3398, Monday through Friday from 9:00 a.m. to 3:00 p.m., or submit a services request form.
"After a 30 to 45 minute session, we take that information to our case review team where we determine whether CAPS would be a good fit, or maybe some other campus or community-based providers would work out best for that person and their needs," Swaidan said. "If it's to be determined that somebody is a good fit for CAPS, that's when we would get them started on our waitlist and about a two to three week wait."
The waitlist should not deter students from reaching out for help, with some students hearing back sooner, she said. A CAPS staff member will get in contact with the student to schedule an intake session, which gives counselors an idea of the type of help a client needs. After the intake session, regular counseling sessions can begin. 
Free mental health services are also available through the College of Education's Mental Health and Wellness Clinic, said Rouan Salim, Warrior ; Suicide Prevention co-president. Graduate students training to be counselors provide remote sessions that include one-on-one counseling, couples counseling and art therapy. 
"All you need to do is complete a five-minute form so the counselor can reach out to you. From there, you can have a telephone call with the counselor or you can, if you're comfortable, do a Zoom call," Salim said.
W;SP is a student organization that aims to spread information on suicide prevention and mental health resources.
"We're basically a bridge for people who might be unaware of the resources that they have available," Salim said.
Kognito is another mental health resource available for students, said Rajan Varmon, W;SP co-president and social work major. The interactive roleplay simulation prepares users to have real life conversations with fellow students in distress and connect them to support. The program is part of the WSU Suicide Prevention Initiative and a partnership with the Substance Abuse and Mental Health Services Administration.
CAPS also offers a Let's Talk program that provides students with 15 to 20 minute drop-in consultations via Zoom, according to their website. Students are seen individually on a first-come, first-served basis.
"It seems like there has been less of a demand as far as people seeking services, but the people who do seek services —their attendance seems to be better and they seem to be really engaged," said Evan MacAdams, a CAPS psychology intern.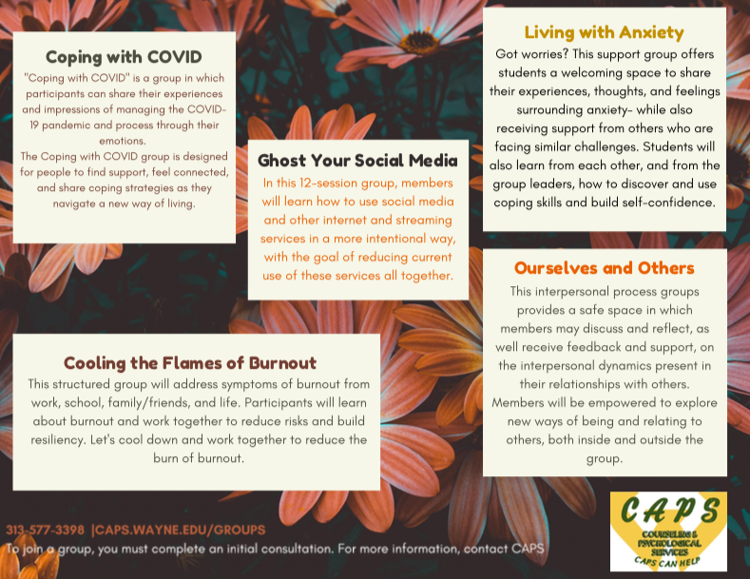 All of CAPS' groups offer a chance to connect with others, MacAdams said. The groups currently running are relevant to the pandemic.
Virtual therapy and counseling has made mental health services more accessible for some students, MacAdams said, especially for those with transportation and scheduling challenges. 
"I think the thing that's changed the most is the level of transparency from both ends of a therapeutic encounter," Swaidan said. "We're not working from offices, we're all working from home, and we have real-life stuff that's happening outside of our doors, or sometimes we see pets stroll by or want to show up on camera and I think that it's been a really wonderful experience."
---
Nour Rahal is news editor at The South End. She can be reached at newseditortse@gmail.com.
Cover photo by Nour Rahal.