Wayne State University men's basketball secured its first victory at Grand Valley State University Fieldhouse Arena in seven years, beating the Lakers 62-59 on Feb. 9. 
With a 7-3 record, WSU now leads the Great Lakes Intercollegiate Athletic Conference's South Division and sits at second place in the entire conference. 
After a contentious opening three minutes, GVSU went on an 8-0 run for the next seven minutes. With 13:38 left to play in the first half, GVSU mounted a small 12-6 lead by capitalizing on some early game jitters from WSU in the form of turnovers and fouls.
Head Coach David Greer made adjustments early in the game due to fouling issues. Sophomore forward Kylin Grant caught two early fouls and sophomore forward Nate Talbot played in Grant's place for 11 minutes total.
Talbot would later go out during the second half. Greer said it was a back injury, which he hopes won't look too bad going forward.
"I thought Nate came in and gave us some good minutes, but he had some back spasms there. Hopefully, they're just temporary because we're going to need him," Greer said.
Later in the first half, after WSU had regained some steam, fouling became an issue for GVSU. With 5:17 remaining in the first half, GVSU piled up three fouls and several warnings from the referees to GVSU Head Coach Ric Wesley in the course of two minutes.
At the end of the first half, GVSU had committed 11 fouls. However, WSU was not playing a much cleaner game on the defensive end, committing nine fouls in the first half. 
Despite WSU shooting only 33.3% to end the first half compared to GVSU's 41.7%, WSU was still within striking distance as they tied the game 32-32 at halftime.
In the first half, WSU made up some ground in missed shots from three-point range. WSU shot 4-7 from beyond the arc, while GVSU only went 1-6. Strong shooting from senior guard Brailen Neely kept WSU in range heading into the second half.
As the second half started, WSU came out swinging. This time, all of WSU's usual leaders got in on the opening action. Neely, junior guard Antonio Marshall, junior guard Darian Owens-White and freshman Ray Williams Jr. all scored en route to putting WSU up 43-34 in the opening two minutes of the second half.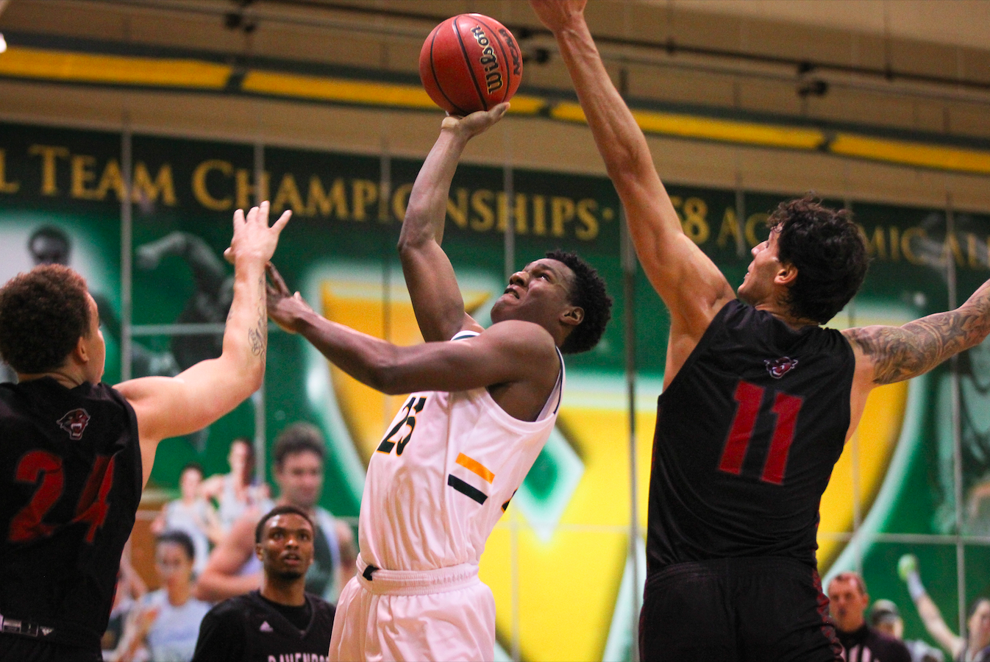 The warnings from officials turned to a technical foul against Wesley, which sent Owens-White to the free-throw line. Despite the referee siding with WSU here, Greer was closely watching the officials, he said.
"I thought it was a really physical game and those are always really tough to officiate. But at one point, it's like, 'What's going on here?' Luckily, it all kind of balances itself out at some point," Greer said.
The next two minutes proved to be a stalemate as neither team could take the lid off the basket. With 16:17 left in the game, both teams finally began scoring again. The next run favored GVSU as they scored 10 unanswered points and tied the game again at 46-46.
Later, a visibly frustrated Owens-White was sent back to the bench as he committed three fouls in only two minutes. With 9:15 left to play in the game, WSU was without their best scorer on a night where they truly needed him. Greer said it was necessary to pull Owens-White out then.
"Darian is a great player, but he got himself into some foul trouble there. Anytime he goes out, it makes us have to change a few things we have going on. But we were ready in that moment and I'm proud of our guys for showing some composure out there," Greer said.
With 5:40 left, Owens-White stepped back into the game after WSU failed to score any points in his absence. But, Owens-White's return to the court was overshadowed by another act from WSU.
With 5:12 left to play, as the ball was going out of bounds, sophomore forward Avery Lewis illegally tipped the ball back in bounds as he sat on the bench. This was much to the confusion of the GVSU sideline, Greer and the announcers. After a minute of deliberation from the officials, Lewis was called for a technical foul, sending GVSU to the free-throw line. 
Greer said tipping the ball back in was a spur of the moment decision by Lewis.
"I can't repeat what I told him [Lewis], but it must have been natural instincts. The ball was in the air and a Grand Valley player was coming in to save it, he had a brain fart but he heard about it from me," Greer said.
Only 43 seconds after Lewis's technical foul, GVSU faced down another technical foul on their end. This was followed by an additional foul on GVSU with 2:38 left to play.
After Neely hit both free throws, Williams scored inside the paint on a critical layup with 2:11 remaining in the game, which put WSU ahead 60-57.
GVSU later scored and brought the game back to 60-59 with 1:26 left on the clock. Grant then grabbed a rebound off a missed shot, giving WSU a chance to seal the game. 
"At that point, we just had to get the ball in. I was surprised they didn't foul us. We ran a little misdirection play and luckily we just found Kylin on that play," Greer said.
Grant scored off a layup with one second left. It was a defensive-minded matchup, and Greer said he hoped to keep the tempo going into WSU's next series.
"We got a tough challenge coming up, and we gotta try to speed up going forward. We can't have teams thinking they can go into patterns against us," Greer said.
WSU will travel to The Alfred and Bernice De Simone Gymnasium in Kenosha, Wisconsin taking on University of Wisconsin - Parkside on Feb. 12 and Feb. 13. UWP currently sits in third place in the GLIAC's South Division.
---
Irving Mejia-Hilario is sports editor for The South End. He can be reached at ismejia48@wayne.edu.
Cover art created by Dori Gross, graphic designer for The South End. She can be reached at gh6421@wayne.edu.