Wayne State's Masters of Fine Arts Graduate Thesis Exhibition "Aggregate" is on display at the Art Department Gallery through Friday. 
The exhibition showcases the work of MFA students Aaron Deshields, Ephemera Fae and Sarah Heuninck. Each artist's works represent different artistic mediums, as well as varying themes. 
Director of Galleries and Special Programming Tom Pyrzewski said the MFA exhibitions serve as the culmination of years of study for graduate students. 
"They (the MFA program) have a thesis exhibition… every year to feature their works, because they're graduating, and this is an opportunity for them to showcase… pretty much their thesis for all of their studies and the artwork they develop throughout about three years in our program," Pyrzewski said. 
Pyrzewski said the gallery allows WSU students to present their art in a real-world setting. 
"Our goal all the time (is to) be able to give our students an opportunity to exhibit their artworks in a professional manner," he said. 
Pyrzewski said installing exhibitions like "Aggregate" is not only fulfilling for the artists, but for the gallery staff as well. 
"There's not a better feeling than knowing we… installed a killer show, and it's well received by the community and impactful for our guests, that's the most important thing and most fulfilling part of what we do," Pyrzewski said. 
Curatorial Assistant and Arts Administration student Clove Ellis said the support from audiences is what helps make art galleries successful. 
"I think something that people don't always think about is how valuable their presence is to the galleries that are hosting them. As an arts administrator, it's always really amazing to see the looks of awe that people have," Ellis said. "Having a constant flow of people coming in… it really means a lot to the gallery that we can be exposing students to new audiences." 
Aaron Deshields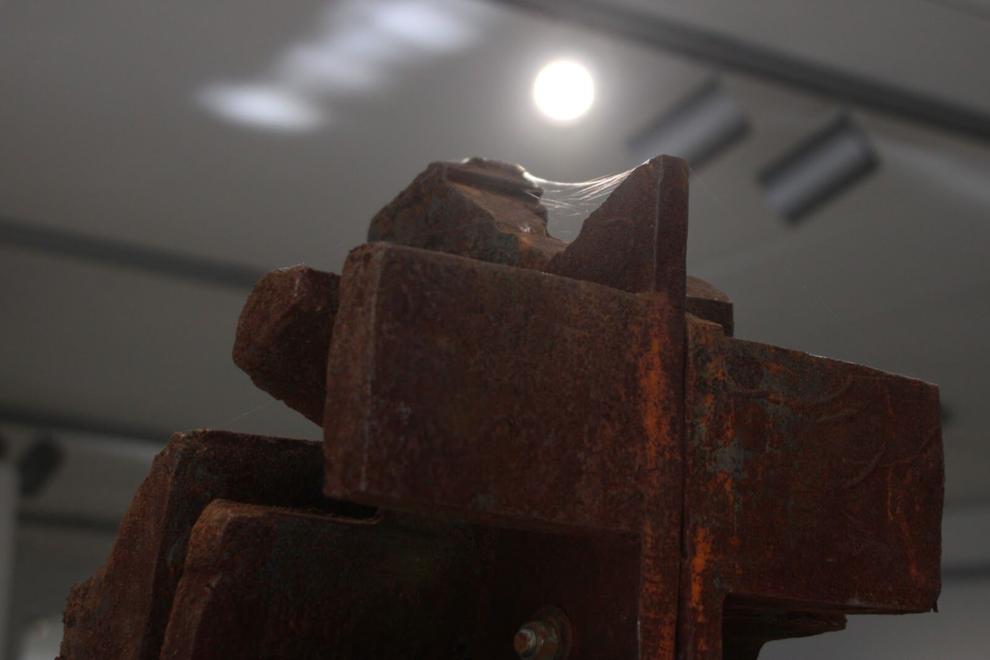 Aaron Deshields, an MFA candidate in WSU's metalsmithing department, said his work focuses on the relationship between so-called "wasted" material and architecture. 
"I've been focusing on… (a) kind of body of sculptural works that utilizes… waste byproducts, and kind of finding architectural structures and forms within those waste materials," Deshields said. 
Deshields added he felt all his hard work had paid off after seeing his pieces installed in the gallery. 
"A lot of the large scale-pieces I had done, I had installed in the center of the gallery right when you walk in. That (center) piece I've been working on for, really since the first semester that I started here as my MFA, so… having it installed felt like I finally had some resolution with this work that I had been wrestling with for several years," Deshields said. 
Deshields said aggregate was a fitting name for the exhibition, since it defined, in many aspects, the foundation of each artist's work. 
"We found some sort of intersection in our work. The show came together very well. We were kind of just working with the resources that were provided for us… and we're kind of tasked with finding a way to fill that space out, and make it feel cohesive," he said.
Deshields said aggregate, in the literal sense, embodies the material within the artist's works. 
"The conceptual idea of what aggregate is, it's like smaller pieces that build up a larger component. Aggregate being rock and stone… a lot of my work is with concrete; a lot of Sarah's work is with crushed up stones," he said.
Deshields said it was rewarding to see the work of the artists come together. 
"We talk about our work in isolation so much, we talk about our work as it only applies to ourselves and our practice and of the audience we intend it to be for," Deshields said.
Deshields said seeing the exhibition come together was liberating in many senses.
"It removes the vacuum, the void, or the kind of self-isolation of our practices and kind of brought it all together and put it on display for everyone to see," he said.
Sarah Heuninck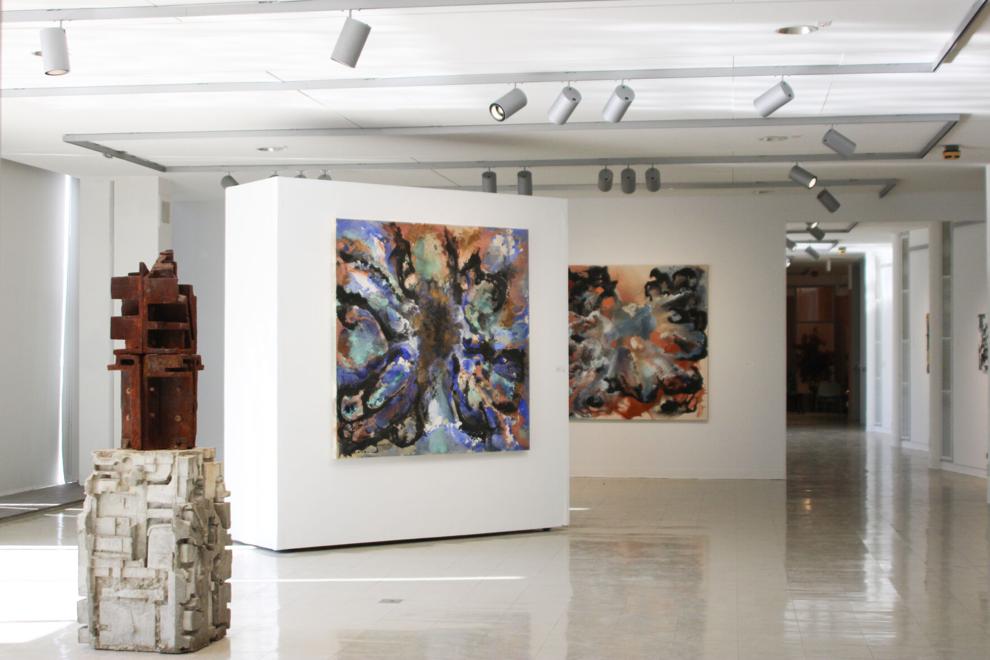 Sarah Heuninck, an MFA candidate with a major concentration in painting, said much of her artwork is derived from materials found at local shorelines. 
"I kind of developed this experimental style where I'm collecting rocks and asphalt and bricks from the local shorelines and crushing them up and creating my own pigments and painting with those, as well as other powdered pigments," Heuninck said. 
Heuninck said planning the show allowed the artists to dig deeper into how their artwork related. 
"It was kind of fun planning the show because we had to, kind of, figure out how does (our work) tie together," Heuninck said.
Ephemera Fae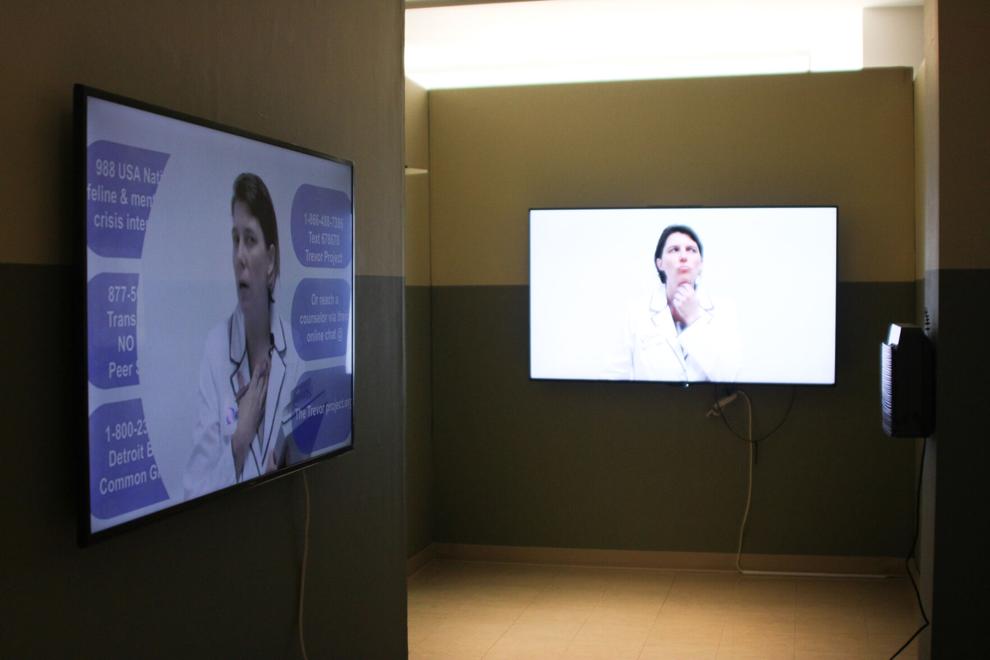 Ephemera Fae is an MFA candidate and social practice interdisciplinary artist whose work in the gallery is a mix of everything. 
"What I do at Wayne State is a lot of different things…I work personally in video, painting, poetry, sculpture, fiber and audio," Fae said. 
Fae said their inspiration for the MFA thesis show focuses heavily on mental health. 
""My work is really about what happens once the human body is inside the structure and how that works and gets also reduced in some senses to rubble… and gets worn down, and then hopefully at some point put back together," Fae said.
Fae said many of their pieces are also inspired by the negative impacts of social structures. 
"A big part of my work is about how the structures that we build as people to try and help the systems that we've made homogenize us, but they're actually made of individuals who can make choices that are different and will help us maintain our unique human qualities, and rehumanize us, instead of dehumanize us," they said. 
Fae said it was a challenge coming up with a name for the thesis show. 
"We could've just decided that we could call this the MFA thesis show of 2023… but there was something… pulling at our (consciences) and we sort of stumbled upon the fact that like, structurally, it's easy to see how they (our pieces) relate," Fae said.
---