At Three Cats restaurant in Clawson, Dan Scanlon, the director of Pixar's new movie "Onward," remembered the building either being abandoned or a warehouse when he was growing up, he said.
In the 1940s, the building was home to the Clawson Theater and showed its last film in 1961. 
The original Marquee still hangs on the front of the building, and its impact reached far beyond Clawson, far beyond Pixar and throughout Hollywood. 
Michigan native Robert McKee is an author and screenwriter who is known for his STORY Seminar classes. 
"It's a three-day seminar about the film writing process. So many people in Pixar in particular, but also in the industry, have gone to these seminars and learned more about screenwriting from him," Scanlon said. 
While Scanlon was at one of his seminars, McKee mentioned he was from Clawson and learned everything he knows about movies by going to the Clawson Theater. After the class, Scanlon went up to McKee and told him he was from Clawson as well. 
"There is an incredibly rich film history that comes from this theater that has touched an endless amount of other films by Robert McKee," Scanlon said. 
Clawson was very much on Scanlon's mind when creating his new movie "Onward," but he didn't want to be too anchored to the city during the process, he said. 
"I think when you're making this stuff, you want to do something personal that means a lot to you but still be objective," Scanlon said. 
In the modern fantasy world of  "Onward," Ian — voiced by Tom Holland — and his older brother Barley — voiced by Chris Pratt — are two elf brothers living in New Mushroomton. In their world, wizards once used magic to help until technological advances and the difficulty to master wizardry rendered it obsolete. 
The elves' father was a wizard, dying of an illness before Ian's birth. One of the few possessions Ian has of his father is a cassette recording of his voice. On Ian's 16th birthday, he and Barley are gifted their father's magical staff — who unbeknownst to them was a wizard. Along with the staff is a rare gem and a visitation spell that will bring their dad back for one day.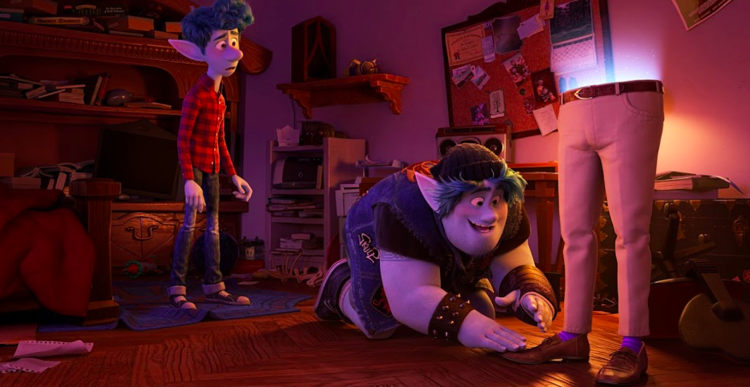 After Barley tries the spell with no success, Ian is able to perform the spell but only brings back their dad's bottom half. With the clock ticking, Barley must use his mythical-historical knowledge, learned from the Quest of Yore role playing game, and Ian's new-found magical skills to find a new gem and complete the spell. 
Originally, Scanlon hoped New Mushroomton would resemble his hometown of Clawson, he said. However, he and the movie's art department veered away from this. They wanted to show a strong juxtaposition between how beautiful the town once looked and how modern it had become. 
They decided to base the film's city more on Los Angeles, which has more contrast. The movie crew wanted to show the beauty, but also the hustle and bustle of a large city, he said. 
Scanlon said there are still influences from his hometown in the movie's setting. Specifically, the street Ian lives on has a Clawson-like feel to it.
"That (Ian's street) was designed first and then some of the more downtown areas feel more like Los Angeles," Scanlon said. 
"Onward," is semi-biographical, with Scanlon's father dying when he was one year old and his brother was three. 
"I think Pixar is very supportive of people being vulnerable and telling a personal story. I think the personal stories tend to touch us because they come from a true place," he said. "And chances are, even if you haven't had that exact experience, you've probably had something like it."
Everyone who worked on the movie was very supportive of him telling a personal story, Scanlon said. As the filmmaking process progressed, the story changed from his own to others as artists shared and incorporated stories from their lives. 
"In the end, it became its own thing with the help of all the other artists," he said. 
During production, everyone involved was mindful that it was a family film, but they wanted to explore tough situations people in life have to deal with. 
"We try not to dumb things down for kids. Kids are very smart and sadly, kids have to go through things like death," he said. "We wanted to be honest about it, give them an opportunity to see people like them to relate to these situations in a safe place and a fun safe movie."
While Scanlon discussed the movie with his mother while making it, he didn't talk about it with his brother much. His brother had an idea of the film, but didn't get a full representation until the film was shown at the Pixar wrap party a few months before its release. 
"When it was done, he gave me the longest hug that he's ever given me and he said 'It's wonderful,'" Scanlon said.
Scanlon said his brother is like the character Barley  — supportive, thoughtful and loving. Since seeing the movie, his brother has been a major fan and supporter of it. 
He and his brother have always been open to each other about their feelings. Since the movie's release, their relationship has been a "love fest," he said. A big message in the movie is telling people you care about them while you're still able to, and hopefully this movie will inspire more of that. 
"I would love that people when they see the movie, if they're so moved, to call those people if they're still around and thank them for what they did," he said. "Then maybe be that person to a young person. Do a little extra to encourage and support someone, because man it can affect a life in such a huge way." 
Including his brother, there are many people that've helped encourage Scanlon throughout his life — teaching him so many skills he uses today. 
His sense of humor is influenced by his mother, who wrote comedy poems for people who were celebrating special occasions in their life. His mentor Mike, from the Big Brothers Big Sisters program, taught him about film and got him involved in his local public access station. Mike also taught him how to use an animation camera. 
It was important to him, and his filmmaking partner Kori Rae, for the brothers to have a sincere and sensitive relationship where they're open to talking about each other's feelings, he said. This is the relationship that Scanlon has with his brother, and reflects how their mother raised them. 
"Even though these are two brothers who are different and have conflict, there is still a sense that they do love each other throughout the entire movie," he said.
The movie explores what the characters would do and say to their father because they never had the opportunity to, Scanlon said. 
"Well, the truth is, you don't get that opportunity sadly," he said. "But the movie is really hopefully inspiring people to say it to the people who are alive. Don't hold anything back. Nothing can be too gushy or emotional, just say it." 
"Onward," is now available for digital download and can be streamed on Disney Plus starting April 3. 
Cover photo courtesy of Pixar Animation Studios.
Jack Filbrandt is the arts and entertainment editor for The South End. He can be reached at artsandentertainmenttse@gmail.com