Several Detroit artists will debut their artwork in an 18-day art exhibition in Grand Rapids from Sept. 15 through Oct. 2 to promote ambitious conversations amongst artists. 
The international art competition, ArtPrize, debuts artists from around the world for the chance to win grants and gain access to networking, according to its website.
Artworks include art installments, photographs, mosaics, figurines and paintings that will display at venues around the city including local businesses, public parks and museums. 
Detroit artist Amanda Koss is the Curator of Art at Crain Communications in Detroit. She said displaying artwork in a gallery can be a vulnerable moment for any artist.
"Getting yourself out there is quite a challenge. It's like taking a piece of your soul and putting it out there and saying, 'I don't care what people say, think or feel,'" Koss said. "It's not easy and I give anyone props to give them a shot."
Koss is displaying her own artwork at Grand Rapids ArtPrize for the first time this year. Her abstract painting "Beautiful Life" will be on display during the competition.
She said she used conflicts with her family to fuel the painting process.
"When I created this piece it was about processing all the trauma I had growing up and turning it into something beautiful," Koss said. "It was a full body experience to paint that. I was so emotional. I was in tears, yelling at it and crying. . . it was just so powerful." 
Koss said painting is a way to cope with traumatic events, like when she was diagnosed with cancer when at 35 years old. 
She said each painting includes its own narrative that she hopes other people can gain motivation from.
"I consider myself an abstract expressionist because I take situations from my life and things that I'm feeling, and I go right to the canvas. I dive into it," Koss said. "There is always a story and I hope this shows people they are good enough, no matter what background."
WSU College of Nursing  alumni Donna Dzialo attended the competition for the first time in 2021 to debut her artwork titled "COVID Time CAPsule."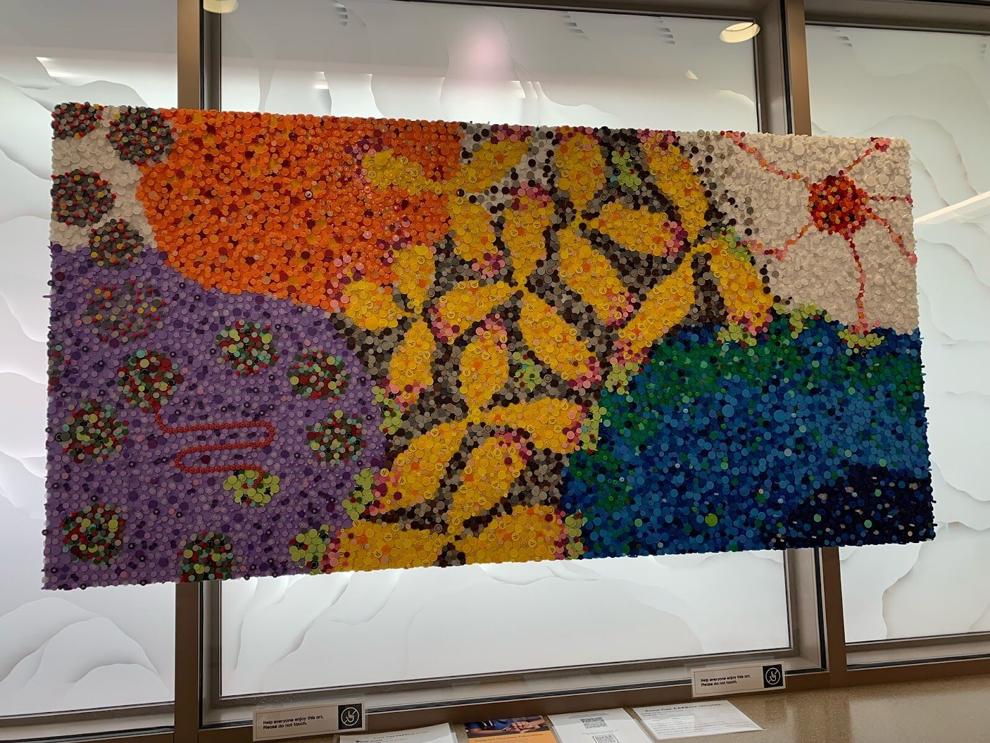 The 4 feet by 8 feet mosaic is made of recycled needle covers and drug vial caps to create a multicolored image of the COVID-19 virus and how it interacts with the immune system, Dzialo said. 
She said the piece was based on her knowledge and experience as a nurse anesthetist during the COVID-19 pandemic.
"I was gonna make something small with the caps when I was stuck at home but then I thought 'Who knows how long we're really gonna have this going on for?' I can make something that could go to the archives. I could really make a statement and say something about us nurses in the healthcare field," Dzialo said. 
Dzialo used over 6,000 vial caps in a variety of colors to represent infected cells, blood cells and antibodies fighting the virus. 
"With everyone being quarantined at home, we were going through all of it (the pandemic). So I was educating myself about COVID and how it stacked up with my biochem degree. . . I was learning everything about COVID," Dzialo said.
Although Dzialo has her career in the medical field, she said she enjoys art and meeting other artists. 
"I love art and so I was very impressed with some of the amazing art that some of these artists spent so much time making and I thought, 'that's what I'm doing.'" she said. 
Each cap used in the "COVID Time CAPsule" has an origin story about what it was used for that adds to its meaning behind the piece, Dzialo said. 
"They all have their own story. Some were given to me and I was so thankful to get them and some were saved over the years for this project," she said. "But I didn't think it was going to be so big and beautiful."
---
Shawntay Lewis is the Arts & Entertainment editor for The South End. She can be reached at artsandentertainmenttse@gmail.com.
Cover photo provided by ArtPrize.