One Wayne State computer science major has fond childhood memories of getting henna done at weddings and Eid fairs. Now a college student, customers wait in line for her henna work. 
Mahnoor Waheed started Modern House of Henna when she was 14 years old. 
She said her friend brought back henna cones from Pakistan. Sitting in the basement, her friend asked, "Why don't you do henna on me?"
"I did henna on her, and we started taking pictures of it," Waheed said. "She was like 'We're making you an Instagram account.' I made an Instagram account that day and it just kept going from there." 
Henna is a flowering shrub that grows in warm arid climates, henna artist and educator Modesrah Ahmed said. Its flowers are used for fragrance, and the leaves produce a dye.
Henna designs are drawn on the body using a cone filled with the leave's dye, Waheed said. A hole is cut at the top of the cone so the paste can be squeezed out and drawn on the skin.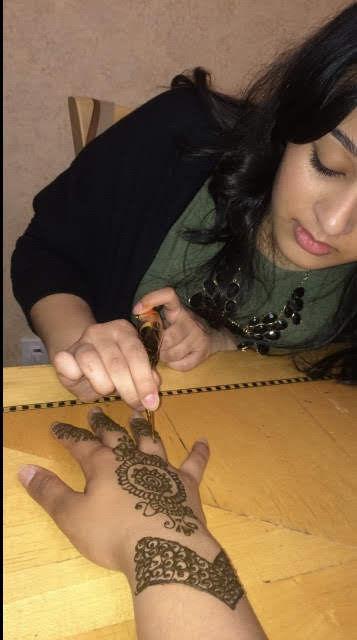 After henna dries, a mixture of lemon, sugar and water is applied to make it stick to the skin more, which creates a darker stain. When the henna is taken off, oil is also applied to help darken the stain further.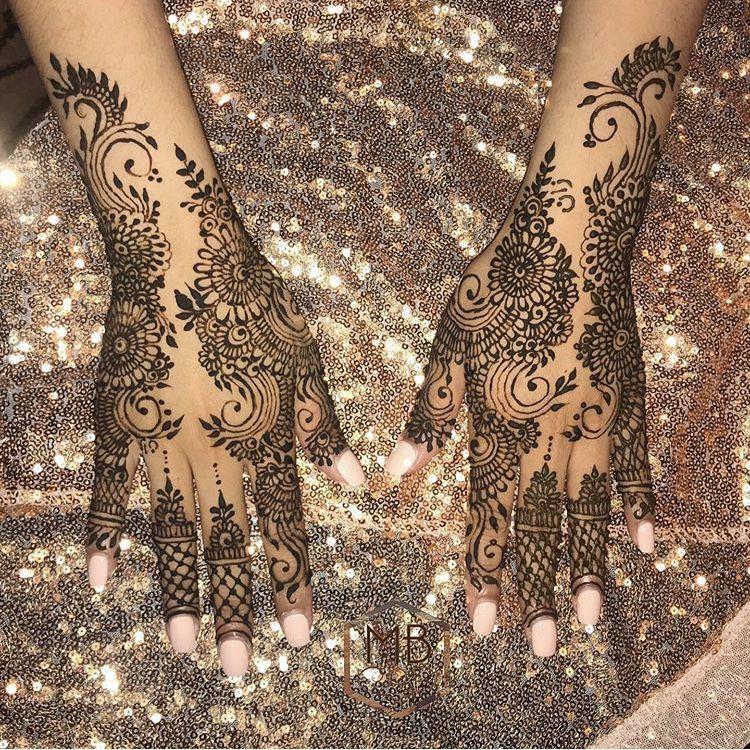 "It gets darker over two days so when you first take it off it's like a lighter orange and then it gets a little darker and then it becomes dark brown," Waheed said. 
The better it's taken care of the longer it will stay, often lasting up to two weeks. 
"The most common use of henna is actually henna art," she said. Henna as an art form has different styles and is used differently from culture to culture. 
Henna is an ancient practice. Museums found traces of henna, used for hair dye and nail polish, on ancient Egyptian mummies, Ahmed said. It's also used in the celebration of Muslim holidays. 
"The reason that most cultures use henna is for weddings," Ahmed said. 
Drawing henna at weddings is what keeps Waheed busy in the spring and summer, she said. It's traditionally drawn on both of the bride's arms, often taking her three to four hours to complete. 
"People usually get it done a couple days before the wedding, so the stain is dark," Waheed said. 
Brides often like to have their husband's name hidden in their henna designs or the letters scattered throughout. 
"It's really fun going to different weddings and meeting different people," she said.
Waheed also does henna for different student organizations at WSU, she said. In the past she has done events for Students for Justice in Palestine and Students Organize for Syria. 
SJP President Sherin Shkoukani said attention to detail separates Waheed from other henna artists. 
"You can tell when someone does it for fun and when someone is passionate and does a lot of work. So Mahnoor really takes her time and goes into a lot of detail," she said. 
When doing henna at an event, people often have pictures saved of a design they might want, or they would like it done freehand, Waheed said. 
"Sometimes I like doing freehand just because it's quicker, especially if I'm doing a wedding with so many people. If it's 50-60 people and they all want both their hands done it's like faster for me to do it by my brain," she said. "But copying a design isn't hard either, like it's kind of fun cause then I at least know what they want."
Waheed is also good at visualizing a henna design idea someone may have, Shkoukani said.
"If you tell her that you want something, she can literally paint and draw on your hand exactly like you want it," she said. "You just tell her, and she goes at it and you're never disappointed with her work." 
For more information on Modern House of Henna, visit https://modernhouseofhenna.weebly.com/?fbclid=IwAR1jIhabUdPzvi050faUAwhkEIRU7l4fAO57nk5T6aEFWDE-our2KszWVek.
---