Perched on a building at the corner of Canfield and Woodward avenue is one of Wayne State University Galleries' latest exhibitions. 
"In the Air: Voices from Detroit and Beyond" is an outdoor art exhibition presented by the WSU James Pearson Duffy Department of Art and Art History. Beginning in September 2020, eight artists were invited to create works in response to the COVID-19 pandemic and racial injustice — with each piece being featured for one month on a billboard across from the Museum of Contemporary Art Detroit. 
The idea for the exhibition to be on a billboard was born from consideration of COVID-19 regulations, said Thomas Pyrzewski, WSU director of galleries and special programming. 
"Last March, we had the transition to online with everything for both of our galleries," Pyrzewski said. "It's still an online exhibition, but at the same time, we wanted to do something in person where the viewer could literally walk up with social distance guidelines and see artwork in person. What better way to do that out in the public than on a billboard?"
While the Art Department has featured students' work on billboards in the past, this is the first time they've tried a rotating exhibit, Pyrzewski said.
"I think it's a unique concept. And so we're showing works —they're not advertisements. They're fine art works in different disciplines by a variety of artists," Pyrzewski said. 
Participants were chosen based on recommendations from a committee composed of staff from the Art Department, Pyrzewski said. Four of the featured artists are Kresge Artist Fellows.
Detroit artist, Kresge fellow and WSU alum Darryl DeAngelo Terrell said they were excited when asked to participate in the exhibition. 
"I think it was supposed to be like an actual physical exhibition at school, which was exciting because Wayne State is my alma mater. It was exciting to know that I was being selected for something like that, to be showing work only five, going on six years after I graduated," they said. "But of course, COVID came and put what I thought was a stop to it, and then they came and called me back with a whole different format to it and I was like, 'Okay yeah, I really wanted to do it.'"
Terrell's piece "Design", which is on display until Feb. 20, incorporates many elements while looking through the lens of their alter ego, they said.
"Dion is my high-fem alter ego," Terrell said. "And so through Dion I explore the idea of desire. I explore sensuality and sexuality all while I'm always thinking about the Detroit hood aesthetic, because again I'm from Detroit so Detroit is very important."
Detroit is one of Terrell's many inspirations, but they said they find things that inspire them everywhere. 
"Detroit, my friends here in Detroit, my family, music, poetry, other artists, conversations, my wild ass imagination, reading, reading poetry, watching music videos, watching movies —yeah, it's just a lot," they said. 
Other inspirations, besides their hometown, can be found in Terrell's latest piece. The piece is inspired by Danez Smith's poem "Self-Portrait as a 90s R&B Video" along with the historic 1995 Source Awards. This moment in music history took place at the height of East Coast-West Coast rap rivalry.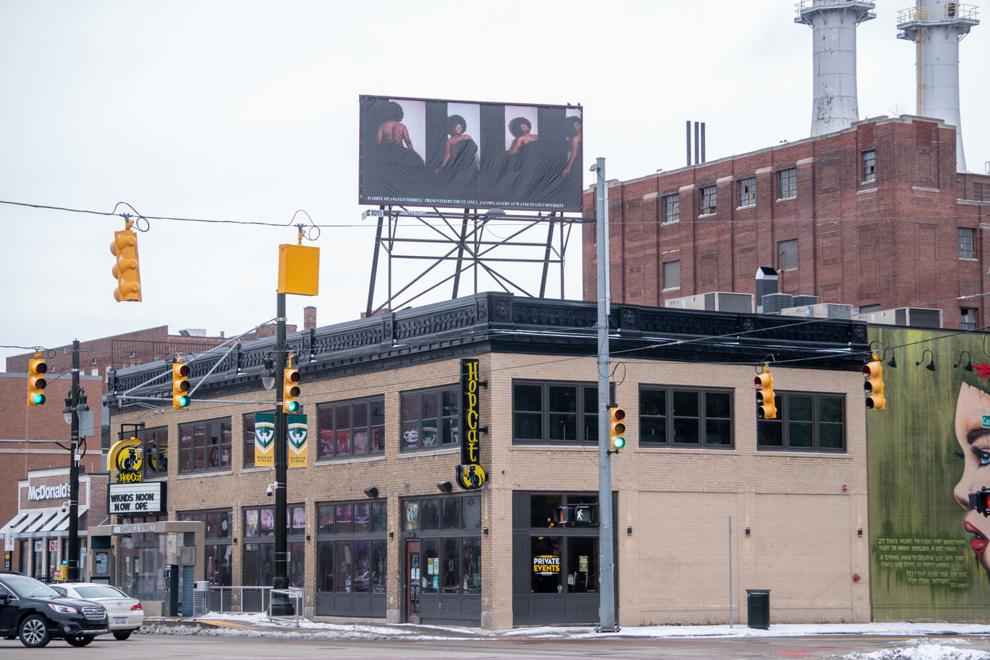 "(I)t was also within the same era of the death of Biggie, and Tupac, but specifically that award season, it was East Coast versus West Coast. However, Outkast had won their first award and everyone was mad," they said. 
Kresge Fellow Tyanna Buie said she was "immediately excited" about participating in this exhibition.
"It's interesting because I think about the beginning of my, you know, as a freshman in college and my thought is, 'Oh, I want to do graphic design and marketing and I just see my work on billboards,'" Buie said. "(A)nd then here it is years later to have a piece of art on a billboard is not for anything other than what you want it to be for, it's very rewarding."
Much of her inspiration comes from being a product of the foster care system, Buie said. 
"A lot of my work deals with family history or trying to piece together a fragment to try to figure out the identity politics when it comes to foster care itself," Buie said.
While her piece is not yet complete, Buie said it will fall along the lines of her main inspiration.
"I'm still figuring out what exactly I want to do, but I know for sure it's going to be representational of family life," Buie said. "It's really tricky because what do you do? What do you put in that beautiful space in a very beautiful area, but also being true to myself but also thinking about the public?"
Opportunities like this exhibition may seem out of reach for aspiring artists, but creating is the best way to get started, Buie said.
"I guess the best advice I've always gotten was just to make work," Buie said. "People pay attention to you. You put it out there, you just do what you want to do in that space, and you do an excellent job at it, you do it to the best of your ability and then people do come to you for opportunities. That is something that I think is not mentioned enough."
Terrell, Buie and two other Kresge fellows featured in the exhibit are also part of a virtual lecture series, Pyrzewski said. Terrell's session was held on Feb. 11 and Buie's session will take place on April 8 at noon.
"In the Air: Voices from Detroit and Beyond" closes on April 17. The complete exhibit schedule can be found at the WSU Galleries website. 
---
Alanna Williams is a correspondent for The South End. She can be reached at featuresreportertse@gmail.com. 
Photo by Quinn Banks, multimedia editor for The South End. He can be reached at multimediaeditortse@gmail.com.