A man with unruly, long hair hops on stage. With mic in hand, it's his deep voice breaking the intermission silence. 
Arguably one of the most well-known sound engineers in Detroit's music scene, it's High Bias Recordings founder Christopher Koltay introducing the second act of the night. If his name or recording studio doesn't ring a bell, Koltay's extensive resume speaks for itself. Recording artists from Shigeto to Jack White are on the list of musicians he's worked with over the past 22 years. 
Reminiscing aloud on the day he met Mac Saturn, a Detroit-based rock 'n' roll band, Koltay said, "What they (Mac Saturn) did is, they saved an old man's life that day and it doesn't seem like much to you, but to me, it made a huge difference." 
The local, four-piece band Mac Saturn is welcomed to the stage with a cheer, a few hollers and overall applause from the crowd, fueling the band's energetic, soul-powered rock 'n' roll sound. 
But for the night, it's not Koltay or Mac Saturn who are the stars of the show, it's Old Main Records. 
Already cutting their teeth on upcoming music trends, the WSU student-run music label Old Main Records proved their bright future ahead by showcasing local talent in a sold-out St. Andrew's Hall show on Friday night. On the lineup was Mac Saturn, The Stools, Dirt Room and Craig Garwood Group. 
The full room of visual artists, musicians, and students, created a welcoming atmosphere to the homegrown record label party. It's the label's determination and pursuit that's earning the love, support and respect of the community. 
"We're all super about the DIY ethics and such, so it's cool to see people keep that mentality while utilizing Wayne's resources and it's cool that Wayne is offering its resources to help local artists," The Stools' drummer Charles Stahl said. 
Similarly, Mac Saturn's guitarist and backup vocals Nick Barone chimed in about the work of Old Main Records.
"We have a lot of respect and appreciation for what they're (Old Main Records) doing for the arts in the community, in the city," Barone says. "Especially helping up and coming artists hit the ground running."
Engaging in a wide range of functions in the music industry, Old Main Records will provide opportunities for students in event promotion, marketing, distribution and more. 
Local, visual artists who were showcased last night include; Sarah Brazeau (Sleepyboness), Caitlin C. Harvey, MLE, Anastasiya Metesheva, Max Jurcak, Erin Theroux, Shelby Say, Synefeld, Kristal Michal-Brasseur, RELYDETROIT and Tyler Sykes.
Illustration artist Ryan El-Yafouri, better known by his artist name RELYDETROIT, has been looking forward to showcasing his work at the launch event.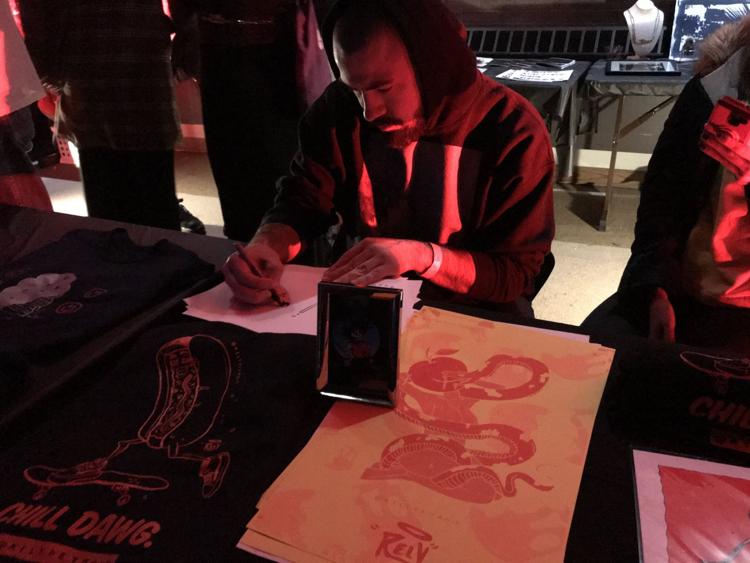 "Yeah, I like to show my work at events and try to do a good amount each year," El-Yafouri said. "If it fits and people are welcoming, it's usually received well."
Among the many responsibilities of any record label, which includes reviewing artists, recording and publishing, Old Main Records is also teaming up with WSU to convert and preserve audio archives recorded on different mediums that can be dated back from the '30s.
However, it's all about the future and what the saving of music can do. Whether it's saving people like Koltay's lives or preserving dated audio of past musicians, the importance of Old Main Records' mission is only enhanced more and the future looks promising.
It was only right for Old Main Records to launch their label in a church because between them and the music, they're saving.
---
Nadia Koontz is a contributing writer for The South End. Koontz is also a media manager for Paxahau. She can be reached at nadiakoontz@gmail.com.
All photos taken by Koontz.