Nice Place Detroit is located a few miles north of Wayne State's campus.
The two-story residence is colorful, both inside and out. The exterior facade is primarily carrot-orange with supporting light green columns. Inside, the walls and tables are decorated with paintings and photographs. There are shelves piled with cassette tapes, posters and other trinkets.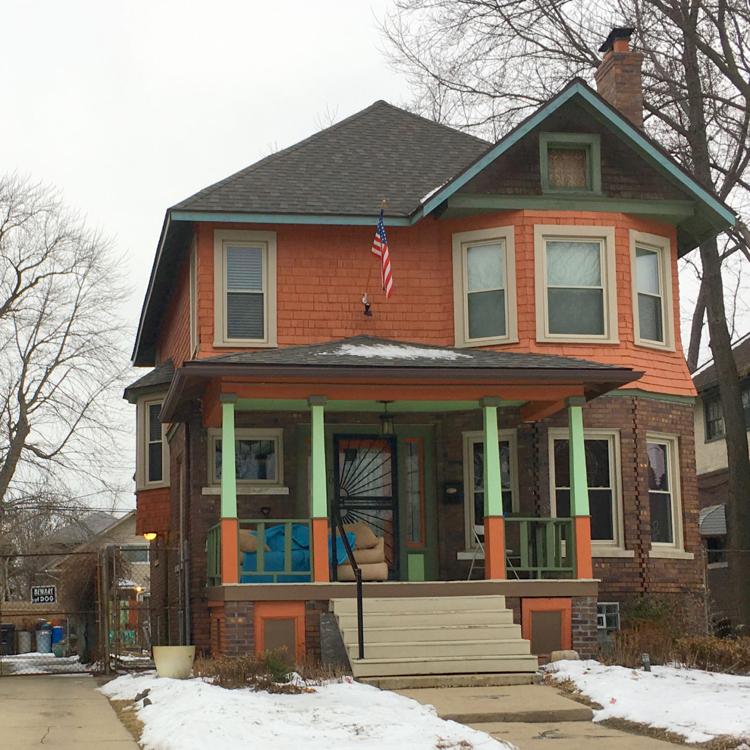 In April 2018, roommates and founders of Nice Place Patrick Norton, Thomas Bojack and Emily Lichtenberg gave their home its welcoming name. The roommates say the house serves as a multipurpose gathering space for local residents and creatives — hosting concerts and art galleries for budding artists.
Originally from the Chicago area, Bojack said he has been involved in various music scenes in his hometown, as well as Portland, Ore. His move to Detroit was inspired by the local art scene.
"I spent some time out here, and I really liked the community," Bojack said. "I wanted to be able to open a space and provide for people like Patrick, so people have the opportunity or resources to come put on a show."
Shortly after securing the space, Bojack said he posted an advertisement on Facebook in search of roommates who wanted to expand upon his vision. Norton was quick to respond. Soon, he and Lichtenberg moved in, and began their endeavor.
"I definitely founded the bones, pioneered the space," Bojack said.
"He's (Bojack) like the shell, and me and (Lichtenberg) are the meat," said Norton, a WSU music technology student.
Nice Place's art gallery is run by Lichtenberg, a visual artist who goes by the moniker EmJae Lightningbug, and Norton. She also runs art workshops in the basement, while Norton coordinates the musical performances.
While Nice Place primarily functions as a creative outlet, the founders said they hope to provide visitors with an immersive experience.
"It's not just the art and all of that stuff, there's an underlying root of connection," Bojack said.
Many visitors echo the themes of connection and creativity. WSU art student Jess Fendo has helped coordinate several events at Nice Place, they said.
"(It's) a really safe environment for anyone to creatively express themselves," Fendo said. "It's just amazing that I can give people the opportunity to do that."
Norton said he and his roommates have several projects they hope to see materialize in the future. Norton wants to create a recording space and make Detroit a hub for musicians.
"There's so many amazing musicians around here, but they don't get the proper exposure," Norton said. "I think, like everybody ends up moving to New York, or to Chicago or L.A., like we're losing artists that are amazing here."
Norton said he would like to get a larger building to work out of in order to provide separate spaces for art concentrations. Additionally, he said he would like to open a hostel, to bring in collaborators from out of town.
Detroit rapper Manning Allor performed at Nice Place for the first time on Jan. 20. He said the supportive atmosphere amazed him.
"The whole crowd, everyone gave their attention to the artists," Allor said.
Local fashion designer Jaden Eller was also there that night. Eller, who creates clothing items under the name Relle, said he felt encouraged.
"Shout out to Patrick, because he really supported me," Eller said. "He bought one of the shirts and immediately put it on and wore it for the rest of the night."
In fact, Norton was still wearing the shirt during his interview the following morning.
Bojack said that at the end of the day, Nice Place is a space to provide for the community.
"We're providing a warm house for a couple of hours, and some entertainment and some conversation," Bojack said. "I think that something I want to spread is just like, taking it easy."
To keep up with Nice Place, follow them on Facebook and Instagram.
---
Photos courtesy of Nice Place Detroit