The spirit of "I AM," a new play by the Freedom Players, an ensemble of Wayne State's Black Theater and Dance Program, is one of liberation. It embodies struggles with race, identity, culture, societal constructs and sexuality. Through its diverse perspectives, "I AM" unpacks categorization placed on individuals from the outside world and examines how this affects one's view within.
"If you don't speak out about something, that thing has power over you," Dewight Braxton Jr. said, a student actor. "But if you have the courage to speak up about it, it no longer has power. Even though you might still be dealing with it, that's a real big first step."
"I AM" is an original creation of BTDP artistic directors Billicia Charnelle Hines, RAS Mikey Courtney and Karen Prall. Its themes were brainstormed by actors in the group during the fall term. From this collective work, including poetry by Courtney, Hines wrote and directed a master script that's been performed on WSU's campus and continues to grow in preparation for the troupe's upcoming performance at the Edinburgh Fringe Festival in Scotland this August.
An opportunity to perform at the world's largest international theater festival has the department excited.
"Invitations to the festival are issued to programs with a reputation of providing a great theater education and high production values," said John Wolf, WSU theater department chair who also helped organize the admission.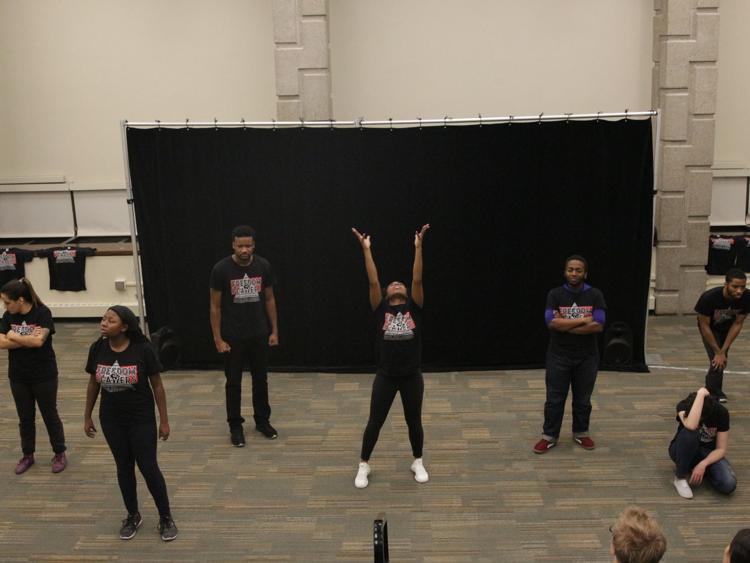 The BDTP performing a play on social justice solidifies the department's dedication to a respectful and fair world for all people, he said.
The troupe is performing "The Social Justice Project" for its tour for Detroit Public School Community District and metro Detroit schools through June, to fundraise for travel expenses and share their performance. The troupe began its tour at University Preparatory Academy High School.
The department is looking for more schools to perform at, Courtney said.
A Q&A segment with the actors follows each school performance. Actor Cameron Blackwell said that besides the pleasure of getting to interact with youth during the Q&A, the questions asked are valuable to the process.
"You rehearse and you rehearse the show, but you start to make discoveries about what you're doing during the Q&A as well as the rehearsal process," he said.
After one of the performances, "One of the kids was like, 'What do you do if you don't have a dad?'" Blackwell said. His co-actor Yakeem Tatum, who portrays a young man without a father in the play, shared with the student how it's possible to find fatherly qualities in others.
"Me, I don't have a father in my life and so I rely on my mother, my single mom, as my father as well as my mother," Blackwell said.
The basis for "I AM" centers on the themes that surround actors' life struggles.
Blackwell worked with peers to create a scene in which a young man wants to be a cheerleader, he said. The girls don't want him there, and the boys think he isn't a real man. He's told to go do what men do.
"I have always sort of struggled with defining what manhood is to me," Blackwell said. "On TV and in movies, I see this macho man. You gotta lift the weights. You gotta have big muscles. You gotta catcall the girls. You can't talk about your feelings, instead you just scarf down protein drinks. Cheerleading is in place of theater and dance in my real story."
"I AM," tries to cover oppression from many different sides, actress Jane Clinton said.
"One of the big problems with any kind of oppression really, is that people don't listen to each other. People feel like they are not being heard," Clinton said. "This play is attempting to give us a voice basically and tell people these stories that we don't get to tell."
The play also looks at oppression through mental illness, Clinton said. She was able to use her experiences with depression and anxiety to create a scene she hopes others will connect with.
"It's something that I deal with every single day," Clinton said. "Throughout this play I say the words that have gone through my head at points in my life. And then to finally have like, a liberation, a release from it, it's not only something that is good for me, but I hope that it's something that people can actually take away from it. Something they can learn from as I'm learning from it still right now."
Courtney said he finds it strange that younger generations do not see art as a way of dealing with struggles found in life.
"That's what we really encourage them to do with this particular project," he said. "Put it (personal struggles) into the work. Whatever you are going through in your life, that's why you have the arts."
The Freedom Players continue to add scenes to the script, hoping to extend the 50-minute show to between 70 and 90 minutes for the festival.
"We're trying to pick which ones because we speak about a lot of things," Braxton said. "But sadly, we can't speak about everything. If we speak about everything, that kind of means you speak about nothing deeply."
This August, the Freedom Players — nine actors, two stage managers and three directors — will take the stage in Scotland to tell their story.
"Once they see what this world has to offer and see things with a wider lens, they can come back and do more for this community, for the Detroit community, the Detroit Metro community," Hines said.
Donations can be made to help send WSU's Freedom Players to the Edinburgh Fringe Festival at https://warriorfunder.wayne.edu/project/12294.
The Freedom Players can also be booked for performances at http://www.theatreanddanceatwayne.com/freedomplayers/.