10 years ago, a 13-year-old violinist won the Sphinx Concerto Competition in Detroit, a yearly national contest of young Black and Latinx classical musicians with awards up to $50,000. He was the youngest artist ever to sweep a division. 
This weekend, Randall Goosby — now 23 years old — returns to Detroit to give his first recital in the city where he met acclaim as a boy. 
From the Sphinx to the New York Philharmonic, Goosby was heralded by the New York Times as a performer with "sheer virtuosity," "exquisite tone," and "a masterly level of control."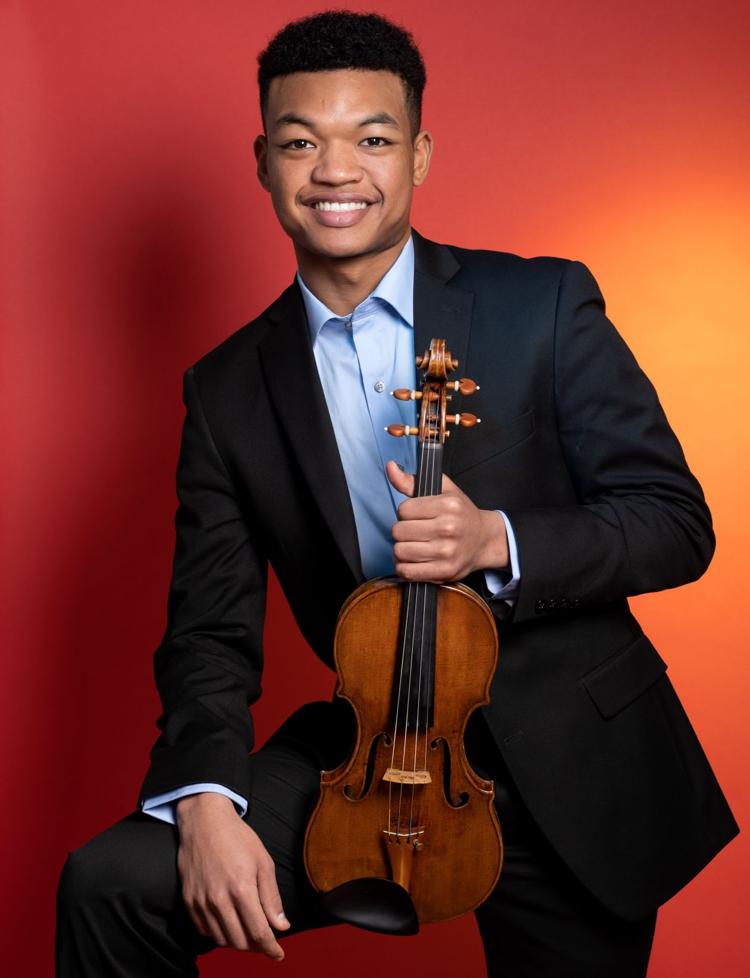 A decade later, he's expected to bring that and more to the Chamber Music Society of Detroit, CMSD president Steve Wogaman said. Goosby will be performing at Wayne State's Schaver Music Recital Hall on Feb. 28 and Northbrook Presbyterian Church in Beverly Hills, Michigan on Feb. 29.
A master's student at The Julliard School, Goosby will be accompanied by pianist and fellow Juilliard musician Zhu Wang, an undergraduate student. Friday and Saturday programs begin at 8:00 p.m. followed by a casual meet and greet reception. Tickets are $10 for students, $25 for seniors and $30 for general audiences. 
"The first time I heard Randall Goosby, I was just blown away by his incredible quality of sound," Wogaman said. "(It's) really warm, and rich and wonderful, like melted chocolate. For people who are chamber music regulars, this will be an amazing discovery.
But if you've never heard this kind of concert before one of the things that's so special about chamber music is that the best musicians, and I would count him in that category, are creating the interpretation fresh in front of your very eyes. It's like jazz. Every night is different because it's live."
Goosby will be playing a collection of personal favorites on a nearly 300-year-old Guadagnini violin on loan from The Stradivari Society in Chicago. Humbly disregarding the hands that hold it, Goosby said it's a blessing to play such a "special instrument," that's seen so much life and can "change the color and texture of sound," with ease.
The metro Detroit concerts are part of Goosby's touring debut program with Young Concert Artists, a nonprofit that works in New York City and Washington D.C., helping unknown and exceptional artists be heard. In 2018, he won the Young Concert Artists International Auditions.
"I thought it might be more fun for everyone if this program was just music that I absolutely love," Goosby said.
The first piece, the Vitali "Chaconne in G minor" wins the concert's opening spot in honor of his mother.  
"I might not even be playing violin if it weren't for my mom," he said, telling of hours traveling to give him the best opportunities, including monthly trips to New York City from his home in Memphis to study with Itzhak Perlman, a violinist with superstar status. 
His mother said years ago that she couldn't wait to hear him play this piece. So it's a little tribute to her from her grateful son on his debut tour. 
The "Debussy Sonata" is short but action-packed. Full of sharp contrasts and "very quick changes in character, energy and vibe." Goosby said he and Wang have been having a blast rehearsing it.
"Suite for Violin and Piano" is the music of being Black in America and is written by William Grant Still, one of America's most famous African-American composers and professional conductors. 
"There aren't many of us, meaning there aren't many classical musicians of color," Goosby, who's African-American and Korean, said.
The Suite was created in the 1930s, inspired by three pieces of artwork connected to the Harlem Renaissance. It travels through lively African rhythms into a lingering, sentimental ballad, a "slow jam," which Goosby loves the most. "The romantic, kind of smalty music," he said. 
Last, is a series of blues riffs where he gets to climb ceiling notes and fall into cool, low walking beats. Imitating a groovy baseline between laughs, he gives a vocal sample. "Bowm bowm bowm bowm bowm bowm bowm bowm…."
The second half of the 70-minute show is what Wogaman calls "the real meat and potatoes," of the program.  The "Strauss Sonota" is particularly difficult for the pianist, he said. 
"This is my favorite, favorite, favorite," Goosby said about the last piece, written when Strauss was also 23. 
"(Strauss) was writing it at a time when he'd fallen in love, and was about to get married to his wife, who was a soprano. And it's just a gorgeous, you know, triumphant, love-fueled peace. Any time I can spread love through music, I'll do that."
Goosby's excited to tell musical stories in Detroit. If there's a perception among young people that classical music is for older folks, for just white folks, that it's stuffy or dull, he said he's hoping to change that. 
"I'm 23 years old, I grew up in Memphis, I'm half Black, half Korean, I listen to all kinds of different music." It doesn't matter what kind it is, we're all saying the same things, he said. 
In a song on the radio, the story's over in three minutes. But, what's great about classical music is that you can take in a lifetime of experiences, Goosby said.
"The things that I'm trying to express through my music are things that I've personally felt," he said. "It's limitless."
Wogaman would like to do away with calling these small ensembles "chamber music." 
"It conjures up this image of four old German guys at tuxedos scratching away at their string instruments and boring everyone to tears," he said, cracking up with laughter. "And that will not be what happens."
---
Sarah Williams is a contributing writer for The South End. Williams can be reached at gm0282@wyne.edu.
Cover and teaser photo by Kaupo Kikkas.