After retiring from a career in education, one Wayne State student decided to pursue her passion for the arts.
Evelyn Hoey, 69, set out to study art at WSU because of its proximity to her home in southwest Detroit and the tuition discounts it offers to seniors, she said. Along with being an artist, Hoey is a mother of five and grandmother to eight.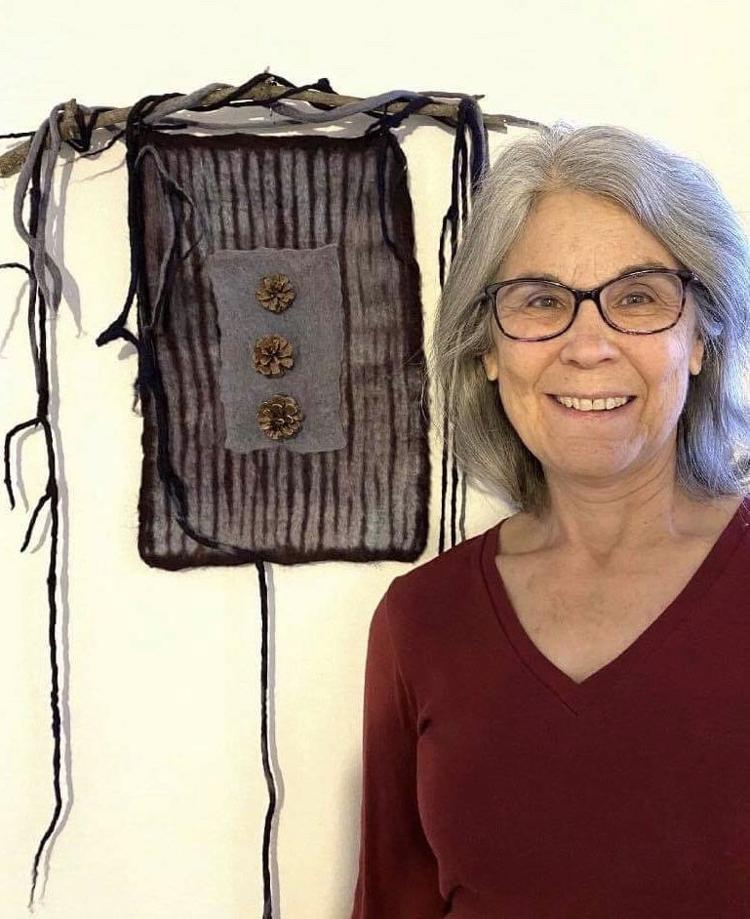 Hoey said she began as a self-taught artist at a time when art wasn't the main priority in her life. She taught herself to sew, basket weave and crochet.
"I just did a lot of trial and error or watched videos or things like that because I had an interest in it, but I really didn't have (the) opportunity," Hoey said. 
Hoey's daughter, Alana Hoey Moore, said her mother's nontraditional path to becoming a WSU art student has broadened her idea of what success looks like.
"I think she's opened us up to the idea of pursuing what you really love (and) what you really want, rather than just being practical forever," Alana said.
Beginning last spring, Hoey took on a project that uses natural dyes as an alternative to chemical dyes, which are often used in labs at WSU and in the fashion industry, she said. She plans to eventually establish a garden in her backyard in order to grow plants for the dyes. 
"For me, the big draw to natural dyes is that they are natural. That I can grow them and that they are scientifically interesting to me," Hoey said.
Susan Moran, art and art history professor, said she admires Hoey for taking on such a difficult project.
"One thing about the project she's doing now is it's very complicated. You have to be quite scientific about it," Moran said. "I have a lot of respect for what she's doing because it takes an extraordinary amount of work."
Hoey's work utilizes weaving, print, dye, metal and other fiber arts. These artistic materials and techniques are used to make pieces including chairs, wall hangings and more. 
Prior to her time at WSU, Hoey helped found the Charlotte Mason Community School in Detroit. Art is a key educational component at the school, with Hoey having a direct role in teaching art, she said. 
"It (art) is like part of the regular curriculum that kids are involved in, not only the typical arts but also handcrafts. I helped with some of that. That wasn't the only thing I was teaching," Hoey said. 
She said her experience at the Charlotte Mason Community School inspired her to pursue an education in art. 
"The school that I was working in, the philosophy there, was very conducive to lifelong learning and to art," Hoey said. "I think the idea that once I retired, I would do something else has kind of been there for me." 
Moran appreciates Hoey's commitment to developing as an artist and refining her skills, she said. 
"I think that she's a role model in terms of being a very hardworking and dedicated student," Moran said. "She's super responsible." 
Alana said her mother is driven by her inquisitive nature to push herself to grow and expand. 
"She's a deep well of humility and curiosity and kindness. She will always keep learning and growing and seeing the world in a different light," Alana said. "She genuinely pursues her art in order to bring more beauty to the world." 
Heather Macali, assistant professor for fashion and fibers, said Hoey strives to inform herself on different techniques and processes. 
"Even if we do not offer a technique in a course, she will investigate the process and become proficient at it. That is a quality that will lead to success," Macali said. 
Hoey said studying at WSU was positive because of the support from her professors. 
"I think the university could do a little more in terms of equipment or just facility for the art program, but the professors are wonderful — very encouraging," she said. "(They're) always kind of pushing you a little to think more about things, but respecting you and respecting your ideas. If I have an idea, professors always want to make a way for it to happen." 
WSU student and Evelyn's granddaughter, Annabelle Hoey, has been positively impacted by her grandmother's work ethic, she said. 
"One of the biggest things she taught me, no matter what you're doing make sure it's done with excellence," Annabelle said. "It has motivated me to be more creative and think outside of my own box."
Graduating in spring of 2020, Evelyn hopes to combine her educational and artistic experience by teaching art classes for adults in her southwest community. Hoey said she wants to uplift others in her community through creative expression. 
"I think there isn't enough of that," she said. "We don't have enough of it in schools for our kids, so we have people who are growing up, and they're not really given (an) opportunity to look for what they might be good at creatively."
---
 Jenna Prestininzi is a correspondent for The South End. She can be reached at jennap@wayne.edu.