Wayne State student Madison Muszynski created outfits for the WSU dance team in early October as a part of the Virtual Dance Collaboratory.
Muszynski said she was chosen to create various garments for the dance team's residency with choreographer Lawrence Fung. 
"I came up with 11, unique, upcycled, custom garment looks for each dancer in a very short time period," Muszynski said. "I had about three weeks to do it."
In addition to being a full-time fashion student, Muszynski works full-time and makes clothes as her hobby and passion, she said. She produces clothing items through her brand 707 Clothing Heaven.
Her passion for fashion began at a young age and was further developed through taking fashion-related classes.
"It was super interesting to work with dance models instead of fashion models," Muszynski said. "It was nice to see the garments move on their bodies compared to the usual movement of models' bodies. It was a very unique experience." 
Muszynski said almost all of her clothing materials are sustainable pieces. They are knit, stretchy, and comfortable fabrics.
"For these pieces, I knew not to use any material that was constricting," Muszynski said. "I used a lot of upcycled tights or anything I could find at thrift shops that I could cut up and sew back together."
When Muszynski creates her pieces, she also considers what she would want in a custom piece, she said.
"Whatever I create is pretty comfortable," Muszynski said. "I don't really want to wear anything that's stiff either, so I'm creating these garments also as what I would want to wear and what I would want to move in."
Taya Malgay, Virtual Dance Collaboratory member and WSU dance student, said Fung's concept led to Muszynski's designs.
"When it came to costuming Lawrence's screendance, he mentioned his vision 'plant zombies' and wanting a variety of colors," Malgay said.
Malgay said she hadn't previously heard of or owned pieces by Muszynski, but added oneto her Christmas list after she wore it for dance.
"My favorite part of the costume I was provided for was definitely the skirt," Malgay said. "It was so cute and fashionable. I would definitely wear the full outfit outside of just the screendance if I could keep it."
Working with Muszynski was a very fruitful and fun experience, Malgay said. She also said she loved how unique the clothes were compared to other brands.
"When wearing Madison's clothing, I felt comfortable, free, and confident," Malgay said. "My favorite thing about her brand is how universal the clothing is to everyone's bodies. The straps and waist bands are stretchy and can even be tied tighter or looser based on what is needed."
Muszynski said she makes all of her clothes in her Detroit apartment, and never wastes a piece of fabric. She also uses her materials to make quilted pockets, pillows, and more.
Muszynski said she does commissions for clients who want custom pieces. 
Reginald Hawkins, a WSU public relations and music technology student, said they have worked with Muszynski for custom pieces.
"I met Madison through Jay Stallworth and initially we would all just hang out and try any new creations she was working on," Hawkins said. "We basically had mini-fashion shows in her home studio space and would be dancing to (Lady) Gaga."
Hawkins said they have a lot of clothes made by Muszynski. They have worn her clothes for music videos and live performances.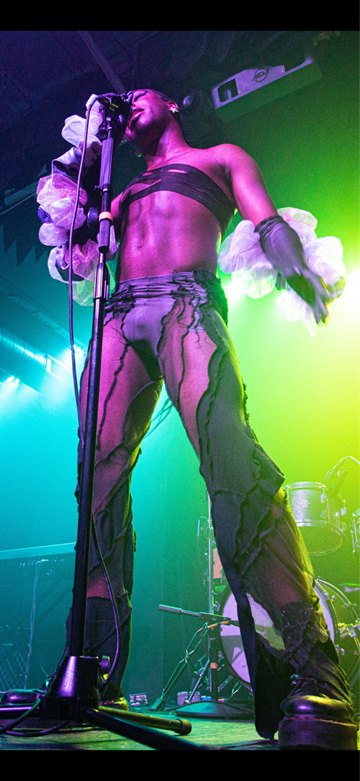 "I would show her a treatment or moodboard I had been working on for that project and I'd describe to her what I was looking for in relation to that," Hawkins said. "But I still wanted to give her range to create and experiment."
Hawkins has worn Muszynski's pieces for their EP release of "Black Popstar" at The Loving Touch, their music video for "To Each His Own," and for fun nights out.
"I have a lot of clothes from her," they said. "There are two I really love: a pair of pants she made for my EP release show. I thought they were so hot and really fit my personal style. Another two-piece set she made was lacey and basically see-through. I wore it in L.A. I love when she makes these barely-there clothes with sheer fabrics that are tight and sexy."
Hawkins said they would like more clothes from Muszynski, especially for the upcoming winter season.
"When I wear 707, I feel sexy and that whatever I have on, no one is going to have it," Hawkins said. "I like to show my body and I think the materials she uses really lets me do that. Overall with the brand, I love that she uses sustainable materials. I try to focus on contributing as little waste as I can and when wearing 707, I feel like I'm doing that."
---
Marisa Kalil-Barrino is the arts and entertainment editor at The South End. She can be reached at artsandentertainmenttse@gmail.com.
Cover photo of the WSU Dance Team wearing 707 Clothing Heaven items provided by Madison Muszynski.