In Detroit's dynamic Belt alley, there's a door with a red neon sign with four, bright X's over it. Through the door is a venue that is solely illuminated by black lights and bright neon artwork plastered over every inch of the walls and floor. It's the ultimate psychedelic, acid-saturated dream. This is Deluxx Fluxx. 
Deluxx Fluxx is a bar and music venue that opened in August2018. What makes this venue interesting are the art installations that cover the walls and floors of the space. Unlike the minimalistic exterior of the club there is nothing understated about the inside of the building.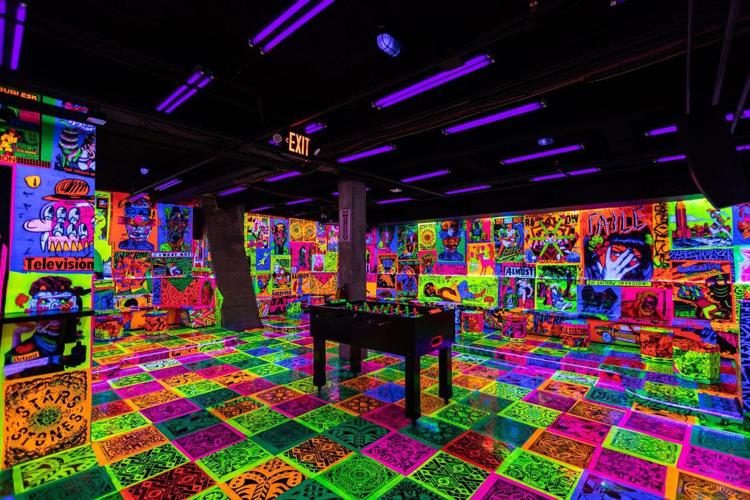 "The artists of the space had an art exhibit in the alley which is what led to a partnership in creating the space," Andrea Kaji, the event manager of Deluxx Fluxx, said.
Artist duo Faile and Bast collaborated with the Library Street Art Collective to create this unique space. 
"It's a really cool concept and they put it in a very fitting location since the venue fits perfectly with the scene," said Ashlen Michalski, a junior WSU public health student. "It looks like a really fun place to go to for a night out in the city."
The venue also serves as an arcade with specially curated games created and programmed by Faile and Bast. Each game— like Eastern Market King, Detroit pinball and the Pacman-inspired Michigan Central Station — has a tie to the history and culture of Detroit. 
"All of the games are exclusive to the venue," Kaji said. 
Deluxx Fluxx's first appearance was in London of 2010 as a pop-up. There is also alocation in Miami.
"It's different from anything I've been to," said Hannah Berich, a junior global studies student. "It doesn't look like much from the outside, but it's underground and once you get in, it's really cool."
Berich said it's a place she would recommend going to because of the decorations and good-energy atmosphere of the venue.
"I go to The Belt from time to time, but this is going to be a place I'm definitely going to go to." Michalski said. "I don't think I've ever seen something so different."
Tickets for shows typically range from $10 to $20. There are currently no student discounts. 
The venue is open Tuesday through Sunday and features a calendar filled with local bands, game nights and karaoke. Although Deluxx Fluxx ultimately serves as an art installation, Kaji said it will remain a permanent venue for many to enjoy. 
---
Susana Hernandez is a staff writer for The South End. She can be reached at susana.hernandez@wayne.edu.
Cover photo by Jay Adams.